Chef Dani's first location instantly became a hit after it launched in February 2019. His restaurant became the talk of Budapest last May after it was awarded the Gourmet Festival's first prize.
His second location recently opened in the heart of the city, it also combines local and Asian flavours across a wide range of innovative and delicious dishes.

XpatLoop.com caught up with him recently over dinner for a chat about his many years cooking in Thailand, and his travels around Asia. As we discovered he sought out special food insights and developed artful culinary tricks designed to tickle taste buds and delight diners with outstanding taste fusions.

Dani's food goes well beyond every day options elsewhere in Hungary, and dare we say this Region, his menu is filled with flair and has the ability to fire up your imagination and inspire your desire to enjoy his food again as soon as possible.

1. Where did you grow up?
I grew up in Budapest. Thing is, I feel it's most important how somebody grows up...

The answer to that for me goes like this. My grandma is a really strong lady, with 13 grandchildren, I was the black sheep amongst them all. I always wanted something different from the rest, and making a long story short we ended up cooking together for everyone else.

Our first flavours are so important to us all, and they keep coming back to me. We used to cook on a 'sparhelt' (a wood heated kitchen fireplace), and I can remember everything we cooked from the age of 5.

Also, about how I grow up, when not cooking I was always out on the streets with my friends, and I was the naughtiest one of all...that's all I want to say about that period of my life ;)




2. Who was the best cook in your family?
My grandmother as said, but also my mother. Always the lady closest to me is the best...
Overall for me, the best type of cooking is not only about flavours, it is also about passion and love.

3. What is your fondest food memory?
Goose liver fat. We used it at home as a basic ingredient with everything, even for pancakes. We either had it sweet or sliced like tagliatelle and put goose liver and sour cream on it and also cracklings. For me, it defines umami. This fat is so full of umami flavour, the all so important 6th flavour.

4. What was the first recipe you learned?
Dumplings. My grandma used to do dumplings, and since we did not have cube sugar, we used cinnamon and filled a half apricot with it before placing it in the dumpling.

5. What is your favourite food to eat?
Pacal (Tripe), Shepherd's pie, Cottage pie. Maybe surprisingly I love British food, it's really important to world cuisine.

6. How often do you 'play with food' to create new dishes?
Every second of my working day...



Pictured: Hungarian gulyas + Thai massaman fusion soup

7. Which chef do you admire most and why?
Heston Blumenthal and Ferran Adrià. And Miklós Kürti, the molecular physicist who's hobby was cooking. He was an enthusiastic advocate of applying scientific knowledge to culinary problems. I greatly admire all three of those chefs.

8. Where does your passion for cooking come from?
From a very young age. When we were kids you know we could truly see things for what there are. I still like to truly see, to truly listen, to truly touch and taste, and there lies my passion for cooking – these are the principles by which I live my life.

9. What was your funniest kitchen incident?
Well, there were quite a few morbid ones actually, but you get through them with humour.




10. What was the luckiest moment in your life so far?
When I was born. And a second time when I met the girl I am together with for 18 years...

11. What brought you back to Hungary from Asia?
Homesickness to tell the truth. I was always wondering what's going on here these days. I also really missed the four seasons, since it brings balance to people's lives I believe.

12. How do you relax?
Listening to jazz, say to Nina Simone, going fishing, and having a really good conversation with friends.

13. If you weren't a chef, what would you do?
I would be a carpenter. Or since I like thinking things over, maybe something to do with philosophy perhaps.

14. Who inspires you these days?
When I was young I followed the system, but then I met Gaggan Anand from India, a crazy chef who's among the best in the game. You know these days I cook with Nikita Suharev, have to say he inspires me too!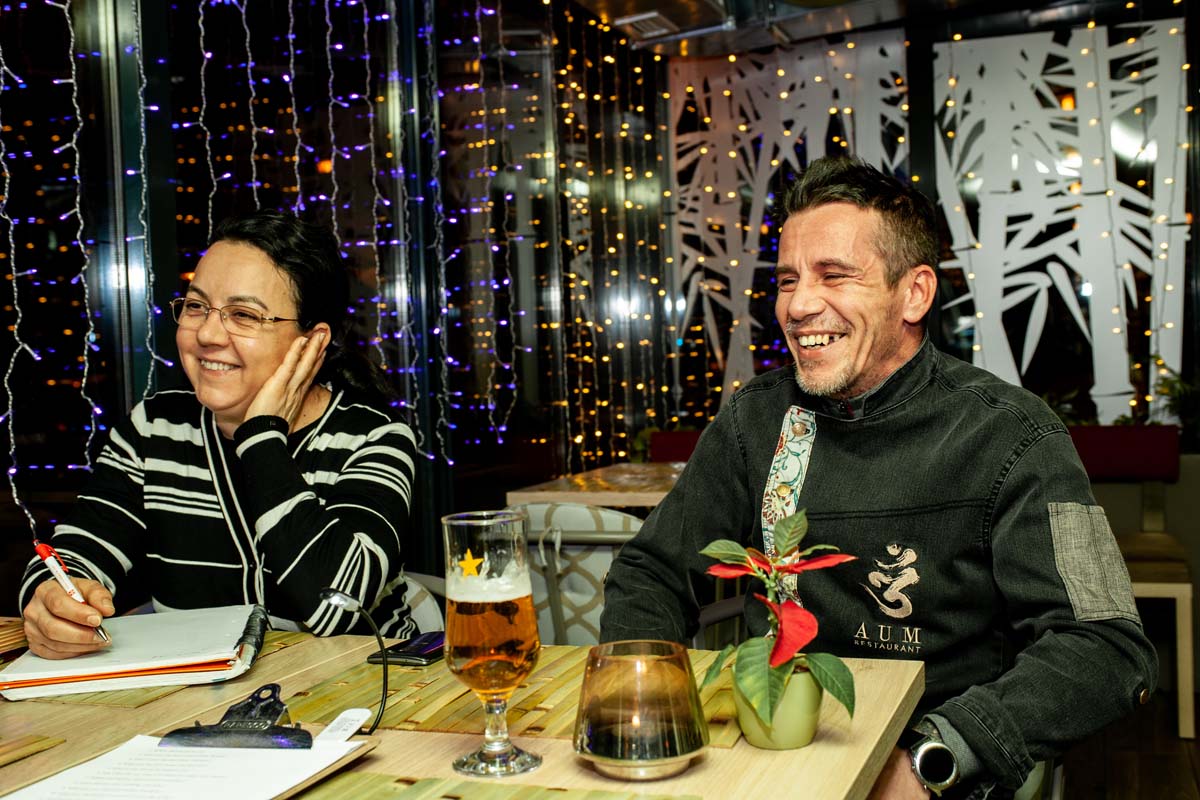 15. What's new on your horizon?
As we speak I'm puting the finishing touches to the new AUM Natural on Hajós utca. There are many similarities to AUM here at Flórián tér, 'Same Same But Different' you could say.

In downtown we have many hanging lanterns inspired by the magical festivals of Thailand, but like here the menu features a wide range of Asian flavours mixed with Hungarian cuisine, new exotic dishes you can't find elsewhere.

The interior at the new place is inspired by Asian forests, it's darker and a bit more mysterious than AUM in the 3rd district, come try it.

AUM Natural Restaurant
1065 Budapest, Hajós u. 32.

AUM Restaurant
1033 Budapest, Flórián tér 6.

Photos by Russell Skidmore for XpatLoop.com

Interview text proofread by Szilvia Molnár, a professional freelance writer, travel expert, mom of two, and admitted coffee addict. Though not necessarily in that order. Connect with her on LinkedIn or read about her latest travel experiences on the Exploration Lounge website.