Bangkok at its brightest! That's the promise of this ultra stylish property set in the pulsating heart of the Thai capital. Surrounded by spicy street markets, vibrant nightlife, top shops and restaurants, W Bangkok offers a unique mix of cutting-edge design and passion for fashion, music and entertainment.
Inspiring, iconic, and innovative, W Bangkok delivers a playground of pleasure for jet setters 'fashionistas', and seasoned travelers like this reviewer.

Positioned next to modern skyscrapers, glittering temples and shrines - like the celebrated Grand Palace and Temple of the Emerald Buddha - guests at W can easily dive into an intriguing ancient world while staying in an chic contemporary oasis.

A distinctly design-led hotel, it combines a 31-floor modern glass tower with a century-old European-inspired heritage building.

Keeping practicalities in mind, W is a convenient base in the heart of the city's bustling commercial district, with handy direct access to the city's elevated rail system which really helps exploring Bangkok extra easy.

So what's a must-do while escaping from Budapest in Bangkok? While in the Thai capitall it's worth visiting Wat Pho, also known as the Temple of the Reclining Buddha, and a laidback cruise on the sparkling Chao Phraya River. For a little more speed, hop on a native longtail boat as it roars through Bangkok's myriad canals, revealing the city's secrets.

On the bustling Bangkok streets, you can discover a world of culinary experiences, from characteristic street stalls serving satay to stately residences dishing out fine dining. Equally eclectic and renowned are the shopping options. From the city's famous floating markets and malls — like Siam Paragon, CentralWorld, The Emporium, and Mah Boon Krong — to exclusive insider boutiques and the extreme Chatuchak weekend market featuring over 5,000 stalls, retail therapy abounds.
As the sun goes down, Bangkok's signature after-hours scene lights up. Ranging from elegant to exotic, Patpong's go-go bars radiate alongside neon night markets and refined rooftop lounges revealing the nocturnal side of this teeming all-hours metropolis.

One of the benfits of staying at W Bangkok is that it's a nightlife destination in its own right. W signature bar, WOOBAR on the hotel's ground floor, lets you immediately chill-out, and mingle with trendsetters if you wish. Staff aim to wow guests with the latest cocktail creations by the W mixologists, and with sounds designed to make you dance, delivered live by Bangkok's finest spinners including DJ Deejai, DJ Pichy, DJ Dragon, and many more.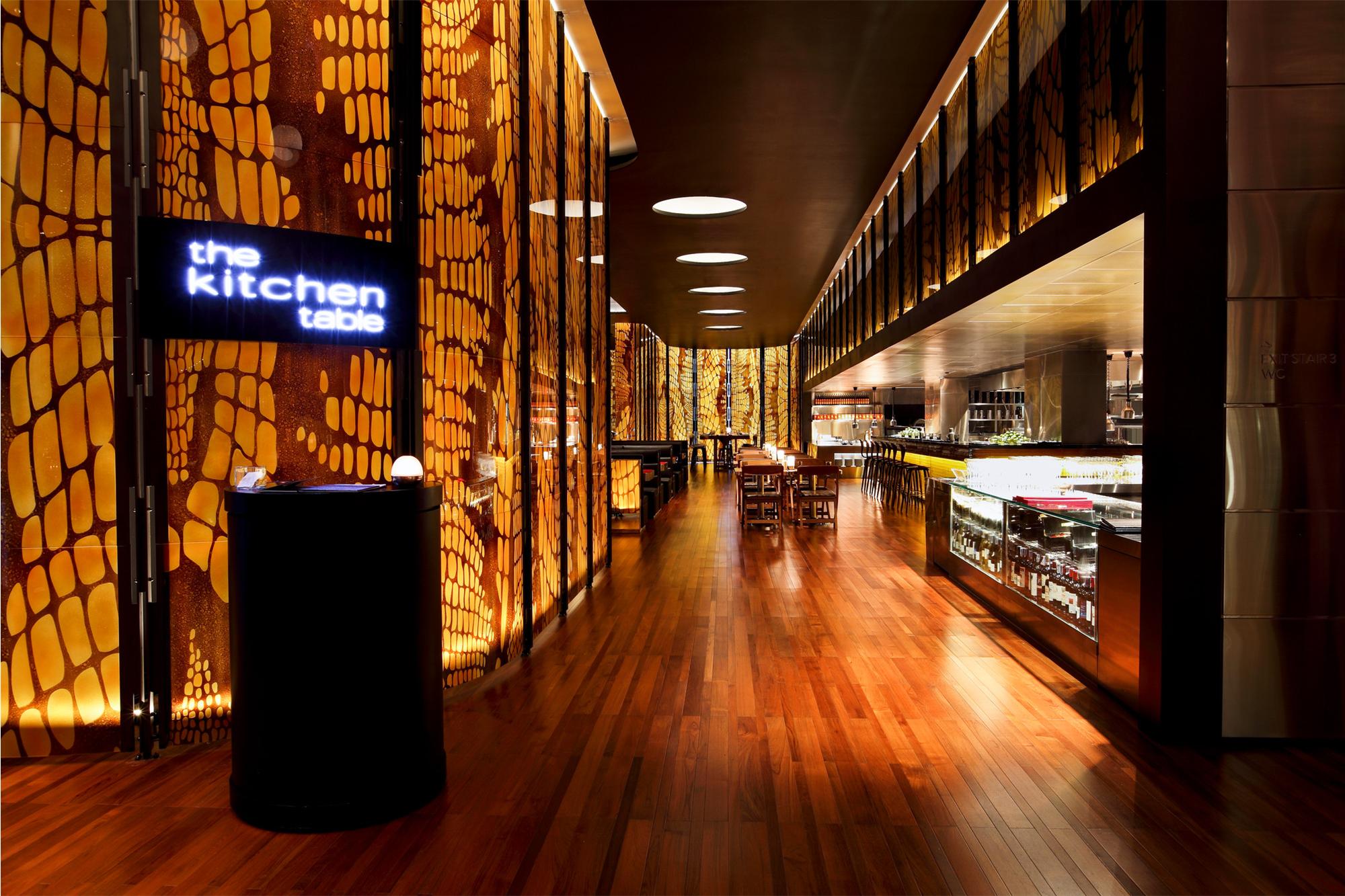 After a drink or two it's definitely worth dining in the hotel, as W have revolutionised the dining experience. Their dynamic chefs have upturned culinary traditions and infused them with 'visionary tastes'. Redefining gastronomy for the better is the goal, and they are succeeding.
The Kitchen Table, on the 2nd floor, is the hotel's all-day dining restaurant, and a favorite haunt among anyone with an adventurous palate who adores quality. Some of Bangkok's finest creations are served up here, including fresh seafood, succulent steaks and signature dish from internationally inspired kitchen. Also worth a visit is the Kitchen Pantry, located next to The Kitchen Table, a bakery and café, offering a handy take-out service too. Using only top quality, imported ingredients, the café boast a cool industrial look yet it remains warm and cozy.

W's Away Spa is a space dedicated to pure relaxation with a Hammam, Jacuzzi, Steam Room, Sauna, and Style Lab Beauty Salon. All the treatment rooms (including one couples suite) have unique glowing beds, and the walls are neutrally toned from top to bottom allowing guests to choose between four colours to suit their mood: Green – calm and peaceful, Red – increasing body energy, Purple – happiness, and Pink – romantic and sensuality.

'Away' is located on the 6th floor, next to the well equipped gym with the latest fitness gear and technology, and the cool pool area. The Spa is especially recommended to detox and rejuvenate after a the long day, and/or night, out in Bangkok.

Tried and tested it is a Spa guaranteed to refuel your energy, and as they claim it "bejewels you with readiness to face the wild, exciting world again".

At the WET Deck the outdoor pool is eye-catching with its eyeball shape and twinkling underwater fiber optic lights resembling a stary-sky. Guests enjoy ample space to lounge around on cabana by the pool while catching rays and enjoying food and drinks served from the pool-side bar.



Every guest room features translucent, colored glass planks to create privacy between the rooms, with a touch of playfulness as they produce backlit silhouette shapes and shadows. Custom designed chrome furniture and crocodile skin padded beds accentuate the neutral plaster walls.

All rooms come complete with state-of-the-art in-room technology, including high-speed wired and wireless Internet access; flat-screen, 40 or 46-inch LED televisions; and jack pack stations with a sound bar system and a docking station for MP3 players.

W signature 24/7 Whatever/Whenever service is designed to transforms an ordinary stay into the extraordinary. It can be your personal shopper navigating you through the fashion mecca.

So how about an indulging banquet while cruising the Chao Phraya River? W can arrange that for you, or anything practically, even a helicopter ride over the city's temples and skyscrapers.

Overall, with it's iconic design and contemporary luxury, the property itself perfectly sets the stage for exclusive and extraordinary experiences in the Thai capital. Plus it's surprisingly great value for what you get.

Good to know is that whotels.com guarantees the best rates on the World Wide Web. If you find a lower published rate prior to or within 24 hours of booking a room, they'll honour the lower rate and give you an additional 10% discount.

W Bangkok
106 North Sathon Road, Silom,
Bangrak, Bangkok 10110, Thailand
Telephone: +66 2 344 4000, Fax: +66 2 344 4111
Click here to amplify any stay at W Bangkok with a WOW deal