With the Hungarian capital opening up again after lockdown, here are top tips for locations where you can elevate an evening out if you fancy feasting your eyes on Budapest's delightful skyline.
While other top places are open again too - like the pricey High Note SkyBar, Leo, and Intermezzo – the following all offer refreshments with divine panoramas, and serve as more stimulating alternatives to the obvious rooftop options.

Quickly before sharing our views about these highrise delights - listed in no particular order - it's worth emphasising that Budapest is the star of the show at all the venues below. By visiting a few you'll see a great range of spectacular sights, all as gorgeous as any in Europe.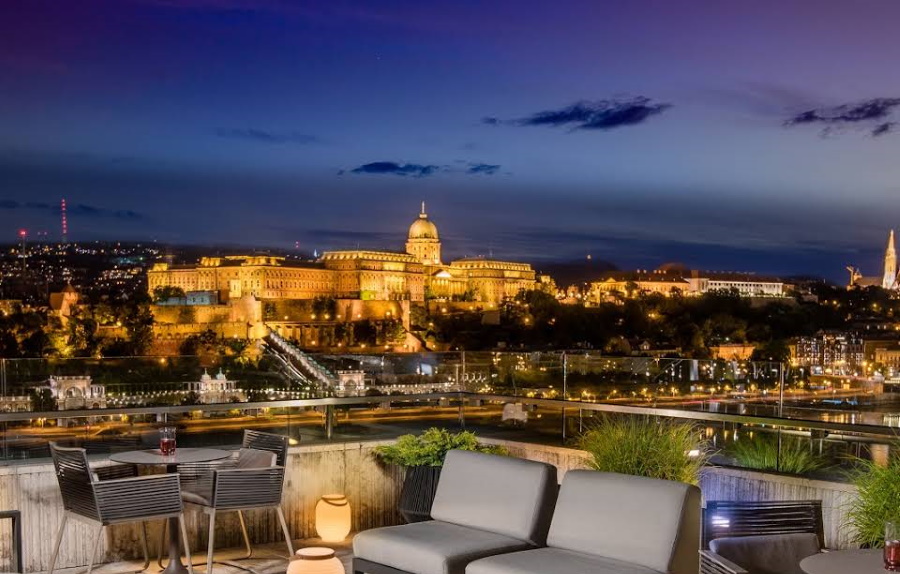 For the first time in 26 years, the top floor of the Budapest Marriott Hotel is open to the public, with the Sky Lounge here offering guests a panoramic view of the key bridges over the Danube - hence the name - plus over Parliament, Buda Castle, Basilica, Citadel and Gellért Hill.

To compliment such an amazing view, this new top venue offers a range of á snacks, cocktails, and the right mood music for those looking for an exceptional experience - be it an after-work aperitif with colleagues, for a date-night, or say for friends celebrating a special event.

Open from Wednesday till Saturday between 17:00 – 01:00.

Address: Budapest Marriott Hotel, 1052 Budapest, Apáczai Csere János utca 4.
Regarded by many in the loop as one of the coolest hangouts in town, this rooftop bar's cocktails deserve a try as you eye up landmark sights like St. Stephen's Basilica, the Citadel, and Parliament.

Its wide range of lemonades, wines, spirits, and tasty meals, are worth their decent price-tags given the eye-popping panorama all around this iconic downtown location.

Situated on Andrássy above the Párizsi Nagyáruház, this place probably offers the best urban panorama experience in the city - throughout the whole day, from coffee in the morning to late night drinks with chill out sounds.

Best to start early since table space is often hard to come by, but don't worry about dress code as they embrace an easy going 'urban spirit of living'

Address: 1061 Budapest, Andrássy út 39.


3. St. Andrea Sky Bar Budapest

A great place at beautiful Vörösmarty square for an elegant date, not least because here the service – not always Budapest's strongpoint – can be as charming as the views, so some say.

For sure this stylish setting offers refined dining and drinks. There's a wide range of champagne and an emphasis on fine wines given the name comes from a leading local vintner. The well-crafted signature cocktails are excellent too, but all come at a price.

Reservations are still highly recommended (via restu.hu) given the lavish views onto Basilica, Parliament and the Danube.

Address: 1052 Budapest, Deák Ferenc u. 5.


4. MemoRise Skybar Budapest
This high-rise haven at Kálvin tér, set above the Hotel Memories Oldtown, promises the best panorama of the Citadel and around Pest's enchanting cityscape.
Along with the awesome eye-candy they offer tempting dishes with ingredients sourced from small local producers for the tapas, starters and many mains.

Open every day from 5 pm to 10 pm, drinks include all the classics you'd expect plus special summertime creations worth appreciating one night under a starry sky.

In case of bad weather they share current information with their guests on their Facebook page!

Address: 1056 Budapest, Bástya utca 33.
Not too high in terms of altitude, this place has a very cool attitude and is very affordable compared to the other options above. Open every day between 08.00 - 22.00 or until the end of events.

Sassy summer cocktails, decent street food and daily specials await guests on board this old Ukrainian boat. The top terrace provides striking views of Liberty Bridge and Southern Pest, and the ship's sound system usually generates a lively atmosphere.

On top of that, while sipping drinks on deck it's cool being by the Danube as you escape the mainstream and rise above regular life while imbibing uplifting views.

Address: 1117 Budapest, Petőfi bridge, Buda side.


All photos courtesy of the venues.