12 Nov 2019 11:28 AM
Like Locals
Budapest is renowned as a go-to destination for partygoers, with thousands descending to the pearl of the Danube every year to experience its unique nightlife and drinking culture.
This is partly fuelled by the cheap prices, with a boozy beverage setting you back a fraction of what you'd pay in any other European city. However, beyond cheap booze and touristy bars, Budapest has a burgeoning craft beer scene, which although relatively unknown, is propelling the capital as a key destination for beer lovers from across the globe.

This guide will take you on a journey into the heart of Budapest's craft beer revolution, uncovering the best artisan brewers around, and the best bars in which to drink them.

A Brief History
Up until recently, Budapest's beer scene has remained relatively flat, with the selection of sips on offer being very limited. Ászok, Soproni, and Dreher are the usual suspects widely available on tap, and although pretty decent are mass-produced and lack the depth to please the palates of passionate beer drinkers.

However, the scene is undergoing a huge shake-up thanks to the rise of a new wave of Hungarian craft brewers, who through their creations are positioning Budapest as a serious destination for good beer.

The Rise of Magyar Breweries
There was a time where the mass-produced booze was your only option, but the offering is getting varied thanks to the rise of Magyar craft breweries. They can be found dotted around across the country, but Budapest is undoubtedly the epicentre, with the city home to some of the best craft breweries around.

From this craft beer revolution, there's been the emergence of some key players who are carving up quite the reputation internationally. The big dogs on the block are microbreweries: Horizont, MONYO and First.

Then you have a whole host of other local breweries who also play a key role in the Budapest craft beer ecosystem. These include Legenda, Fóti Brewery, Brew Your Mind, MAD Scientist, Reketye and Fehér Nyúl.

What's on offer
Only good beer here In Budapest | Location: Csakajósör
Budapest has some great craft beer bars, all serving varying styles of this beloved beverage. So rest assured you'll find a perfect drink to tickle your fancy. If you love lager, then boy are you in for a treat. This beer is the most widely produced in this part of the world, crafted using the bottom fermentation method.

In Budapest, most of these craft lagers are of Czech lineage, with the pale and slightly bitter pilsner-style, or the dark'n'sweet Bock-style variants.

Brewers that our beer insiders recommend for this style include Fóti Brewery, one of the oldest craft breweries in Hungary. It's located a 26-minute car journey from Budapest in a town called Fót.

Here the team has been hard at work experimenting with different styles to craft the perfect beer, beginning in 1994. Their golden child is the Keserű Méz, a tasty lager which is "Tripple-Hopped" in true Hungarian Fashion to add some extra strength.

There's also a huge selection of strong and fruity Belgium inspired top-fermented Ales. However, the most popular craft concoction is by far the pale ale. If this is your style, check out the work of Legenda Brewery.

Where to drink
To sample the best of Budapest's craft beer scene, you have to head away from the bars frequented by tourists to the drinking dens where local beer lovers descend to quench their thirst. To save you from having to seek them out, we asked our community of local insiders, who obviously love craft beer, to recommended their favourite spots to check out. Just to help fellow beer lovers on this adventure into the world of Hungarian craft beer.

This spot isn't your run of the mill pub, but a craft beer complex where Budapest's beer-loving locals descend to drink. Known in English as 'yeast', Élesztőhaz has been a catalyst to developing the city's craft beer scene.

Not only can you sample the very best craft beer in Budapest, with over 21 taps pouring a variety of alcoholic beverages. It's also home to Central Europe's first cask ale bar, a brewing school, and even a craft beer-themed hotel.

Top Pick: Double Gentle Bastard by Horizont Brewing– A strong 8% ABV IPA which has citrus flavour with shades of bitter.
Opening Hours: Sun-Mon: 3PM-1AM, Tue-Wed: 3PM-2AM, Thu-Sat: 3PM-3AM
Location: Budapest, Tűzoltó u. 22, 1094

Csakajósör homely boozer brimming with locals, relaxing whilst sipping on the best speciality craft beer in Budapest. The English translation of its name is "only good beer", and boy do the owners make sure of it.

The options here are extensive, with a superb selection of stouts, pilsners as well as more rare variants available for you to enjoy. What makes Csakajósör stand out from the crowd is the drinks available on draught which change weekly and the extensive catalogue of bottled brews. The seating here is limited but they recommend checking out the nearby partner bar Hopaholic.

Top Pick: Yellow Haze by Brew Your Mind – A fruity New England inspired APA, packed full of flavour with subtle notes of bitter.
Opening Hours: Mon-Sat: 2PM-9PM
Location: Budapest, Kertész u. 42, 1073

Jónás has become somewhat of a spiritual home for Liquid gold lovers from Budapest and beyond. Here you have a selection of eight craft beers on draught, with the crown jewel being the Arany Jónás, a light lager that will without a doubt have you licking your lips.

The best thing about Jónás is that you can sip on your craft beer, chow down on some handmade grub, whilst enjoying a panoramic view across the Danube, featuring iconic sights such as Gellért Hill.
Top Pick: LAB by Rekete – Budapest's first salty and sour beer blend. An absolute must-try.
Opening Hours: Mon: 12PM-12AM, Tue-Thu: 11AM-12AM, Fri-Sat: 11AM-2AM
Location: Budapest, Fővám tér 11, 1093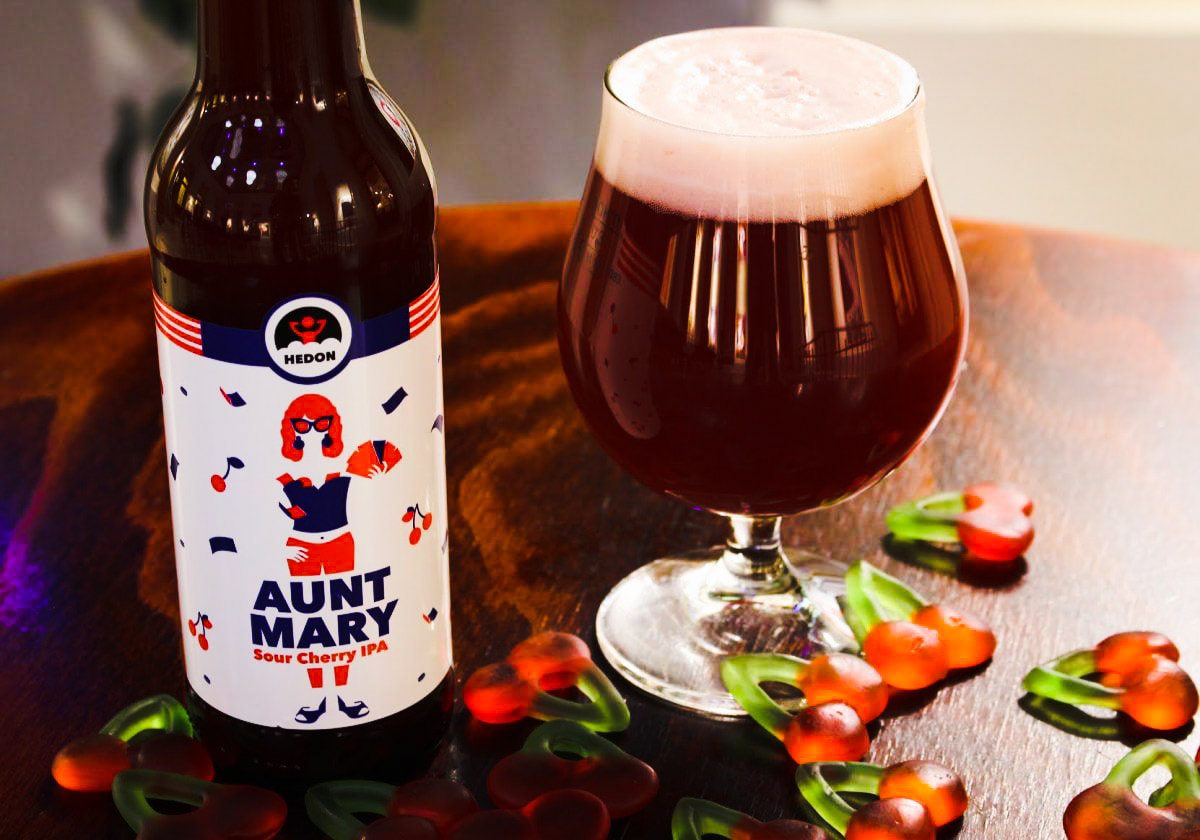 Krak'n'Town is Budapest's standalone Steampunk style underground saloon, serving local speciality sips to please the palates of craft beer lovers local and far.

They say the devil is in the detail, and this is evident here. Walk inside and it will feel like you've stepped back in time, from the quirky, classical yet futuristic decor, with servers even rocking the Victorian-style attire. When it comes to drinks, you have a selection of brews, crafted by a selection of artisan local breweries, from HopTop to Horizont.
Top Pick: Krak'n Pils – A light and refreshing pilsner with a grainy malt aroma, slightly fruity flavour with shades of wheaty sour.
Opening Hours: Tue-Sat: 4PM-12AM
Location: Budapest, József krt. 31a, 1085

Dezső has been a firm fixture on Budapest's craft beer scene, outgrowing its old location on Dohany street to this bigger and more sophisticated drinking den on Rákóczi út.

Despite the change in location, one thing that remains the same is the eclectic selection of craft beers for you to choose from. With 32 taps pouring liquid gold from the best local, small scale speciality craft breweries around.
Top Pick: Boris the Blade by MONYO – A flavourful full-bodied Russian Imperial Stout. A dark, rich berry blend with a caramel truffle finish.
Opening Hours: Mon-Tue: 11:30AM-12AM, Wed: 11:30AM-1AM. Thu: 11:30AM-2AM, Fri-Sat: 10AM-2AM, Sun: 10AM-12AM
Location: Budapest, Rákóczi út 29, 1088

Legfelsőbb Beeróság perfectly embodies Budapest's growing reputation as a European capital for craft beers. On offer at this Dohany Street drinking den is a selection over 150 types of bottled beers and 10 speciality brews on draught.

Taking your taste buds on a trip through the various regions and brewers creating these unique concoctions. The super quirky decor, super friendly staff and the hip crowd create an awesome atmosphere.
Top Pick: Bohemian Castle by Kecskeméti Brewery – A fragrant German-style bitter brew
Opening Hours: Mon-Sat: 2PM-2AM, Sun: 2PM-11PM
Location: Budapest, Dohány u. 20, 1074

The craft beer wave has made it's way across the Danube to the more local, Buda side of the city. If you choose to go with this flow, one spot you that will definitely sweep you off your feet is KEG sörmművház.

This sanctuary for craft beer, like its menu, is pretty sizeable. Here you can enjoy a magical selection of beer, crafted by the best Magyar and international breweries. The team behind this spot have done an excellent job in creating an ambience where everyone, old and young, can enjoy a relaxing drink. So spoil yourself by making a pilsner pilgrimage to this liquid gold oasis, you won't regret it.
Top Pick: Double Mango Madness by MAD Scientist – A tasty double fruited mango flavoured Berliner Weisse beer.
Opening Hours: Mon-Wed: 11:30AM-11PM, Thu-Fri: 11:30AM-12AM, Sat: 12PM-12AM, Sun: 12AM-11pm
Location: Budapest, Orlay u. 1, 1114

Set in a space that once operated as a fireplace store, Kandalló has become a hotspot for craft brews, much to the delight of beer-loving locals.

Located in the city's iconic Jewish quarter, this join has a relaxed and cosy ambience, a direct result of the friendly staff, dim lighting and warmth from the fireplace behind the bar, a featured retained as an ode to it's past. When it comes to drinks, you have a choice of 16 magnificent beers on tap, crafted by the most magnificent international and Magyar breweries, including Reketye, Fehér Nyúl, Uradalmi, MONYO Brewing Co and more.
Top Pick: White Rabbit IPA by Fehér Nyúl – A palate-pleasing well balanced delicious dark golden IPA which perfectly sweetness and bitterness.
Opening Hours: Sun-Thu: 12PM-12AM, Fri-Sat: 12PM-2AM
Location: Budapest, Kertész u. 33, 1073

If you want to drink tasty craft beer in a quirky and bohemian bar, then hop over to this spot in the heart of Budapest's buzzing party district. Due to its location, friendly staff awesome owner and most importantly, the solid selection of beer, Hops has become a household name amongst lovers of craft beer.

They have a huge selection of beer, mostly from well renowned and international breweries, with a limited selection of Hungarian craft brews. None the less, it is still a certified fan favourite place to drink some craft beer in Budapest.
Top Pick: Pils by FIRST Brewery – A cracking light-bodied Czech-style beer made using a secret recipe passed down by the President of the Bohemian Craft brewery.
Opening Hours: Mon-Thu: 2PM-2AM, Fri-Sat: 2PM-3AM, Sun: 2PM-12AM
Location: Budapest, Wesselényi u. 13, 1077

As the sign outside suggests, Legenda is a pub with one goal, to provide the perfect selection and environment in which to consume craft beer. As with a few others on the list, this spot is the dedicated pub for the iconic Budapest based microbrewery, Legenda.

This local brewery produces 20+ types of beer and has become renowned for their non-pasteurized unfiltered and high fermented brewing technique. A method which adds a really subtle yet special taste sought after by astute craft beer drinkers locally.
Top Pick: Game Over by Legenda – A Strong 12% Bourbon Ale that packs quite the punch.
Opening Hours: Mon-Sat: 12PM-10PM
Location: Budapest, Király u. 78, 1068

This spot is the dedicated tap house for the MONYO, the magical Magyar brewery who in the space of 4 years, has cemented itself amongst the country's craft beer creating elite.

They produce an amazing selection of IPA's, Pale Ales, Porters, Stouts, all of which are served right here. So if you have a craft beer snob friend who always turning his nose wherever he goes to drink, take him to MONYO. It will truly leave him satisfied.
Top Pick: Bipolar Bear by MONYO – A cross between a traditional American IPA and Belgian White Beer. This beer has a strong orange citrus vibe with IPA-style bitterness.
Opening Hours: Mon-Wed: 12PM – 12AM, Thur-Fri: 12PM – 2AM, Sat: 5PM-2AM
Location: Budapest, Kálvin tér 7, 1091

Half tattoo shop half craft beer bar with a little cave of a performance venue downstairs, this cosy wood-panelled spot is right around the corner from Nyugati Rail Station. It's a business in the front party in the back type of place with some of the best artists in Budapest plying their inky craft here.

Actually the bars in the front and the tattoo shop in the back, so perhaps that mantra should be reversed. But don't let semantics get in the way of your craft beer crusade. Chose from 12 taps of local suds and a further dozen bottles including some killer ciders. Frequently unique musical performances such as the badass Mongolian throat singer pictured above.
Top Pick: Fruit Garden Meggy by Fóti Kézműves Sörfőzde – Something unusual from this local brewery based out of Fót, a suburb just north of Budapest. Meggy means "sour cherry", an idiosyncratic Hungarian fruit used in pálinkas and desserts.
Opening Hours: Mon-Sun: 12PM-10PM
Location: Budapest, Jókai u. 23, 1066

Every single city has a Liverpool bar and in Budapest that bar is Bölcső. This pub used to go by the name of Kisráblo and had more of a sports bar vibe. But ever since Dani took over they've classed the place up and turned it into a proper craft beer and gastropub.

Tons of rotating local breweries are on tap such as Monyo, First, Horizont, and Fehér Nyúl, plus a litany of difficult-to-find bottles line the fridge. The foods not half bad either and the Bölcső burger is some genuinely good pub grub. The best part of this pub though, without question, is the Liverpool corner. And the beer. The Ice Cold, lovely beer.
Opening Hours: Tue-Sun: 11:30AM-11PM
Location: Budapest, Zenta u. 3, 1111


Photo courtesy of the venues