Some, hopefully interesting, stats for you: 2019 saw an approximate 200,000 foreigners living permanently in Hungary. This figure shows no sign of abating… in the same year almost 78,000 people, mostly in their 20's and 30's applied to work in Magyarország. 
Okay, these numbers are miniscule when compared to Western Europe. No surprise there...

Germany hosts more than 10 million who don't hold citizenship. Foreign nationals there make up 12 percent of the total population, while in Hungary it's only 2 percent. Fair enough, in 2019 alone, the German authorities issued more than 62,000 residence permits.

So what brings a foreigner to Hungary?
KSH, the Hungarian Central Statistical Office, has provided some data based on the interviews of foreign citizens residing in Hungary over the last 3 years and of the 1st of January this year.


So yes, the average immigrant is 'young', about half of them being between 20 and 39 years old. The proportion of people over the age of 59 just peeps 11 percent.

The Hungarian Central Statistical Office reports that foreigners in Hungary have higher-than-average educational attainment based on census data. The micro-censuses show that the number of self-employed people, i.e. those who have their own company, is above average amongst the Vietnamese, Chinese and Turkish communities.

Foreign citizens residing in Hungary (2020)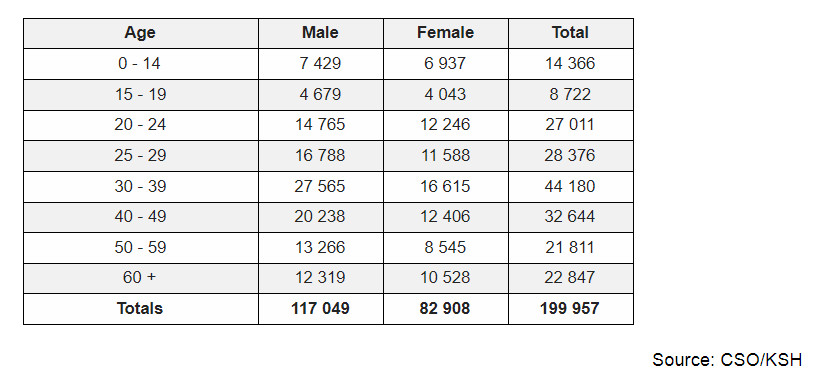 The fact that there are clearly more men than women immigrating to Hungary may be surprising but it is a common trend internationally.

The majority of immigrants settle in the capital, but popular regions include Pest County and Transdanubia.

Foreign citizens residing in Hungary by territory (2020)


Romania, Germany, Serbia and China are the main countries of origin and the conflict in the Ukraine has seemingly played a role in increased numbers from the eastern neighbour.

This trend was reinforced by the fact that economic recovery measures have made it easier for foreign workers to find employment in Hungary.

Number of foreign nationals immigrating in the following years






It's unusual that the Germans get into the top 3. German companies of late have created more than 300,000 jobs in the country. A small proportion of these, mainly senior positions, are filled by German nationals.

Who said stats aren't fun eh? Not exactly a melting pot but encouraging nevertheless.


Source:
This originally appeared in Hungarian on Növekedés.hu and has been brought to you here in English by Dez O'Connell and 'Chicken Boobs', Dez's proofreading and editing service. Facebook.com/Chickenboobs

Click here for website of Hungarian National Directorate-General for Aliens Policing (former name: Hungarian Immigration Office)