As the great Hardy Amies said: "A man should look as if he has bought his clothes with intelligence, put them on with care and then forgotten all about them."
In an ever more connected world good communication is vital for developing new relationships. Language is, of course, essential but what about our non-verbal communication – our clothes?!

We asked one of Budapest's premier menswear gurus, expat Simon Skottowe - a London trained bespoke tailor - for some style tips on what to wear and, as importantly, how to wear it.

1. Buy less but buy better
No matter what your age, occupation or income bracket is, or whether you are in the market for shoes, a suit or a watch, don't waste your money on a wide array of cheap fashion items which won't last, when you could save up and buy one great, timeless item instead.

2. Choose colours carefully
Choose your basic wardrobe to suit your complexion, body type and lifestyle. For example cool colours for blonde and ruddy complexion, brighter hues for grey hair and pale skin.

3. Your suit is key
The suit is the foundation of every gentle­man's wardrobe. Ideally it should have soft, natural lines and balanced proportions. It should fit you and never constrict you. Wear it often, it will mould to your body and become a second layer of skin.

4. Wear a jacket regularly
Throwing on a wellfitting sports coat or blazer is always a good idea. Whether you are wearing it with jeans and a t-shirt or dressing up a bit more, it is one of the most versatile garments in a man's wardrobe.
5. Show self-respect
When all is said and done good manners and being well groomed says you have self-respect and shows that you care. In the end, a man can go a long way with a nice hair­cut, a great smile and polished shoes.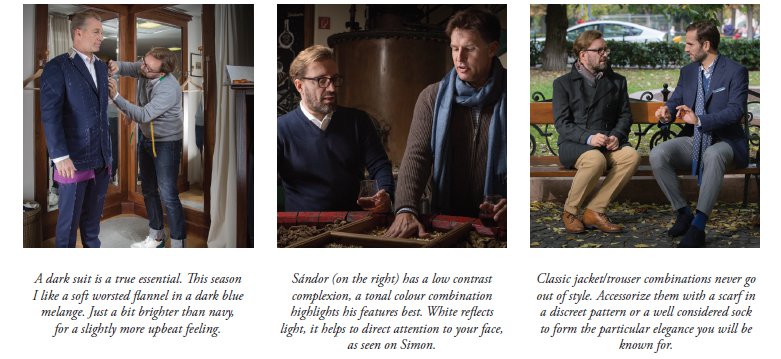 Contacts:
Simon Skottowe Bespoke Tailors Ltd.
Shop address: 1054 Budapest, Zoltán utca 10.

Hours of Business:
Monday to Saturday 10:00–18:00

Photo:
Simon Skottowe is pictured above right, with Sandor Zwack.