13 Dec 2018 1:41 PM
Daily News Hungary
The demonstration in Budapest on Wednesday against changes to overtime regulations was "unlawful", according to the Prime Minister's Office chief.
Commenting on street demonstrations against the overtime regulations, Gergely Gulyás said that the right to free association was enshrined in the constitution but it should be practiced peacefully and within the legal limits.



Gulyás said that the demonstration in Kossuth Square in front of Parliament in which protesters threw objects at the police cordon was "unlawful".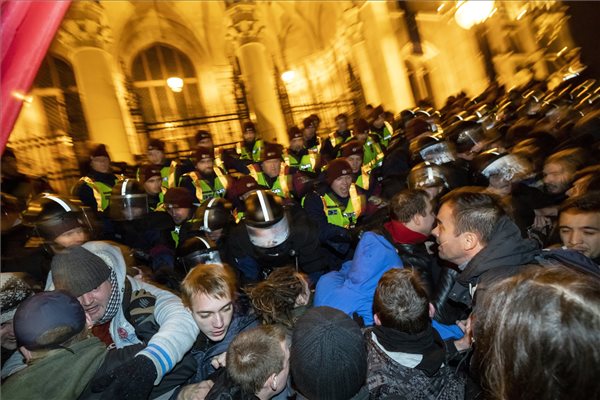 On Wednesday, parliament voted to extend the period employers may account overtime for the purpose of calculating wages and rest days from twelve months to three years, and to raise the upper threshold for annual overtime from 250 to 400 hours.


Commenting on jeering opposition lawmakers who blocked the speaker from reaching his podium in a bid to thwart the vote, Gulyás said that they "made themselves look ridiculous".



Gulyás said the ruling majority had preserved parliament's dignity by ensuring lawful and constitutional operations, he said.

The legality of the parliamentary voting system is beyond any reasonable doubt, he added.

MTI Photo: Balogh Zoltán / Mohai Balázs / Mónus Márton