It's said that if Mick Jagger and Lana del Rey wanted to meet, they'd do it in Spíler Buda. In that case Mick would surely sing, "Oh I like it … yes I do… oooh I really like it," about the seared steaks, hand-crafted burgers, rustic pizzas, and scrummy deserts.
This new number at MOM Park is a smash hit, with a theme all about rock it was 'Born To Be Wild', and has already become the chart-topping gastropub in Buda.


If you just fancy a drink or two there's a top collection of craft beers, cool cocktails, classy spirits, and exceptional local wines available by the glass.
Plus there are notable wine hits from the New World, with bottles coming to Budapest from Australia, California, New-Zealand, and South-Africa.


While riffling off the upbeat vibe you can choose from creatively imagined dishes along with some all time favourites, all made from the finest ingredients available.
Lana del Rey would definitely dig the healthy super food option featuring fresh avocado, peas, edamame, chickpeas, quinoa & ricotta.
While in Budapest Lana may also get a kick out of the authentic Hungarian goulash served at the table from a traditional metal pot, and she might well fancy some meat after seeing the fab selection on display near the entrance.
Oh yeah, here you'll find one of the best steak selections in Budapest: Spanish, Australian, American and Argentinean juicy T-bone, porterhouse and rib eye.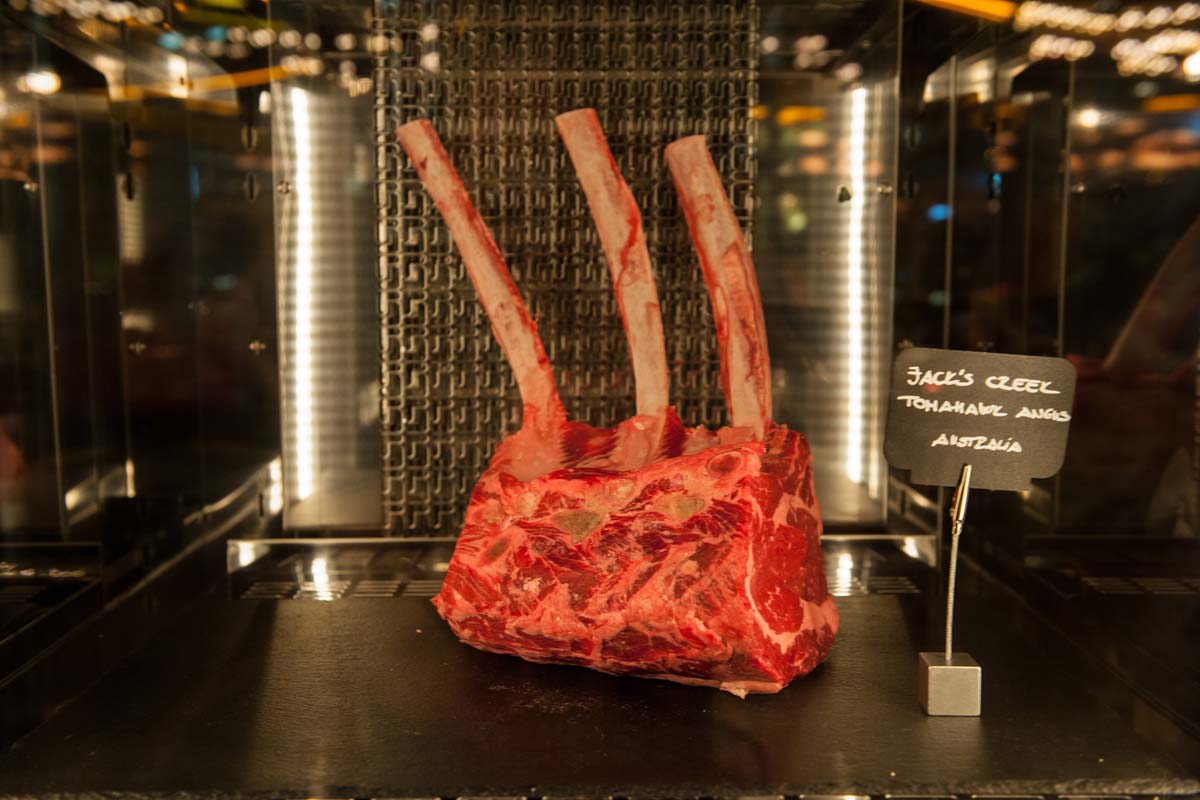 The rocking atmosphere got me into the right mood to get stuck into the tasty meaty licks on offer, and in my view the tempting range on offer is sure to get any carnivors' taste buds movin'n'a'groovin.
Believe me the smell of them searing is sensational, as is the end result of careful cooking, it's melt-in-the-mouth steak heaven on a plate.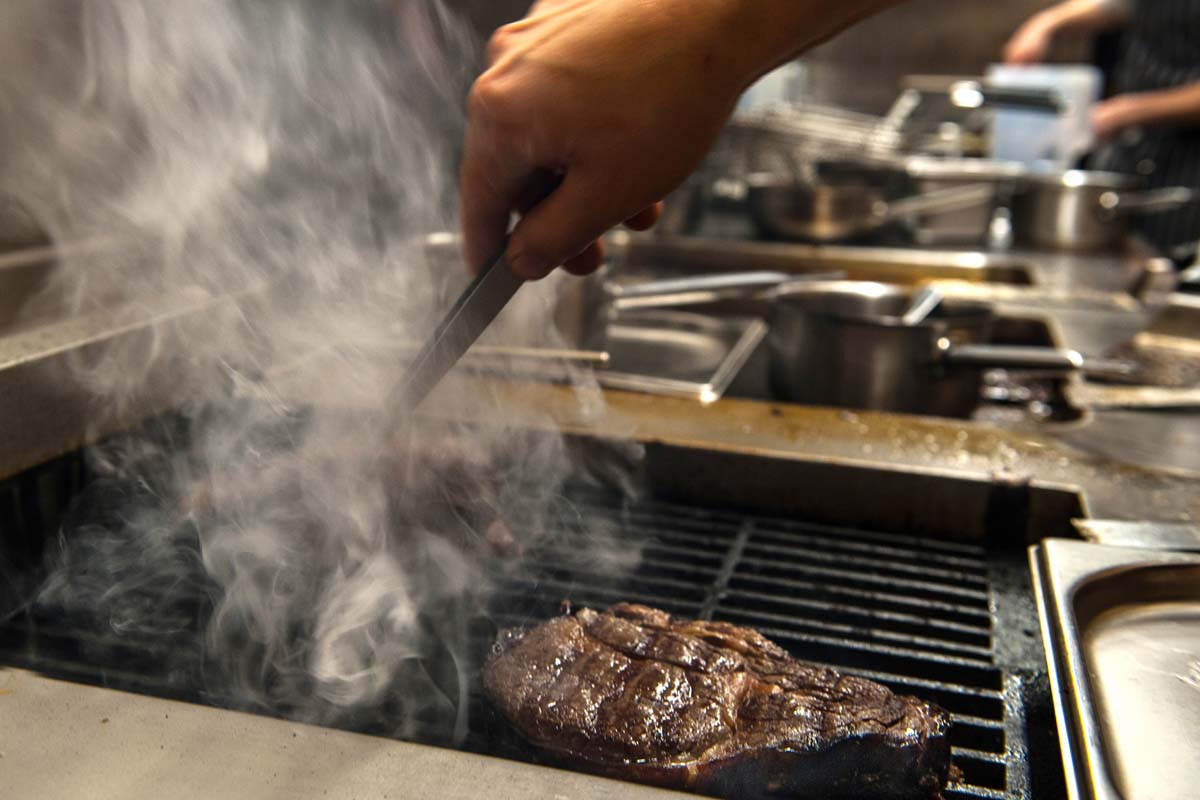 The mega burgers are made with Hungarian beef, there's a good few types on offer, including the outstanding 'Spíler Double Burger' with maple bacon, cheddar cheese and a fried egg.
Well worth a taste is the 'Blue Cheese Burger' with porcini mushrooms and creamy blue cheese, and for fish fans there's a 'Spicy Tuna Burger' with chilli-lime mayo and slaw on the side.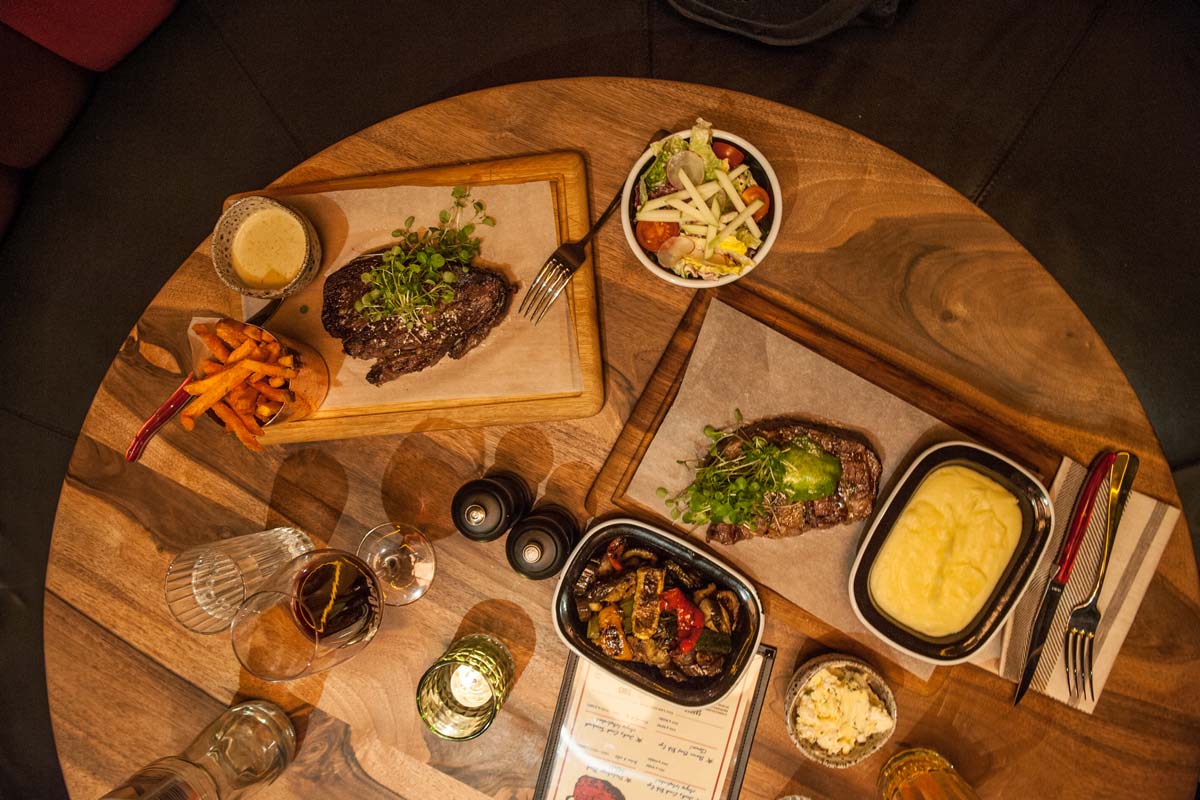 All the sides hit the spot, having tried a few I can say the sweet potato fries and smooth and buttery potato puree both taste great, also the charred broccoli with miso butter is lovely.
The goose fat chips sounded very tempting but to be healthy I had a nibble of the market salad which was served lightly covered with a really delicious dressing.

Sexy sauces add to the party, with my Jack's Creek rib eye I had a great peppercorn sauce, and together they made my mouth dance with delight.
The chimichurri salsa is of course nicely spicy, and the homemade BBQ sauce is as tangy as the music playing by Jimi Hendrix, Deep Purple, and Lenny Kravitz.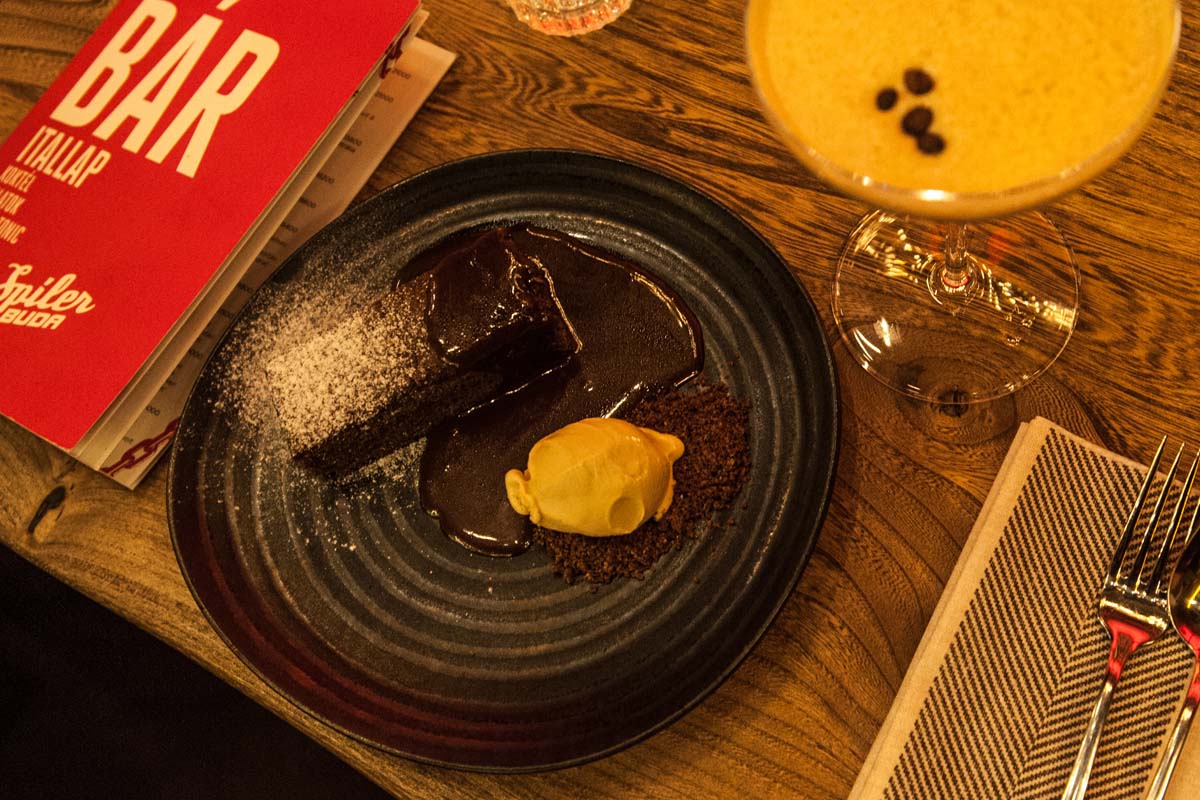 As for the desserts, they're just like a great concert encore, as the Spíler somlói and sticky toffee pudding are guaranteed crowd-pleasers.
They complete your meal with the same familiar quality note as the Marshall speakers deliver the pitch perfect sounds.


The interior decor is red hot and cool, old school meets new, as The Rolling Stones and Guns'n'Roses fill the airwaves too, with a Gibson Flying V and a Fender Stratocaster meeting at the bar.
Music mementos like Bowie album covers adorn the walls, the leather seats are appropriately stylish and comfy, and if you look up you'll even find rock stuff like drums stuck on the ceiling.
Roy Zsidai selected the memorabilia on show, diplaying great taste in every way. He's is the head of Zsidai Gastronomy Group, a local family business with a history of 36 years or so.
Roy (pictured above in center) runs around 20 restaurants, cafés, bars, pubs, not to mention two smart luxury boutique hotels, so he knows how to rock in style.

So you know, here's a few of the starters and snacks on offer: Broccoli & Pea dip with flatbread, Crispy Squid with Yuzu dip, Iberico Ham simply served 'sliced on a plank' are all winners.
The grilled Chicken wings with smoky homemade BBQ sauce are great, and the Seared Tuna tacos with pickles & wasabi deserves a special mention as an outstanding creation.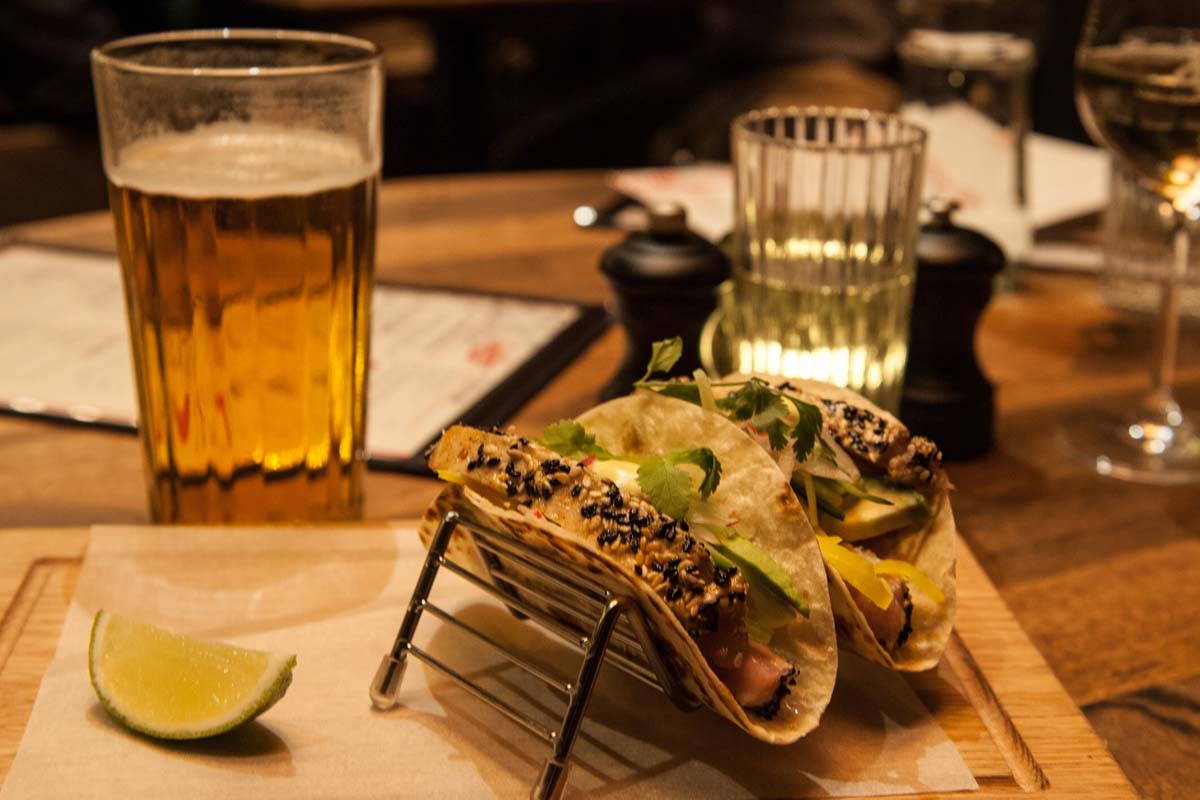 Most expats know the Spíler brand is alive and kicking at two venues inside Gozsdu udvar in Pest, I like them all but my favourite has to be this new 'Rockstar Restaurant' In Buda.
The staff are a happy bunch, they speak great English and serve in a genuinely friendly style, while keeping the F&B show perfectly on track.

Overall the place has a great vibe, even Monday evenings are buzzing which is special for this side of the river.
Whenever you fancy going it's easy to unwind and enjoy yourself here - after a few you might feel like getting your air guitar out, it's that type of easygoing fun-loving venue.
So if Mick ever did meet Lana here he'd say, finally I can get some satisfaction! Okay I know, the only thing that can follow that is the sound of a cymbal on the restaurant wall being bashed!

Spíler Buda @ MOM Park
1123 Budapest, Alkotás utca. 53.
Opening Hours:
Mon-Wed - 8:00 - 23:00
Thu-Fri - 8:00 - 24:00
Sat - 11:30 - 24:00
Sun - 11:30 - 17:00
Reservations:
Phone: +36 1 800 9218
Email: hello@spilerbuda.hu
Private events: booking@spilerbuda.hu

Words & photos by Russell Skidmore for XpatLoop.com
After an extensive career in advertising as an Art Director & Creative Director in London, Paris and Budapest for leading agencies, he transferred the skills and knowledge gained to his own photography company in Hungary. Visit his Facebook page here.