Expats seeking to play a few rounds here will be glad to learn that Hungary offers an array of courses that cater to players of all levels. Some are pretty close to Budapest, others further out are set in picturesque surroundings.
So then you may ask, what are the best golf courses in Hungary? Here are the best ones to investigate:

1. Balaton Golf Club


The first 18-hole course opened at Hungary's favourite getaway, the Balaton Golf Club comprises four fairways near Tihany, set back from the north short of the lake.
Golf lessons are offered, either individual or for group training, and a round here can be combined with a morning's swim or a visit to the Balaton Uplands National Park nearby.
Location: Balaton Golf Club, 8256 Balatonudvari, Tópart utca.

2. Birdland Golf & Country Club


Hungary's first 18-hole championship golf course of the modern era sits near the Austrian border, opened in 1991 and thoroughly renovated in time to celebrate its 30th anniversary in 2021.
Attached to the Greenfield Hotel & Spa, Birdland sprawls over sprawls over 100 hectares dotted with poplar trees and lakes that attract 100 species of bird, hence the name.
The course bests suits beginners and families, with lessons for children under 12 and team-building exercises.
Location: Birdland Golf & Country Club,9740 Bük, Golf út 4

3. Budapest Highland Golf Club & Academy



A rare golf club within the borders of Budapest – just, the city limits are a few hundred metres away – the Budapest Highland Golf Club is a nine-hole course handy for first-timers.
It offers introductory and beginner's sessions, admission for a round or an all-you-can golf day pass for 19,990 forints.
You can hire clubs, carts and trolleys on-site, and annual membership grants you unlimited use of the facility. You can even reach the clubhouse by public transport, while the in-house restaurant opens five days a week.
Location: Budapest Highland Golf Club & Academy, 1224 Budapest, Dózsa György út 99-103.

4. Magyar Golf Club
While modest, this historic course not only dates back over a century, it occupies a large slice of wooded countryside on the far tip of Szentendre Island, following a graceful bend in the Danube north of Budapest.
The clubhouse is equally venerable and there's on-site, mid-range accommodation, too.
Everything is almost crying out for a contemporary, boutique overhaul but it's kind of nice that it's kept this way, affordable and pleasing to regulars. One of Hungary's leading venue for the niche sport of footgolf.
Location: Magyar Golf Club, 2024 Kisoroszi, Golf út 1.

5. Old Lake Golf Club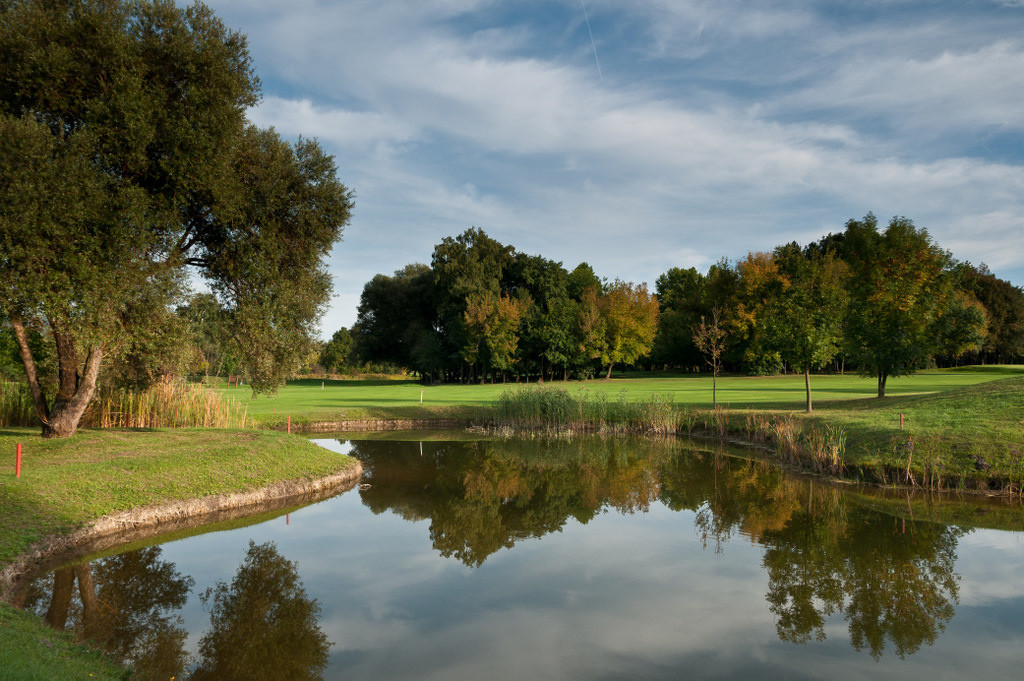 Nestled around the picturesque Lake Öreg in the town of Tata, the Old Lake Golf Club stands as one of Hungary's most distinguished golf courses. It was also one of the first, having opened in 1998, on the former estate of the noble Esterházy dynasty.
As well as an 18-hole championship golf course, rolling hills, ancient trees and challenging water features, the Old Lake features a driving range, chipping and putting green, and practice holes. There's a hotel in the same complex.
The course stays open from mid-March to mid-November, and then has a winter green for out-of-season golf, weather depending. All is a 45-minute drive or hour's train journey from Budapest.
Location: Old Lake Golf Club, 2890 Tata, Remeteségpuszta.

6. Pannonia Golf & Country Club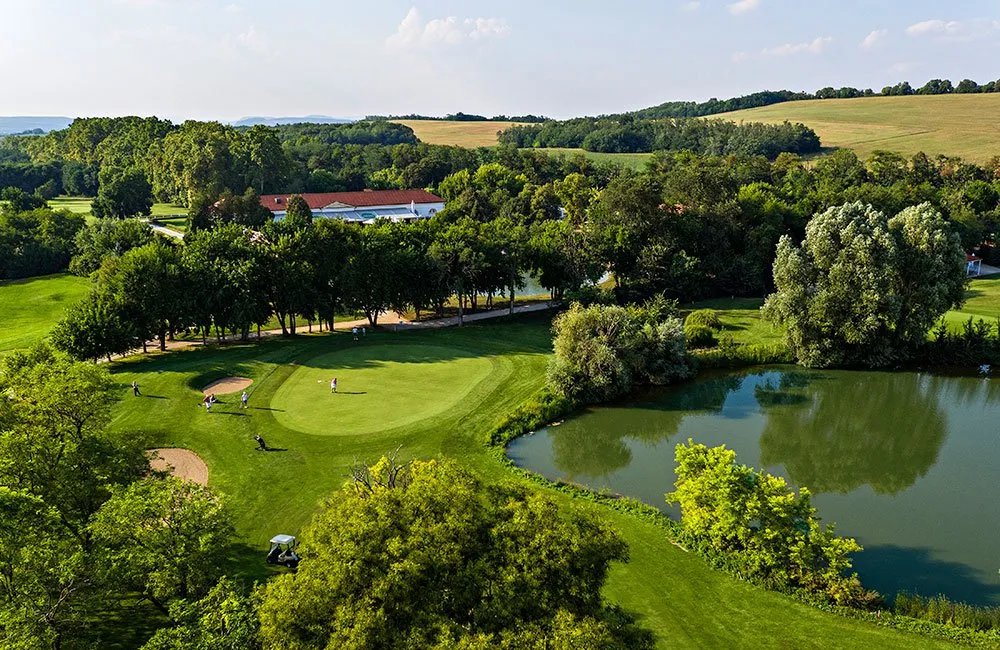 Designed by renowned Austrian landscape architect Hans-Georg Erhardt, this 18-hole, championship course basks in a lovely setting just the other side of Etyek from Budapest.
It's a par 72, the course record of 65 set by Alexander Simmes in 2016. Eight water hazards are set amid rolling hills, with on-site accommodation and a restaurant providing extra reasons to stay.

Location: Pannonia Golf & Country Club, 8087 Alcsútdoboz, Máriavölgy.

7. Zala Springs Golf Resort
Integral to a luxury estate comprising golf-themed studio suites, a boutique spa and bistro, this challenging, par-72, 18-hole international course was designed by the legendary Robert Trent Jones Jr.
Responsible for more than 300 courses in 50 countries around the world, this sought-after landscaper followed in his namesake father's footsteps, and his timeless words, "Follow the land, don't change the land".
Thus the course at Zala Springs features a strategic layout, crystal-clear lakes and stunning vineyard views, over a relaxing distance of 6,351 metres. Alongside, you'll find an extensive driving range with 40 open-air and 12 covered tees, pitching and chipping greens, and a bunker for all-round practice.
The location couldn't be better for bathers, allowing you to combine a visit to the nearby thermal lake of Hévíz and historic attractions of Keszthely.

Location: Zala Springs Golf Resort, 8784 Kehídakustány, Golf utca 1.

Words by Peterjon Cresswell for Xpatloop.com
Peterjon has been researching the byways of Budapest for 30 years, extending his expertise across Europe to produce guidebooks for Time Out and his own website liberoguide.com