Every August, thousands head to Hajógyári Island for the Sziget Festival but few may realise that there are many other island destinations in the Danube that are equally worthy of discovery.
According to the latest data, there are 76 such islands along the Hungarian stretch of the Danube. Some are uninhabited, others are used as residential and holiday homes. Here we look at seven special ones, plus one you may know to close.

Some of them have historical or cultural significance, perhaps by being associated with folk tradition or local legend. Many are ideal for hiking, picnics, cycling, swimming, fishing or other sports.

Most of all, they have a rich natural diversity, providing habitats that allow different species to survive and thrive. Some are registered as nature reserves or protected areas due to their importance in preserving biodiversity, ecological values and safeguarding the drinking water supply.

The Hungarian Danube islands face environmental challenges such as water pollution, shoreline erosion, or changes resulting from regulation. Finding a balance between development and environmental protection is essential for both visitors and the authorities.

1. Csepel Island – Recovering the past
Positioned in the southern part of Budapest, Csepel is still home to a vast factory complex with which it is most associated, harking back to its industrial past. While many buildings are empty, some have been converted into artist's studios and workshop – recent years have seen exhibition openings and cultural get-togethers here, something that would have been unthinkable 30 years ago.

At the northern tip, the new athletics stadium, built for the World Championships in August 2023, will be downsized for community and student use, and should bring more activity to the island. Hungary's tallest structure, the 314-metre-high Lakihegy Radio Tower, originally built for medium-wave broadcasting, is now considered an industrial monument.

2. Hajógyári Island (Óbuda Island) – Music and more

Located in the northern part of Budapest, this 'Boatbuilding Island' is where the Sziget Festival has been located since the first event in 1993. A year-round operation is also based here, while the festival site itself occupies the northern half of the island.

At the southern tip, you can still see vessels in dry dock, alongside an abandoned yacht club, making the island worth exploring for the 51 non-Sziget weeks of the year.

3. Népsziget – Bohemian rhapsody

Also known as Újpest Island or Szúnyog ('Mosquito') Island, Népsziget belongs to Budapest's 4th and 13th districts. Stretching about 2km in length, this 50-hectare peninsula is situated on the northern and southern sides of the embankment of the Újpest railway bridge. Originally a Danube island, it has transformed into a peninsula over time.

For the last few years, it has become synonymous with underground, alternative culture, best reflected in bars such as Kabin and funky stores such as Filip. The rest is given over to cyclists and dog walkers – there's even a dog training school here.

4. Petőfi Island – Gone fishing
Baja's Petőfi Island is a real paradise for sport and recreation, connected to this southern city by a bridge spanning the Sugovica backwater. Here you'll find hotels, guesthouses, camping sites, restaurants, a youth camp, tennis courts and a sports pool, all set in a picturesque environment. Visitors can also engage in kayaking, canoeing, swimming and fishing.

5. Prímás Island – Tourism by hydrofoil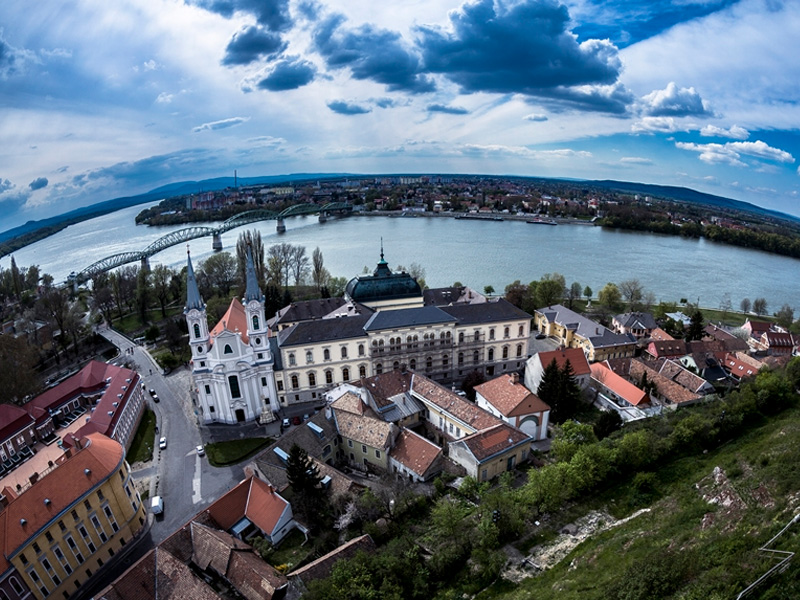 Prímás Island is one of the most beautiful spots in Esztergom on the border with Slovakia, ideal for sports enthusiasts and those seeking to relax by the water. The island is 2.7km long, and a popular stopping point for sightseeing boats and hydrofoils that stop at the island's jetty.

Just a short walk from here, you'll find the thermal spa and the Mária Valéria Bridge, which allows you to stroll across the Danube to the Slovak town of Štúrovo in a matter of minutes. From the bridge, the view of Prímás Island and Esztergom's historic Castle Hill creates a stunning tableau of this particularly beautiful stretch of the Danube.

6. Szentendre Island – Summer idyll
From spring to autumn, Szentendre Island comes to life. Despite its popularity, many still consider it one of the most beautiful parts of the Danube Bend, maintaining its rural tranquillity.

Covering 56 square kilometres, stretches for 31km, it's very long and very thin, around 3km wide for the most part, meaning you can easily find a secluded spot. This makes it particularly attractive for hikers and cyclists.

7. Szigetköz – Ideal for kayaking
After the Danube passes through the Dévény Gate, its flow slows down and deposits sediment. It then splits into many small branches, creating a multitude of islands, channels and reed beds – a paradise for waterborne tourism. Szigetköz is located on the north-west border of the country, where the Danube forms the boundary between Hungary and Slovakia.

Nestled between the arms of the Nagy and Mosoni Danube, Szigetköz is a world of tiny and larger islands built from the Danube's sediment. It's a favourite destination for nature lovers with its rich flora and fauna, meandering bike paths and unique aquatic world.

Encompassing an area of 375 square kilometres, it's ideal for those keen to explore the branches of the Danube by kayak or canoe.

+1. Margaret Island – The heart of Budapest

Located by the bridge of the same name in the heart of Budapest, Margaret Island is one of the city's main green getaways. Mainly traffic-free, apart from the bus that heads here from Nyugati station, and the bikes and pedalos that can be rented, this former monastic retreat is now given over almost entirely to leisure.

There are two main swimming spots, the sport-focused Alfréd Hajós National Pool and the family-friendly Palatinus, a small athletics stadium and a running track that meanders around most of the island.

Look out, too, for the petting zoo and Japanese garden, while in summer, shows take place on the open-air stage, a major music venue. Many are happy just to stroll around the main fountain, which features music and light shows in summer.



Words by Peterjon Cresswell for Xpatloop.com
Peterjon has been researching the byways of Budapest for 30 years, extending his expertise across Europe to produce guidebooks for Time Out and his own website liberoguide.com