Coming from a restaurateur family, my life has always been influenced by hospitality, and creating experiences.
Over the years a few other fields of interest twisted my professional profile: revenue management, online distribution, education counselling, urbanism and social innovation, and most recently memorial renovation, pre-opening and event management are fulfilling my everyday life.

But I prefer to do it all at once - feel free to get in touch if you have any business, development or speaker opportunities to share!

Click here to virtually visit Haris Park online

1. Where did you grow up?
In Budapest, in Buda to be precise. I was born and raised in the 12th district's Városmajor area, where I went to elementary and high school. It was a really nice childhood, I was happy there, I knew all the social circles there and they still connect me to that area. These days, after I travelled around the World, I ended up working at Haris Park just 500 meters from there. Also, our family restaurant Mezzo Music Restaurant is there so I know my way around this block you can say.

2. If you could be an expat anywhere in the world, where would you choose?
Based on the experiences of where I have been so far, most likely I would move back to Belgium, as I really liked it there. I was in Brussels working at Starwood Hotels and Resorts EAME headquarters, not in the 'EU Bubble' there as they say - I am not necessarily fond of the politics side of it, but the social part was very entertaining.

I also like Germany, a part of my family is connected to it, and I've spent a lot of time there as well, and it would also be nice place for me to live, as for example it is very affordable yet offers a good quality of life. Overall, I am very comfortable in Europe, and here in Hungary, so I would not really like to live anywhere else as I feel very European.

3. What would you miss most if you moved away from Hungary?

My hometown environment is very important to me. Budapest has a unique vibe, and I am not just saying that because I am from here, but because many friends who came to visit and also expats living here say the same thing, that this city is something exceptional.

The mix of history, architecture, cultural opportunities and so on are not something I see anywhere else, and even though it is not really the reputation of Budapest it is a very diverse city. And that is something I really like about it. You might need to do a bit of networking and have local contacts to be part of this diversity, but it does exist and is something I would probably not be able to experience anywhere else.

4. Friends are in Budapest for a weekend - what must they absolutely see and do?

Eat, eat and eat! That's the most important thing to do, but of course they also have to go to a thermal spa. Rudas is my favourite of all. They are all different and I would not say one is worse than another, personally I like the atmosphere there because of the Turkish influence. I think it is the best in town for that reason, and I hear there are mixed days these days so both men and women have the opportunity to try it together.

I would definitely take guests to the regular tourist sites - but on foot to best enjoy the sights. I am a hobby tour guide, I would say, although I do not have any certification, I am really enthusiastic about all the city sights and so I know a lot of stories and related history. And I do not just say what it is in the books, but can give my personal connection to it, so that it is a really personalised tour.

Also I would arrange a pub tour on the outskirts of the city to see really local sights. Maybe my record for such a tour is 13 bars, all visited together with a group of my Lebanese, Greek, Spanish and American friends I got to know during my hotelschool studies in Switzerland.

We went to the cheapest crappy place on Király utca and also to the best cocktail bars in town, we went everywhere worth seeing on a full pub tour. That was 10 years ago and obviously a lot might have changed since then but that is something I definitely would do again.

Then a 5* hotel tour, which I recommend as well because I am a big fan of such grand properties, especially the Four Seasons - as I was working there for a few years. The history of that building and the details there are absolutely marvellous. With my hotelier hat on I would recommend them to take a look at all the 5 star hotels around to witness the diversity in that field.

Ok so now about eating 😉 I would start at Fény utca market with a lángos for breakfast. For the most health-conscious types of people, Hungary is a challenging place to visit. For example, there is not a single vegetarian dish in the Hungarian cuisine that's truly traditional - if I really stretch it I would say lecsó without kolbász, but we all know it would not be the same that way.

Anyway, I would take guests to a market to look around at what's on offer here, then when it comes time to visit a restaurant, we would start at our restaurant Bobo at Haris Park to have a local experience. It is nice to experience the atmosphere here sitting in the garden mixing with locals and expats. If I took them to Zrinyi utca, they would probably have nice service, probably nice food, but they would have no idea what locals do when they go out to a restaurant. Here they can taste real Hungarian flavours, traditional dishes or vegetarian ones, and vegan or whatever 'everything free food' they choose, as we have all types of items on our menu. They are free from gluten, added sugar, any animal products so they are suitable for most dietary restrictions.

As for Mezzo, I would recommend it for an evening meal in Buda, to listen to the live jazz and have a relaxed night out with fine Hungarian food, and local wine of course. Maybe then go downtown to a jazz club to continue the night. Talking about other restaurants which are not ours, I always recommend Két Szerecsen, which is my top pick due to very good service, constantly high-quality food and great downtown location.

Regardless of their social status or where they come from, I would also recommend guests not to just look for the finest restaurants here that are listed online. For example, I had a group of Finnish friends over for a bachelorette party and accordingly I started recommending basic bars and restaurants for them - and they surprisingly replied that they already booked a table at Onyx and also at Costes.

Ok sure if this is the level guests are looking for I would totally recommend these fine dining venues, where you can have a Michelin star meal for around 150 Euros per person. Sad, that not all of these restaurants are available right now.

On the other hand, I think guests should also go to a 'checked tablecloth' type local place, a very traditional one, and as said, to a market to explore Hungarian fruits and vegetables as that is also a culinary experience for me, as it is not just about eating in top level restaurants.

If they want a very traditional restaurant then I'd say go to the country side, if they have some time to get out of the capital, for example, they could go to Balaton or the Danube Bend area where there is plenty of choice of such eateries. To name one in Budapest, there is Kék Rózsa on Wesselényi utca. And there is one in Buda on Pasaréti út, which has been there for over 30 years – I have never tried Gyergyó Árpi though, but it's on my list.

Other local favourites include Mákos Guba on the corner towards the tunnel to Chain Bridge. And of course, Bambi Presszó is a classic – I have a local friend who moved to the States and that is the place where we always meet, and the only place where I drink Unicum for his sake. I have so many stories about that place, as it exactly looks like as it did back in the 60's.

5. What is your favourite food?
Anything deep fried – Schnitzel, Chicken Kiev, French Fries… anything deep fried in fact!

6. What is your favourite sport / form of exercise?
I play water polo, and have done for more than 20 years, you know that is a traditional sport here. It is something I do on an amateur level now, for socializing with friends as well as for exercise - it is actually very good for your joints.

The type of people doing this sport all seem to be intelligent and knowledgeable types, they went to nice schools and have interesting backgrounds, so it is not just about the sport but about the people involved, say if we have any professional challenges, we discuss and help each other.

On our team there is a lawyer, a construction company contractor, IT people, hospitality people and more. During 'corona-lockdown' times the thing I missed most was that chlorine smell around me as I am so used to it 😊

7. What is your favourite place in Hungary?
I like the capital, and in particular the Buda Castle. I go there for walks and really like it at night, when it's empty, every street has a story to tell - and every door and every window, and even every brick.

Even if tourism is great thing for Hungary, pre-Covid it was getting over-crowded, just think of the Sakura madness in April before lockdown, tourists were practically rioting to take pictures of all things cherry blossom in the castle area. I really adore the historical part of this district, and in particular the Víziváros area where I now live is closest to my heart these days.

8. What career other than yours would you love to pursue?
I have an alternative career at the moment, as a volunteer I work for an NGO called Járókelő.hu. It is a 'social start-up' initiative to help take care of issues related to public spaces, like if there is a bad pothole or if lights go out on a street or if there is a sign which is upside down.

We have set up a way for people to report the issue and we aim to fix such things, as we have put a communication platform in place to connect citizens and authorities. I currently work there as volunteer and if I had another full-time career I would pursue something in the public sector to make Budapest an even better place.

9. What's a job you would definitely never want?

Tough one, ok how about a crane operator. I am scared of heights; however, I appreciate the great view they might have up there. Now that I live in Víziváros I can see two massive cranes in the Buda Castle area, they are up on a hill, up on the highest point of the capital, I see when it is windy that the crane sways from side to side, and I don't think I could be the man operating a crane in such a situation.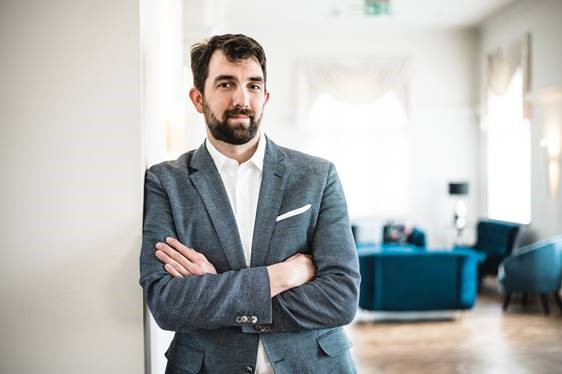 10. Where did you spend your last vacation?
Before the full Covid lockdown situation started I went to Egypt in March 2020. To Hurghada for scuba diving, which was a great experience, but I was also worried about the Covid situation and how it was developing (I just got off the plane back here and the next day they closed all the restaurants)...

I learnt to dive while in Thailand on a previous holiday, I do not go deeper than 18 meters because that is where all the fun happens in my experience - I really enjoy looking up while under the water as I feel like I could touch the sky. After that trip, I went to Spain for diving, and to Egypt, but still the Thailand diving experience was the best so far. I was told that I should go diving in the Maldives, and in the Philippines, so I have plans for future vacations.

11. Where do you hope to spend your next one?
Now, due to Covid limitations I would like to stay in Europe for my next holiday, and will probably do a road trip to the Atlantic Coast and see the ocean waves there and have some nice fish and seafood. San Sebastian is a target destination, apart from that it will be fun to just stop wherever I want.

12. What was your favourite band, film, or hobby as a teen?
Bands: As I went to Városmajori Gimnázium, a very good school well known for its good community, I have a passion for rock and alternative music. Many local rock bands are somehow connected to that school, just to mention one there is 'Ivan and the Parazol', half of that band was in my high school, and I knew them well. Favourite bands I was listening to as a teen include 'Heaven Street Seven', and 'Hiperkarma'. Also I really liked 'Nyers', and 'Kispál és a Borz' - very alternative music, but that was the 'thing' back then.

Films: 'Macskafogó', which anyone from my generation can quote scenes from by heart, was something that really characterises my younger years. The Hungarian movie scene has evolved a lot recently, as there was more funding for it, but even before the current golden era for film here there were some really nice Hungarian movies like 'Moszkva tér', 'Kontroll', and 'Csinibaba'.

Hobby: water polo.

13. Apart from temptation what can't you resist?
I can resist everything – wait, that is not true, I cannot resist polite people offering food.

14. Red wine or white?
Gin. So not wine, I am the odd exception in my family in that regard.

15. Book or movie?
Movie.

16. Morning person or night person?
Night - anything which is the opposite of morning!

17. Which social issue do you feel most strongly about?
There seems to be a new issue coming up every day these days. So, I would not say it is an issue I feel most strongly about, but it is more of a phenomenon: people have to actively participate in democracy, as it is not something which is granted at all times. You have to actively take part to make a difference instead of just complaining about something you disagree with.

You have to take care of your rights. You pay taxes, which means you are paying for a service from the state, and people deserve a good service - but should be more proactive about getting what they want and deserve. I am talking about 'Participatory Democracy' – does this term even exist? Many people seem to just want good things without making an effort to get them. Sometimes you have to hit the table if you really want something.

18. Buda or Pest side?
I do not think I have to answer this one 😊

19. Which achievement in your life are you most pleased about?
That I can be honest to myself.

20. What would you say is your personal motto?
There are 10 kinds of people. Ones that understand the binary system and the ones who don't. I went to an IT specialised school, so I enjoy these little bit nerdy jokes :-)