An oasis of tranquillity, relaxation and luxury in the heart of Bangkok city, the Shangri-La Hotel opened its doors to guests here back in August 1986. It's prime location on the famous Chao Phraya River, the "River of Kings," has contributed to its rapid popularity as a city-resort welcoming a wide range of guests - including business travelers, tourists, and meeting and incentive groups.

The success of the first 25-storey Shangri-La Wing (673 rooms) led to the opening in August 1991 of a smaller, more exclusive second tower, the Krungthep Wing. While benefiting from all the facilities of the main wing, the Krungthep Wing (129 rooms) is an independent tower with its own reception and lobby.
Harmony, tranquillity and elegance served as the inspiration for the design of Shangri-La Hotel, Bangkok. A modern Western decor is enhanced by the rich beauty of Thai decorative motifs and colourful handcrafted artwork found in all parts of the hotel.



The superbly decorated guestrooms and suites offer the best of modern amenities and conveniences in a soothing East meets West decor. Graceful and gentle Thai hospitality and service enhance the warm ambience of this dramatic riverside property.



The two hotel towers, which encircle the lush gardens, serve as a perfect backdrop to the pool areas. Two tropical swimming pools, one exclusively for guests staying in the luxurious Krungthep Wing, and large sunbathing spaces are popular with guests who enjoy relaxing next to the river. Palm trees, flowering bougainvillea, orchids and bird of paradise flowers lend to the exotic ambience. With space spanning almost a quarter of a mile on the Chao Phraya River, Shangri-La Hotel, Bangkok has the longest river frontage of any inner-city hotel.

Dine & Drink Around The World In 9 Ways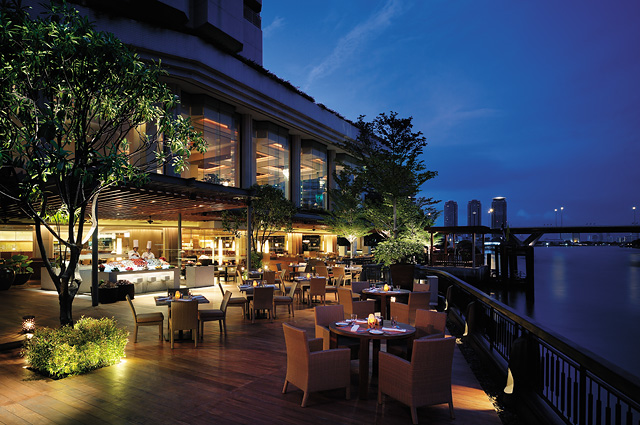 * NEXT2 Café (International Cuisine): A trendy alfresco café brings all-day dining to a higher level of creativity. With a choice of six interactive theatre style cooking stations in an exotic setting in addition to other sumptuous menu choices, it blends international cuisine with an interactive dining experience with a buffet extravaganza through a variety of cuisine and flavours, kitchens, people and wine.



* SALATHIP (Thai Cuisine): The restaurant provides guests with an authentic dining experience with creative presentation in classical Thai style, striking teak pavilions set in a garden next to the Chao Phraya River. The cuisine served at Salathip is based on Thai cooking traditions that reflect the cuisine of Thailand by using creative ingredients and products from the royal project. Live traditional Thai dances perform nightly from 7:45 to 9:30 p.m.



* VOLTI RISTORANTE & BAR (Italian Cuisine): The restaurant offers timeless authentic modern Italian dishes in the comfort of "at-home" luxury accompanied by great live music in the intimate Lounge Bar. An enlarged open kitchen area and the multi-purpose oven for roasting, grilling and baking pizza and pasta give elements of activity to the interactive dining atmosphere. The restaurant's cellars offer a selection of more than 150 world-class wines from all over the world. Exuding an air of warmth and familiarity with stunning flawless faces awaits to greet guests to Volti.



* SHANG PALACE (Chinese Cuisine): A stylish restaurant offers Cantonese authenticity and regional cuisines where two Chinese master chefs uncork diners' palate with their signature dishes. Featuring a glided Happy Buddha, an icon of Shang Palace, and meaningful Chinese art pieces, the restaurant provides a spacious area where guests can view natural lighting through large glass windows. A Shang Palace menu showcases an extensive selection of Cantonese dishes, including barbecue specialties and dim sum dishes.



* SHANGRI-LA - HORIZON CRUISE: A delicious international buffet dinner is served aboard an elegant Horizon boat. During pre-dinner cocktails, guests enjoy the glimmering lights of Bangkok by night as they glide past palaces, temples, markets and old colonial buildings. Dinner Cruise: Nightly from 7:30 to 9:30 p.m. at 2,300 baht net



* LOBBY LOUNGE: Unmatched river views provide a dramatic backdrop for this popular hotel meeting place, the perfect spot to see and be seen. Traditional afternoon tea is a highlight of a visit to Shangri-La. The great drinks, snacks, live entertainment and superb atmosphere can be enjoyed at anytime of the day.



* RIVERSIDE LOUNGE: The lounge offers a grand river view and breathtaking gold and black two-storey lacquer mural paintings depicting life on the River of Kings. Favourite drinks and snacks are served in the gracious Thai manner.



* THE LONG BAR: A striking hotel bar in an energetic yet intimate environment, with views of the Chao Phraya River, is ideal for a business meeting, an evening out with friends or for just relaxing with cocktails after dinner. The bar features a counter 14.2 metres long next to the river and offers innovative cocktail creations, premium spirits and spices, malts and Martinis, healthy boosters and tailor-made concoctions to guests' tastes and snacks.


* CHOCOLATE BOUTIQUE: A vibrant and elegant rendezvous with jewellery cases to enhance a boutique feel offers a selection of creative beverages, signature hot and cold coffees and signature chocolate cakes, pralines and pastries to enjoy in or to take away. The outlet is themed around premium chocolate products in an exciting display, catering to a wide range of chocolate connoisseurs and offering a range of creative merchandising boxes for gifts.

Getting Around: River & City Travel

Life on the Maenam Chao Phraya, literally meaning the "River of Kings," has been the focal point of Thai life for hundreds of years. Even today, many of the most fascinating aspects of Bangkok can best be appreciated on the Chao Phraya, which makes staying at the riverfront Shangri-La Hotel, Bangkok ideal. Here are three ways to enjoy the river from the hotel:
Shangri-La Hotel, Bangkok's Shuttle Boat Service
Complimentary shuttle boat service to Asiatique: The Riverfront, a popular riverside shopping complex, runs daily for hotel guests. 5 p.m. to 11 p.m.: To Asiatique every hour by departing from NEXT2 Pier and returning to the hotel every 30 minutes.
Long-Tail Boat tour

From the pier of the Shangri-La, you can arrange to hire your own private long-tail boat to visit sites along the river. Heading north, you will see on your right the golden roofline of the Grand Palace and the Temple of the Emerald Buddha glimmering in the sun. Your first stop should be Wat Arun, Bangkok's often photographed Temple of Dawn. This religious structure, known as a "prang," is a famous city landmark towering 81 metres high.

Next, you can travel farther up river and turn left into a canal known as Khlong Bangkok Noi. Here, the Royal Barge Museum contains the beautiful gilt and lacquered barges of the royal household, used on rare occasions for state ceremonies. Reservations can be made through the hotel's Concierge Counter: Bt400 per hour, Bt300 for each additional hour.

Chao Phraya Express Taxi Service

This inexpensive (prices start at Bt10) public river bus stops at 21 piers along the river. If you start at the public pier next to Shangri-La Hotel, Bangkok, "Tha Sathorn" (pier number two), you can ride all the way up the river to the final pier 21, Tha Sang Hee, which is located on the Thonburi side of the river. Alternatively, you can choose to stop anywhere along the way, before you board another river taxi to return to the hotel.
City travel
Bangkok's skytrain system, with the Saphan Taksin Station located only a few steps from the entrance to the hotel's Krungthep Wing, has transformed the way business travellers and tourists see and travel around the city. This rapid transit system offers convenient access to Bangkok's major business and shopping areas including the famous Chatuchak Weekend Market, Siam Paragon, and CentralWorld, the largest shopping mall in South East Asia. Cost: From Bt10 to Bt52. Time: 6 a.m. to midnight
Limousine Service

Bangkok's new expressway system makes getting around the city much quicker than ever before, and trips between the Shangri-La Hotel, Bangkok and the airport are especially rapid, even at peak times. Hotel limousines are available for one way and hourly services in and out of the Bangkok metropolitan area. Cost: Varies, depending on location.

Tried & Tested Recommendations

Impeccable service and personal attention from a caring team complement this hotel's state-of-the-art facilities and are the hallmarks for any stay at Shangri-La Hotel, Bangkok. We loved our stay, and highly recommend this tropical city resort. Whichever form of transport you choose to use whist enjoying a stay at the Shangri-La in Bangkok, here are a final few top tips about some of the 'must see' city attractions:
* The amazing Chatuchak market (Saturday and Sunday): one of the shopping wonders of the world. Mo Chit Skytrain Station - 35 minutes from Shangri-La.

* Thailand's most prominent mall, Siam Paragon, offers international and local designer goods and gastronomic experience. It is also a home to family fun, such as, Kidzania, SEA LIFE Bangkok Ocean World, Madame Tussauds Bangkok and Hello Kitty Café. Siam Skytrain Station – 15 minutes from Shangri-La.
* The Siam Society, a fascinating historical society with a museum featuring traditional teak houses; moved to Bangkok from Chiang Mai. Terminal21 is in-door themed market with local designer' boutiques. Asoke Skytrain Station - 20 minutes from Shangri-La.
* The Gaysorn Plaza Handicraft Museum has a selection of Thai treasures for sale including ceramics, bronze, silk weaving, woodcarving and lacquer. Chidlom Skytrain Station - 15 minutes from Shangri-La.
* Queen Sirikit Park is a lovely garden for walking and strolling, and the nearby EmDistric – shopping district (Emporium and Emquatier) offers designer goods, food outlets and fun. Thailand Creative & Design Center is great place to visit for art lover. Phrom Phong Skytrain Station - 25 minutes from Shangri-La.
* Patpong night market is a street market with hundreds of stalls selling all sorts of goods. It is a well-known landmark for evening fun. Sala Daeng Skytrain Station - 10 minutes from Shangri-La.

Visit the Shangri-La Hotel in Bangkok online by clicking here
89 Soi Wat Suan Plu, New Road, Bangrak, Bangkok 10500, Thailand
Tel: (66 2) 236 7777

Social Media Links
Facebook Twitter @shangrilabkk LINE@: @shangbkk

Getting to Thailand
We flew via Vienna in Elite Class thanks to EVA Air