The festival, which evokes the ambiance of old-time fairs, is the year's long-expected family event where one can try folk crafts and admire the splendid artwork of craftsmen, the organisers told XpatLoop.
More from the organisers: It's a full-day event enriched with wonderful stage programs brings an unforgettable experience to all ages.


Nearly 1,000 craftsmen and hundreds of performers will take part in a full day of stage programs, exhibitions, handicraft gastronomic delights and popular activities for children.
In interactive open workshops, more than 800 Hungarian and 150 foreign masters will acquaint visitors with the secrets of their different crafts.
Not only can visitors escape the ordinary to enter a medieval atmosphere where they can admire and buy items of unique folk craft heritage, but they can also create these crafts themselves under the guidance of Hungarian masters in nearly 100 open workshops.
Weaving and spinning, the main theme of the year, are the most ancient branches of folk crafts in the region, with origins that date to pre-historic times.
In Transylvania, even factory products could not completely displace the peasant looms. Even today, there are village homes where, especially on winter days, the noise of the weaving loom can be heard.
Still homemade, for example, is cserge, the famous Transylvanian thick, woolen blanket. Traditionally, cotton, hemp and flax were woven for embroidered towels, tablecloths, wall ornaments, or cushions, and carpets were woven from intertwined wool.
The earliest – yet still prosperous – form of weaving is spinning, which can be performed from wicker, reedmace, straw or corn husk. Wicker is used to make basket and storage containers, while straw is good for hats and bags, corn husk for chair backs and seats, and reedmace for carpets and wall decorations.
In the weaving workshops, festival masters will present the diversity and richness of folk weaving and spinning.
Visitors can get acquainted with different materials and weaving techniques, such as the trick of spinning hemp and using looms for weaving. They can also learn ribbon and carpet weaving and hair plaiting and try to spin on the spinning wheel.
The event invites visitors to an old-time peasant courtyard, where they can follow the ancient operations of wool and hemp processing. Masters will wash, comb, cart and dye trimmed, raw wool in the way their predecessors did for hundreds of years.
Hempers also will conduct the hard work of soaking, swinging, breaking, and combing until raw hemp turns to spinning yarn. Visitors can even try their hands at several phases of these workflows.
The Festival of Folk Arts is the must-see family festival of the year, where children, parents and grandparents alike can find programs to their liking. This year, in honor of The Year of Families, family programs will feature traditional games and sports.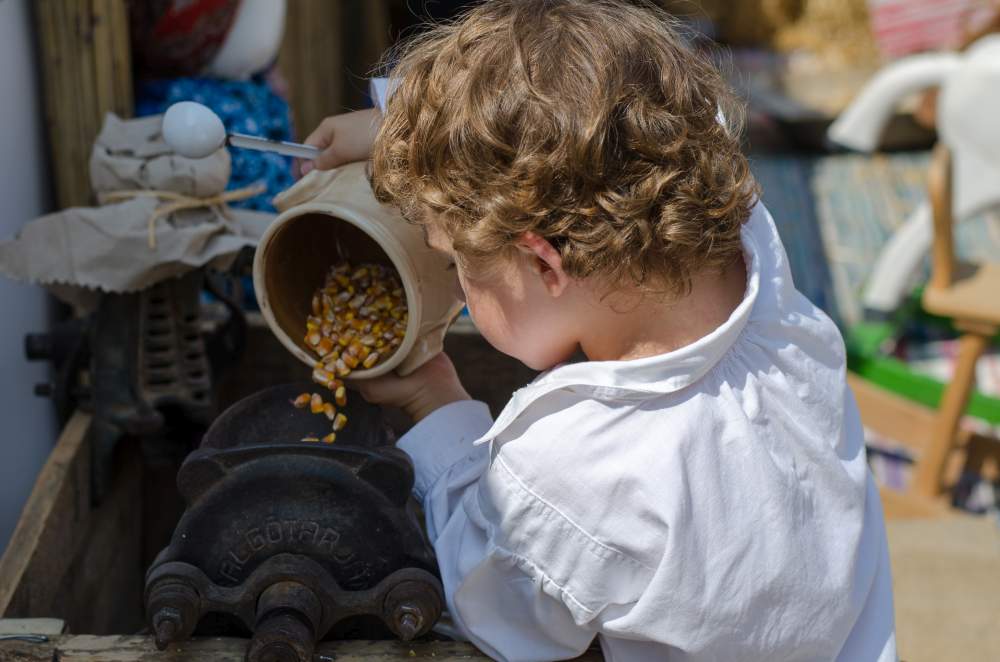 The little ones in the Babies' Playground can have a good time relaxing while those who are eager to try traditional folk logic games and sports will be delighted to discover more and more fun. Visitors can expect a joyful, unrivaled gaming experience.
The Year of Families introduces masters who, having inherited their skills from their ancestors, are members of real handicraft dynasties. Visitors may encounter three generations of shoemakers working together in the same workshop, where footwear is strictly hand-made just as it was a century ago.
A three-generation furniture painting workshop features the unique Győr blueprint dynasty, which has been operating for hundreds of years with the same technique.
Throughout this four-day event, some of the best musicians, singers, storytellers and dancers in Hungary will perform, offering special cultural delights. Szalonna and his Band performs with the Páva winner Sarjú Band, and Mihály Dresch will perform with the strings.
There also will be concerts by the Karaván Familia and the Bognár Szilvia Quartet. Starting at 19:00 on 20 August, Levente Szörényi will be the special guest of the Söndörgő and Vuicsics bands.
With hundreds of performers, there will be stage shows to everybody's liking – a true festival atmosphere and a fairy-tale festival that await visitors in the unique atmosphere of the folk festivals of the summer: the Festival of Folk Arts!
Opening hours:
10.00 AM – 11.00 PM
The market will be open for public from
10.00 AM to 9.00 PM,
and you can enjoy the programme of the stages and gastronomy until 11.00 PM.
Venue:
Buda Castle
1014 Budapest, Szent György tér 2.
More: mestersegekunnepe.hu