A warm and cosmopolitan atmosphere was created again at this annual gathering of expats and high-level locals, who turned out last Saturday night to "Feel Good & Do Good".


The result was easy going and worthwhile social networking among friends, acquaintances and new contacts in the ballroom at Marriott, with its breathtaking views of the Buda Palace.



As usual this year's Xpat Charity Party theme was 'Guy Fawkes - Fireworks Night', and it attracted a great crowd from Hungary's international community, with a good sprinkling of VIPs and celebrities, to have fun and raise funds for charities supporting Hungarian children in need.
Guest of honour Mrs. Caitlin Jones, Deputy Ambassador at the British Embassy in Hungary (pictured below), said, "I really enjoyed the opportunity to meet some lovely new people. Being able to enjoy the terrace with that fabulous view was an extra bonus."


Inside the event arrivals room there were displays from the event main sponsor FirstMed, Budapest's leading private medical clinic, and other top event supporters such as Stan Ahuja Couture, a premier men's clothier, and insurance brokers Pászka & Partners.
Event silver sponsor Special Effects International expertly arranged the event's audio and visual tech elements, including the event's virtual bonfire and fireworks display to celebrate the foiling of the Gunpowder Plot which aimed to blow up the UK Parliament in 1605.



"FirstMed was very pleased to be a part of this year's Xpatloop charity event helping raise HUF 4.5 million for local charities supporting those less fortunate. We had a great time meeting old friends and making new ones during the evening," said Liam Crow (pictured above).
Liam added, with typical good humour, "Our mascot FirstMedve remarked that he never felt as relaxed as he did after the four-hand Thai massage."



Event festivities began with welcome networking serenaded by Cintia & Andras's soulful live sounds, and enhanced by a selection of 'Budapest Wine Society' drinks, plus nibbles of course.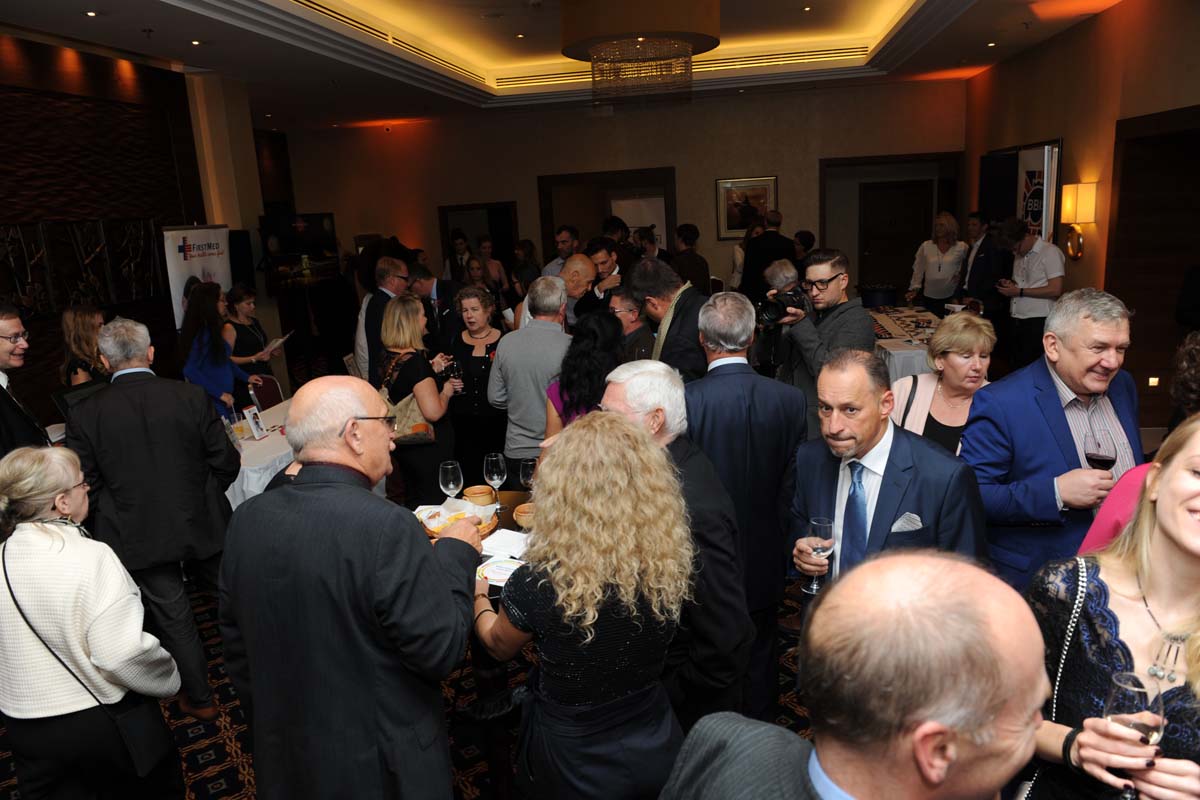 After the meet and greet session, under the adept guidance of Master of Ceremonies Hans Peterson (pictured below) guests were invited to enter the Grand Ballroom, where he and TV celebrity Zsuzsa Demcsák jointly welcomed everyone.

Click here to see the event photo gallery by Russell Skidmore

Follow this link to see party pictures by Marcus Schirrmacher-Gavallér



Inside the ballroom the stage was set for the night ahead with special lighting effects, huge presentation screens, fine wine and craft beer tasting, and party tunes from Mr T of Buddha-Bar.
Soon guests were invited to enjoy the international buffet of first-class food, and the talented vocalist Klára Hajdu took to the stage with her pianist to entertain guests with a beautifully smooth jazz set.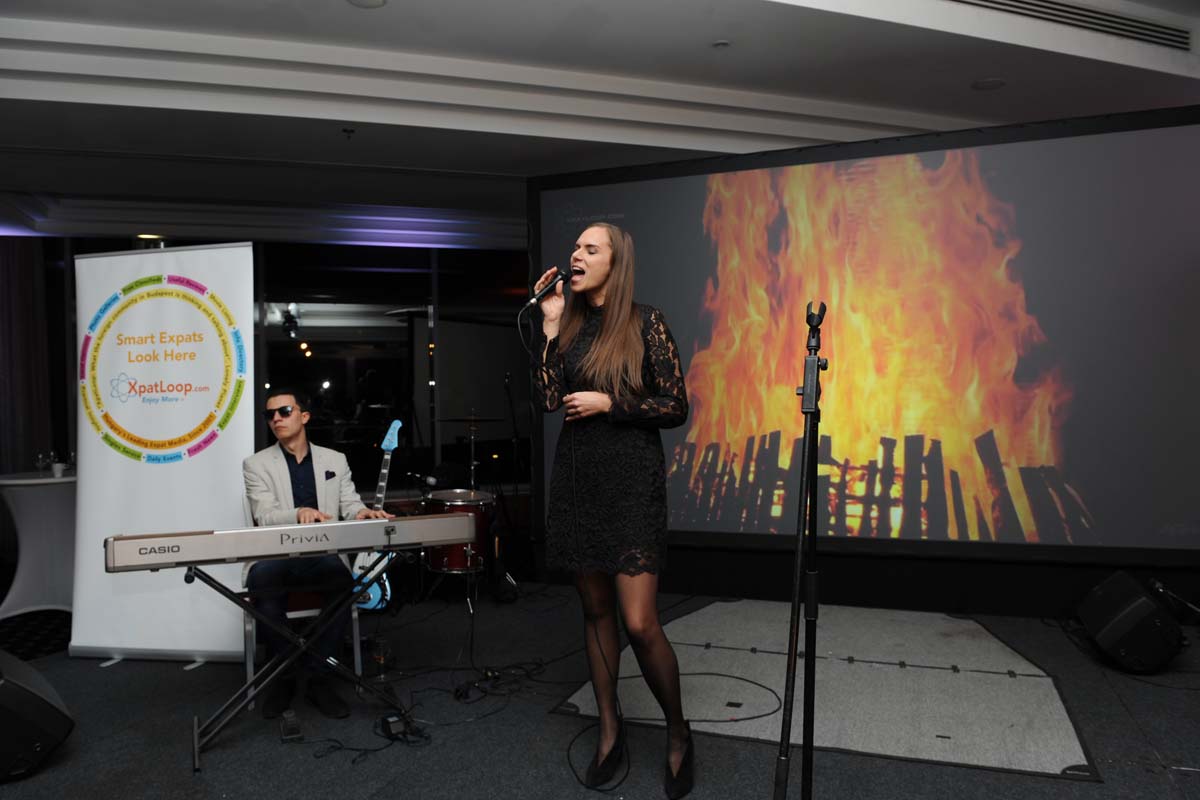 This year's admirable food sponsors were: Arriba Taqueria, S.K. GastroPub, Marriott Hotel (mini-burgers pictured below), Trattoria Toscana, Planet Sushi, Mr Masala, Okay Italia, Zsófia Cruise Ship, Wan Hao Chinese, Japanika, Noir Choco Bar, Mr Funk, and Zsidai Group.



The culinary delights were washed down with, in proper consumption order, palinka from Márton and Lányai, frozen Margaritas from Iguana Bar, craft beer from Hedon and Budapest Beer Week, a great selection of wines from Veritas, Unicum cocktails from Zwack, and Mauro coffee.
To help avoid hangovers there was a soft drink bar thanks to Clearwater. Your faithful correspondent noticed no guests who went thirsty.


After dinner, the Live Auction was launched in support of three local charities: UNICEF Hungary, the Magic Lamp Wish Foundation (Csodalámpa), and the Young People in Need (Rászoruló Fiatalok) Non-Profit Organisation, which focuses on solutions to emotional abuse of children, as well as supporting other local charities helping children in need such as the ones above.
Gabor Patzauer, Founder & President of Csodalámpa, said: "It was a great honour again, for the 6th time, that our Magic Lamp Foundation was chosen as a beneficiary of the Xpat Charity Party. All the guests including us enjoyed the many different programs, the exotic assortment of foods and drinks, and last but not least the excellent networking possibilities.
I would like to thank XpatLoop.com and its readers, special guests and performers for their support of Magic Lamp's mission to grant wishes for children suffering from a life endangering illness. An extra thanks goes to The Red Line for their surprise, as the band wore T-shirts printed with the names of the beneficiary charities, great idea!"



The valuable Live Auction main prizes included stays in The Writer's Villa in Buda and in the Presidential Suite at the Budapest Marriott Hotel, plus a nine course dinner with caviar and wine at Caviar & Bull Restaurant whose celebrity chef Mr. Marvin Gauci served as the star auctioneer.
Marvin, who flew in from Malta especially, engaged the audience with enthusiasm and style, successfully selling all items in this exciting fundraising element of the evening for high amounts. He also generously bought several high value items in the various charity auctions throughout the night.
The other outstanding Live Auction prizes were VIP packages from Zsófia Boat, Budapest Airport, FirstMed, plus Dez O'Connell's popular classic cocktail class.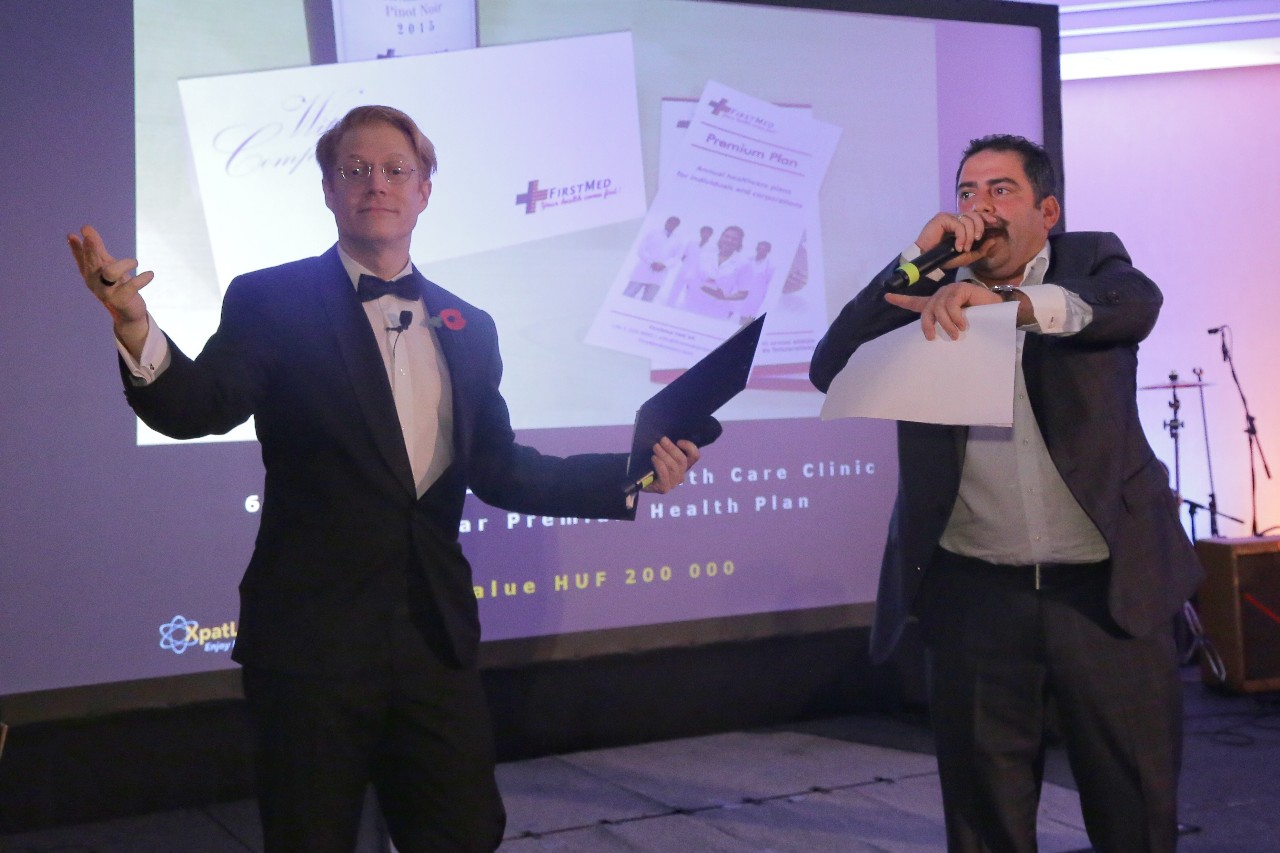 The live Art Auction, led by Zsuzsa Demcsák who's also an author and model, showcased talented local female artists including Emőke Lőrincz (pictured below), Franciska Szabó and Kitti Gebler. Beáta Kovács kindly donated three special pieces of art too.



Before bringing on the band, Hans Peterson announced the results of the Silent Auction, pleasing guests who successfully bid on items from Michelin starred Costes Restaurant, Hungarian State Opera, FirstMed, BadCat, Whiskynet, Buddha-Bar, La Perle Noire, and more.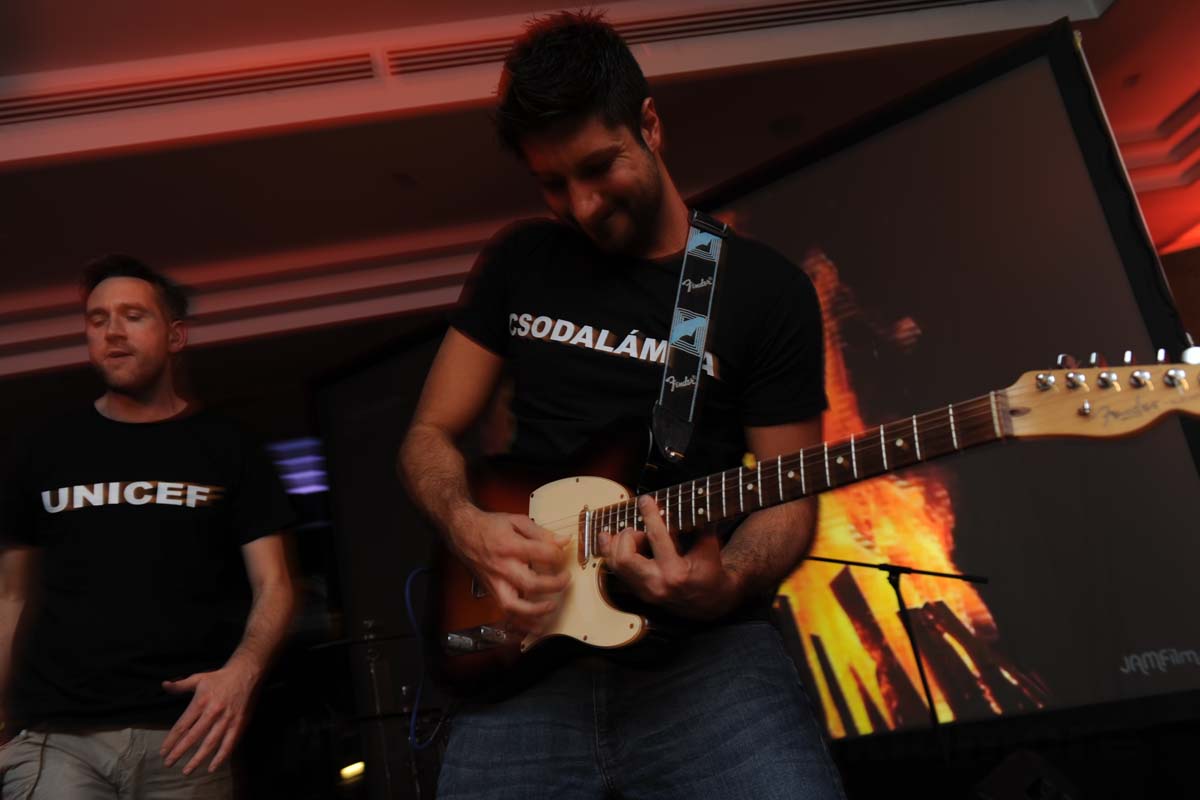 Headline live music act The Red Line appeared next, and not everyone knew what to expect, as it happened this exciting new expat band played immaculate cover versions of tunes by the Red Hot Chili Peppers.
These talented guys based in Budapest really rocked the house, and brought a unique world view to the music of the famous California four-piece – with a British lead singer, Italian guitarist, British bassist and Brazilian drummer.
"The great thing about the music of the Chili Peppers is that it's exciting and emotive, and therefore makes for a great audience experience–regardless of whether you know all the songs or just a few," said The Red Line's fine front man Steve Collison (pictured below in middle).


Surprise entertainment came in form of magic by Anna Balogh, "the most sought-after female magician in Hungary", who directly engaged with guests all night to their real delight.
Throughout the evening 'Taste & Play' held wine casino games (for fun, not cash), and many tried their luck and found out more about Hungarian wine in the process.
All guests had a shot at winning in the business card draw, which included high value items such as Unicum Riserva signed by Sándor Zwack, Glenfiddich Single Malt Whisky from Ecosse Limited, a Magnum of Etyeki Kúria Pinot Noir, as well as goodies from the Corinthia Royal Spa, Budapest Airport, Magnolia Day Spa, Good Spirit Bar, Budapest Marriott Health Club, and more.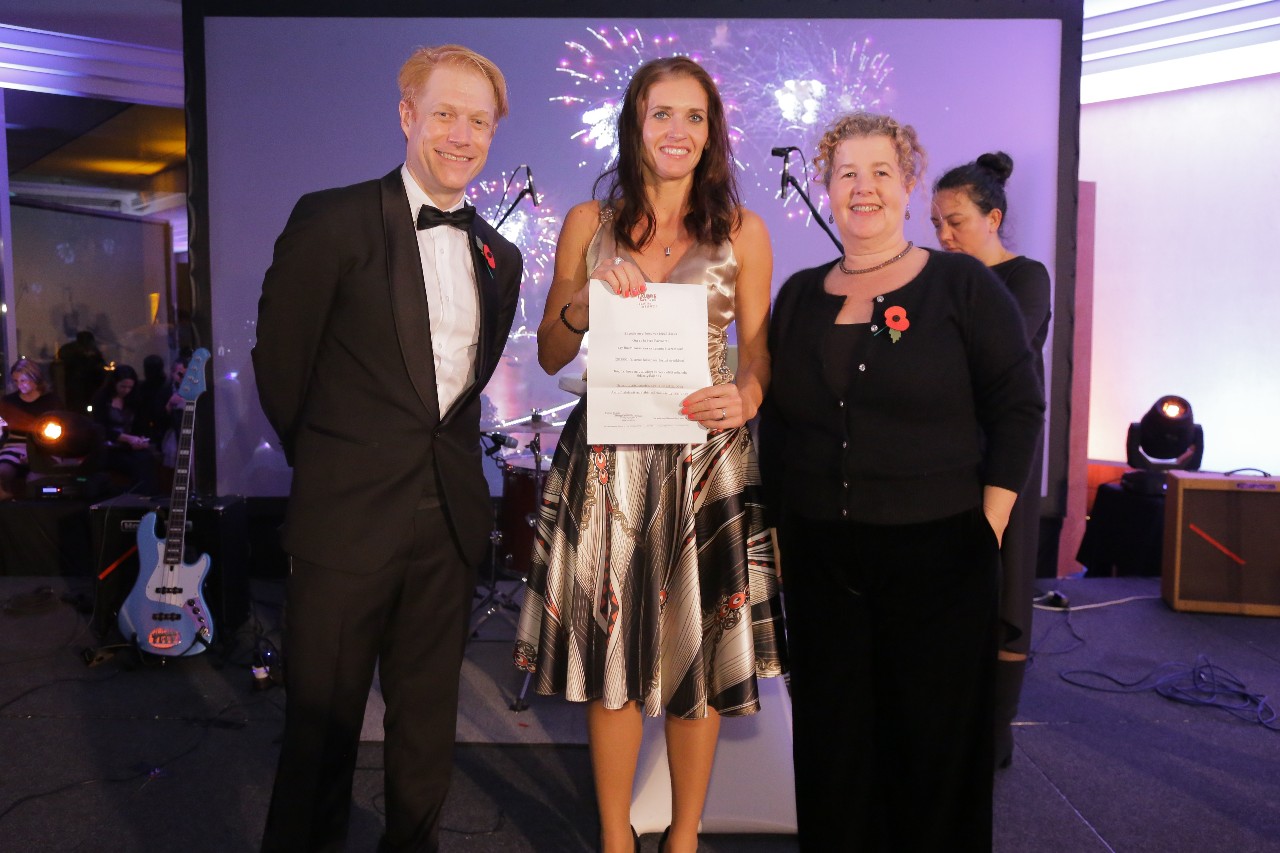 Many guests enjoyed hanging-out on the ballroom terrace, where there was a Yagoona Grill with an open fire managed by the friendly Szomszéd Kertje GastroPub team, who served savoury meat and veggie treats all night.
Alongside the freshly grilled food was lovely mulled wine, once again this year thanks to Hilltop - by the way their Premium Chardonnay is now officially the best in Hungary.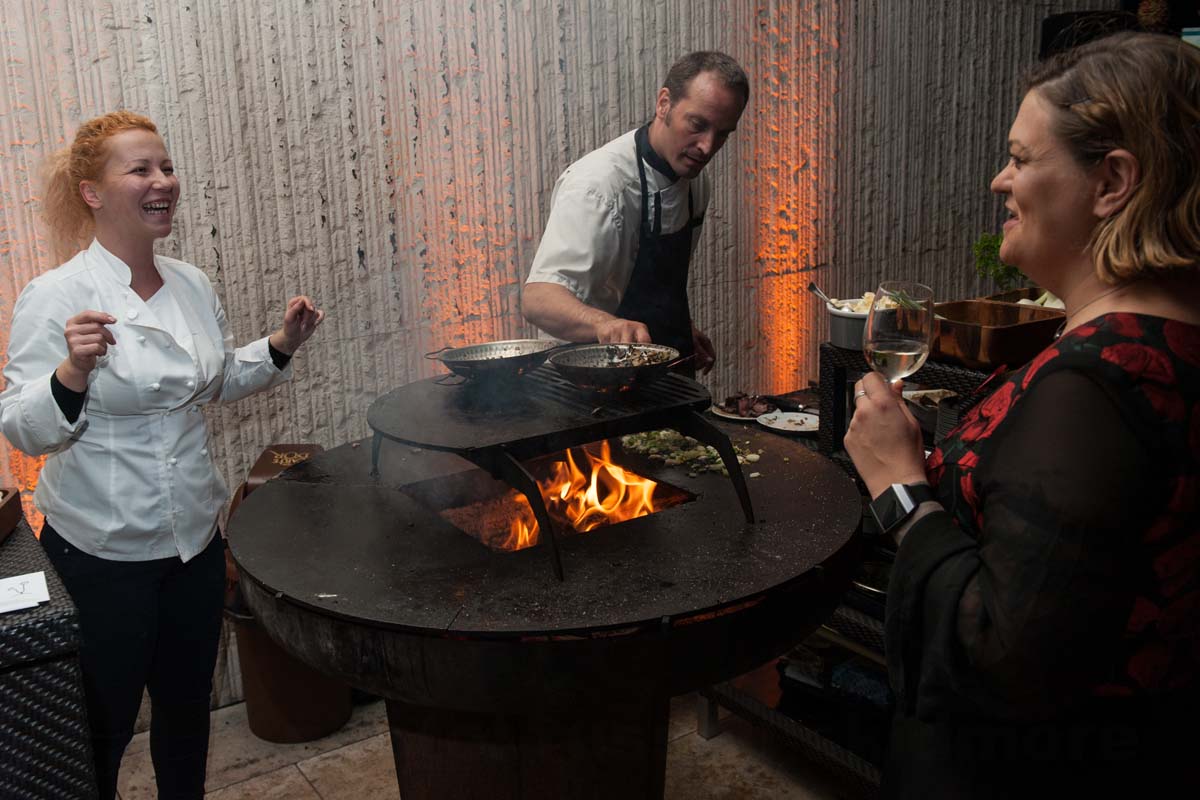 Several 5* hotel GM's were in the crowd, along with Budapest Airport's COO, and participants from more event supporters including the British Chamber of Commerce, Budapest Business Journal, InfoGuide Hungary, Prohuman Hostess Company, and The Budapest Times.
The star DJ kept the dance floor buzzing after the headline band played, and some guests who met only hours earlier took the chance to get to know each other better while boogieing until midnight, when the event closed as planned.
All guests left with the gift of a Day Pass for Go Active Premier Health Club, worth HUF 6000.



The event also celebrated XpatLoop's 18th anniversary, and showcased some of its clients products and services in the event's large sponsors area.
Those participating included all the main international schools in town, in alphabetical order: American International School, Britannica School Budapest, Budapest British International School, The British International School.
Also present were XpatLoop clients Gobert & Partners Law Office, Click4Work, and Kreativ Dental, with the 'International Dental Clinic of the Year 2018' holding a special business card draw giving guests the chance to win an electric toothbrush - click here to book a free dental X-ray, check-up and consultation.



The event organiser Stephen Linfitt (above left) humbly and graciously said thank you to everyone involved at the end of the night.
On the topic of praise, and as a fan of grapes, credit is also due here to the following fine wineries for participating so generously: Villa Pátzay from Badacsony, Tiffán from Villány, Kiss Attila from Mátra, Lantos from Kunság, and Patricius from Tokaj.
Watch this space for the event video by Tom Szelpal.

Words by Russell Skidmore - click to see his photos.



Pictured: a star of the show Hans Peterson making a special poetry recital about Guy Fawkes.
Click here to see more photos by Marcus Schirrmacher-Gavallér.