Qatar has over 1 million expats within the total population of around 1,450,000 residents, making it a compelling country to report about for readers of XpatLoop. The capital Doha is naturally at the heart of all the action, and this vibrant Arabian Gulf coast city - located in the middle of the eastern coast of the Qatar Peninsula - is well worth a visit for a pleasurable weekend, and has plenty to offer for longer escapes.
Firstly, briefly about Qatari people, they're genuinely hospitable yet never intrusive, as there's a social conservatism in Qatar which is reassuring for visitors, as you are able to explore without any unwanted attention.

The capital has a jam-packed calendar of events, with the annual Qatar Cultural Festival and Qatar International Food Festival both definite highlights at this time of the year in Spring.

On the topic of events in Qatar, the 'Jewellery & Watches Expo' held earlier in the year in Doha is a first-class event worth highlighting, since as well as empowering young Qatari innovators it displays the very best gems and watches from around the world for all to see.




Top Tip: Spring is an ideal time to visit the country's UNESCO World Heritage Site the Al Zubarah Fort, and Qatar's other ancient attractions such as the Al Wajba Fort on the outskirts of Doha.

So you see, there is a lot of awe-inspiring heritage in this country, equally the capital city has many impressive modern sights to enjoy as well as older wonders.

Here's a look at five key places of interest in Doha, followed by a few arty extras, and then a sum-up about why Qatar can easily surprise and delight discerning travellers.

1. Souq Waqif - Doha's Lively Traditional Market


This is where commerce, architecture and culture meet in the capital, where intriguing Qatari sights, sounds and aromas converge. An evening stroll through the bustling alleys of Souq Waqif provides an authentic taste of traditional life in Doha.

The maze of small shops offer a dazzling array of Middle Eastern merchandise, from spices and seasonal delicacies such as fresh dates and nuts, to perfumes, ornate jewellery, clothing, handicrafts and a treasure trove of souvenir bargains.

Traditional music, art and cultural shows add to the ambience of this magical place. Relax and soak up the vitality and atmosphere at one of its eclectic mix of great restaurants and cafes which offer traditional Qatari food, as well as regional dishes and treats from Asia and North Africa.

Top Tip: Remember to haggle at Souq Waqif market, and during your time in Qatar - well not in luxury malls of course but almost everywhere else. Haggling is part of the local culture and provides the opportunity to interact with locals. So don't be put off if say, for example, a dhow boat trip sounds out of your budget.

2. Corniche - Doha's Waterfront Promenade


The Corniche offers spectacular vistas of the city, from the dramatic high rise towers of the central business district to the bold shapes of the Museum of Islamic Art. The wooden dhows lining the bay here evoke echoes of Qatar's great seafaring past, a time long ago before the riches of oil and gas were discovered, transforming the fortunes of country which now has the highest GDP in the world.

Top Tip: A pleasure trip on a dhow, one of the traditional Qatari sailing boats used in the past by merchants and fishermen, takes you around Doha Corniche for about 30-45 minutes to enjoy the evening or night view of the capital.

This seven-kilometre long waterfront promenade, which stretches for the entire length of Doha Bay, provides a green, vehicle-free pedestrian space in the heart of the capital. There are cafes and restaurants, as well as outdoor exercise facilities and a running track if you really want to build up an appetite before tasting some of the local cuisine.




Top Tip: The Orient Pearl Restaurant (situated at the Corniche near Rass Abu Aboud Signal) is the 'go to' restaurant in Doha for Qatari food with a modern twist - as the picture above shows. It's an ideal choice to taste a special take on a local dish or two - Machboos followed by Umm Ali, for example - with a seaview from your dining table.

Some of the most talented chefs in Doha work here to provide a fine dining experience in a relaxed Qatari style setting, linking luxurious tastes with the excellent location and service.
You can choose between indoor and outdoor seating, in either case you'll find a warm ambience abounds at this culinary hive serving impressive Arabic delicacies.

3. Museum of Islamic Art - Doha's World Leading Collection


Here you can experience 14 centuries in a few hours via one of the leading collections of Islamic art in the world. Also worth knowing about dhows, most set off from the dock in front this iconic venue.

The imaginatively presented displays of the finest art and artefacts from across the Islamic world will have anyone marvelling at the award winning collections, which feature paintings, glassworks, metalwork, ceramics, textiles and manuscripts.

No visitor can fail to be impressed by the quality and diversity on offer here in the permanent collections, for free. Also good to know is museum ensures fresh interest through its constantly changing programme of special exhibitions.

Top Tip: Currently 'Syria Matters' is the focus of a temporary exhibition, and it demonstrates the effectiveness of a multimedia display to present a theme in a highly compelling and memourable manner.

The building itself is exceptional, a modern architectural masterpiece no less, designed by IM Pei the winner of a Pritzker Architecture Prize. The MIA is also home to a world class restaurant run by Alain Ducasse, who holds three Michelin stars.

4. National Museum of Qatar - "An Eye-Popping Creation"


This magnificent new institution opened its doors on Doha's Corniche this year at the end of March. The striking new space celebrates the heritage and culture of Qatar, spread over 1.5km in total, incorporating the one-time home of the Qatari royal family.

Here you can journey through an exciting mix of all-encompassing environments and compelling storytelling that engage all the senses. For example you can learn more about the good old wooden dhow and how it made trade, fishing and pearling possible. Also many exhibits look to the future.

Designed to be both immersive and experiential, visitors can expect to encounter three 'chapters': Beginnings, Life in Qatar, and The Modern History of Qatar, each presented across eleven highly individual galleries. "The most extraordinary building of the decade," is how The Times decribes this marvel designed by Pritzker Prize-winning architect Jean Nouvel, with a desert rose inspired interlocking design.

5. Katara Cultural Village - A World-Leader For Multi-Cultural Activities


An innovative interpretation of the Region's architectural heritage, this purpose-built development's impressive theatres, galleries and performance venues stage a lively year-round programme of concerts, shows and exhibitions.

Among the most famous of these is the Doha Film Institute, which showcases a programme of indoor and outdoor film screenings throughout the year. Here you can also find top class restaurants offering a variety of cuisines.

A key daytime recreational attraction is the spacious and well-maintained public beach, featuring a range of water sports. Visitors will also find much to enjoy during a evening stroll along the promenade, with its expansive views of Doha's skyline, as well as a rich array of seaside food stalls and markets.

Art Features Everywhere In Qatar


Springtime is perfect to enjoy the impressive outdoor art installations by leading international artists all around Doha, such as the Damien Hirst installation at the Sidra Medical Centre.

One of the Qatar's most striking outdoor artistic sights is the East-West/West-East installation by American sculptor Richard Serra in the Brouq nature reserve so you'll need a driver to get there.

It's worth the journey, as you could also spend some time in the desert since the Qatar weather in Spring enjoys low humidity with temperatures in the mid 20's.




Top Tip: In Doha the Arab Museum of Modern Art - pictured above - is the only institution of its type in this region, hosting exhibits and programmes offering an Arab perspective on contemporary art.

Qatar is home to a number of other stunning art galleries and public spaces, including the recently redeveloped and creatively called the Doha Fire Station. Despite what you may imagine due to its name, this is actually a community of studios offering residency programmes for artists.

Al Riwaq is also worth mentioning here, it's a large warehouse style space, which has been home to several ground-breaking exhibitions by artists such as Mohamed Al Mahdi, Damien Hirst and Jaffar Al Oraibi.

Doha's A Pearl Of Destination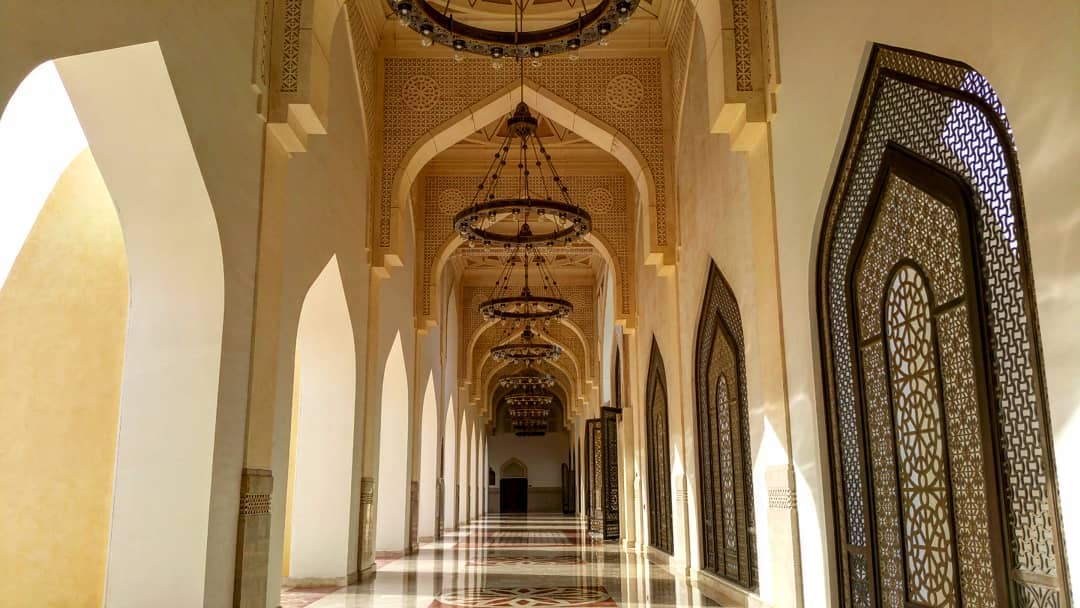 An overview of Doha wouldn't be complete without a mentioning the Grand Mosque, pictured above, and also The Pearl - the man-made island off the West Bay coast, pictured at top. It features Mediterranean-style yacht-lined marinas, upmarket restaurants, internationally renowned hotels, and luxury shopping at top brand name boutiques and showrooms.

Top Tip: The Pearl is a popular destination to enjoy wandering around by virtue of its chic ambience, various outdoor attractions, and al fresco dining - hence its inviting description as the 'Arabian Riviera'.

Enjoying all of Doha's many sights is actually far more than anyone could comfortably manage during a long weekend visit. Therefore you may well find that after a first visit you will want to return to explore the capital more, and to venture further around Qatar to see the many wonders worth discovering - such as the Dahl Al Misfir Cave, pictured below.




Given that Qatar Airways flies to over 160 destinations worldwide from Doha, a stop-over in Qatar as part of another trip is a great way to make the most of your travels. So even if Doha is not currently on top of your 'must see' places, you can quite easily go take a look when visiting other destinations.

You may well find you develop a taste for the place, like over one million expats, for a whole range of reasons. It's exotic but easy to get to, from Budapest it's only about a 5 hour flight. With only a minimal time difference there's little chance of jet lag hampering a happy holiday in Qatar.

To sum up what's on offer in Doha, you can find intriguing Arabic adventures, dazzling modern architecture, sleek Michelin-starred eateries meeting up with delish traditional dishes, awesome events and shopping options, impressive mosques and fab festivals, not to mention the lovely wooden dhows, impressive hotels, clean beaches, and year-round sunshine.

Photo credit: VisitQatar.qa