The Thermal Hotel Visegrád superior four star hotel is located at the picturesque Danube bend next to Visegrád, in the peaceful environment next to the Park Forest of the Pilis hills, just 40 km far from the city centre of Budapest.
This outstanding hotel offers every convenience guests require to really enjoy the Hungarian countryside over the Christmas holidays, and for a very happy start to the New Year!

Many expats make the Thermal Hotel Visegrad their hotel of choice when visiting Visegrad. It provides an excellent mix of value, comfort and convenience in a family-friendly setting with a wide array of amenities - such as the Duna Restaurant which serves truly delicious dishes.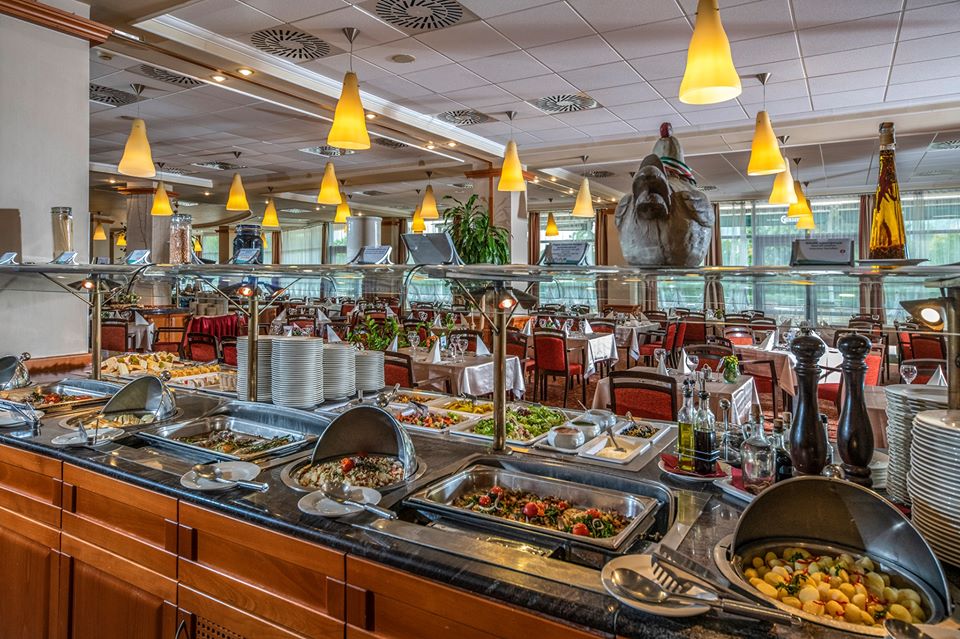 All guest rooms offer a minibar, and air conditioning, and the hotel makes getting online easy since free wifi is available everywhere in the property, plus there is laundry and room service available, also as an added convenience there is plenty of safe and free parking.




It's situated close to a popular Visegrad landmark called 'Zsitvay-kilato' which has a magical atmosphere and provides fantastic views, also guests can easily explore the Visegrád Citadel from this ace base, along with other historic sites located a short distance from the hotel.

Visegrád is famous for the remains of the Early Renaissance summer palace of King Matthias Corvinus of Hungary, and was first mentioned in 1009 as a county town, and in 1325 King Charles I of Hungary made Visegrád his hometown and the royal seat of Hungary.

Gábor Nádas, the hotel's very well respected and successful long-term General Manager, speaks English and has a great attitude to hotel management, saying "Impossible is not a fact, it's an opinion. Impossible is a potential."




First class services are provided in the hotel's wellness area, where guests can find relaxation and recreation throughout the whole year. During the festive period the following highly recommended special packages include that healthy element and much more to enjoy:

* Accommodation with half board, and unlimited use of the spa and wellness centre of the hotel:
* Indoor and outdoor pools, whirlpool, thermaland thermal pools (32 & 38C), outdoor swimming pool (20 m), tepidarium and sauna park featuring finnish saunas, steam bath, sauna, aroma-bath, fun-showers, ice well, relax room,
* Also included is free use of the Fitness room, Bathrobe, Parking lot, Children's play-room, WIFI, and VAT.




Christmas Break Package
Classic Double Room:
95 700 HUF / person / 3 nights
115 600 HUF / person / 4 nights
Premium Double Room:
107 700 HUF / person / 3 nights
131 600 HUF / person / 4 nights
T&C's
Valid for 3 nights between 23 - 26.12.2019
And for 4 nights between 22 - 26.12.2019
Local tax is an additional: 460 HUF (~1,5 EUR)
/person/night, above the age of 18




New Year's Eve Package
Classic Double Room:
143 400 HUF / person / 3 nights
Premium Double Room:
155 400 HUF / person / 3 nights
T&C's
Valid between 30.12.2019 - 02.01.2020
Local tax is an additional: 460 HUF (~1,5 EUR)
/person/night, above the age of 18.

- Learn more about these and further offers here.




Extra charges & discounts:
Single use supplement: 30%
Children's and extra bed discounts:
0-6 years 100% (free) / 6-12 years 60% / 12- years 20%

Terms of payment:
50% of the package rate is payable no later than 5 days after the reservation, the rest is payable on the spot - without prepayment a reservation will be cancelled automatically on the 6th day.

Click here to visit Thermal Hotel Visegrád online
2025 Visegrád, Lepence völgy 2.
Tel: +36-26-801 915/911/910
Email: info@thv.hu