Budapest itself is a piece of street art, with its ruined facades alternated to pristine imperial buildings but the appearance here and there of scattered, colorful pieces, made Budapest's streets even more interesting.
Budapestflow Team firmly believe that local street artists say (and show!) a lot about local culture, and we are eager to introduce you to five Hungarian street artists that are greatly contributing to the development of Budapest as a hipster-bohemian and artistry capital.

Follow the hype, and meet five original street artists from Budapest whose works are blossoming around the streets of Budapest.
1. 0036Mark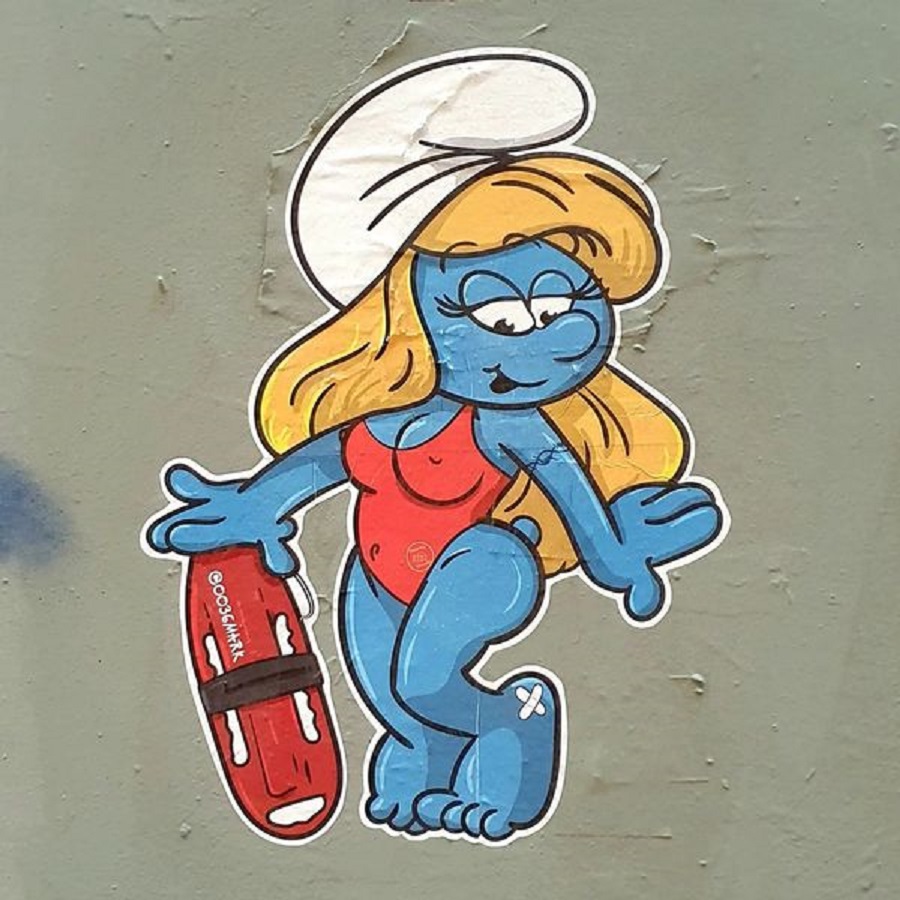 Born a couple of years before the end of communism in Hungary just before the change of regime, 0036Mark took inspiration from Communist cartoons of the 70s-80s. It all happened on a Christmas day when Mark's mind started to pair characters from the cartoons of his childhood with international movies, and elements of pop culture.

This is how the "Cat City" (Macskafogó) met "Die Hard", and the "Rabbit with chequered ears" (Kockásfülű nyúl) became a fashionista with a Burberry luggage. Mark makes paste-ups, usually big enough to be noticeable, but only by those with an eye for street art.

His pieces can be found mostly in the 7th district of Budapest (also known as the Jewish Quarter of Budapest), or in the downtown area, but he "marks' ' the territory even when he travels abroad, so you can even run into a 0036Mark's Smurf in Bruxelles.

There is usually a social theme behind Mark's paste-ups, for example, the mentioned rabbit was celebrating an eco-friendly decision by the British label, while a witch in the 7th district was warning tourists against buying fake drugs on the street.

His pieces became very dear to the citizens of Budapest, as often they make people smile with references to local anecdotes.

It's the case of the paste-up of the first democratically elected Hungarian President of the Republic and Duck Tales' characters. In 1993 the broadcasting of Disney's cartoon was interrupted to announce the death of President József Antall, an episode that unlocks the memories of more than one generation of Hungarians.

2. Box With Wings




In the past few years, the sticker of a flying cartoon box became familiar across the country. Box With Wings goes against the "Less is more" global trend.

A self-proclaimed maximalist, he/she remains anonymous and believes that it's not important to know the identity of an artist, but his/her art, and characters.

People remember Batman, not Bruce Wayne. Box With Wings often delivers messages written inside the boxes: they can be in Hungarian, mostly about politics, but also general, and in this case, they are in English.

Little things that make you think all day, like "Irony is not a joke", or "If you cannot do what you love, love what you can do". Sometimes the box is triangular, has just one eye, and takes a divine look on passerby.

Search for the flying boxes in Budapest's street signs, poles, walls, but also in other towns, including Szentendre, Pécs, and even in other countries: after all the box can fly!

3. Bamamo Budapest




Following the current demand for nostalgic content from the 80-90s, Bamamo Budapest adds a newspaper feel to Budapest's street art, which seems to the eye to modern art as well as to pop culture. White, black, shadows of grey, and a little red: fewer colors, but plenty of messages, can be found on the artist's pieces.

They include floppy disks, bottles, and an Indiana Jones chasing a can of pork liver cream.

One of Bamamo's newest paste-ups puts together Michael Knight from the Knight Rider and "Taki bácsi" from "Szomszédok", a Hungarian TV show from the 80s (The Neighbours). Getting to know the meaning of his stickers can be a fun way to look into the Hungarian cultural content of the past 30 years.

4, Void




Void fills the void with his colorful faces, resulting from years of sketching on a black notebook. His works are easy to recognize, as the face painted inside an oval became his trademark and a very instagrammable decoration for the urban environment.

The most photographed work of Void is probably a green door close to Szimpla Kert, Budapest's oldest and most famous ruin bar.

Void's real name is Gergely, and he was stopped by the authorities more than once: this didn't stop him on his mission of applying art to make cities more colorful.

5. Miss KK


Miss KK is a mysterious female street artist, who, despite being a locally well-known fashion designer, manages to keep her face hidden by covering her mouth with her hand every time she appears in a photo.

A graffiti and hip-hop lover since her school years, she found her style in the usage of newspapers' clips and Photoshop, creating dolls.

Her dolls became street art pieces, applied mostly to dilapidated walls, old phone boots, or construction sites. They are collages mixing model faces, fashion brands, iconic accessories, and they usually carry a message, such as "Too much ego will kill your talent".

Source: Budapestflow - republished with permission