Marion Merrick's books are the only first-hand account written by a westerner of what it was like to live and work in communist Hungary, and then in the aftermath of the 1989 change of regime.
Now You See It, Now You Don't and House of Cards have been included as part of the Open Society Archive dedicated to this period in the CEU. You can read a serialisation of them here on Xpatloop. You can also buy the dual-volume book on Kindle as well as in Stanfords London.

Chapter Five: Children and Change

Part 4 – Christmas, bananas, and the Post Office challenge

My five days in hospital were thankfully uneventful. The food was inedible and in anticipation of this I had taken a large bag of muesli - I made it myself, since it was generally possible to obtain the ingredients, but no-one had heard of muesli itself. I soon became rather self-conscious about eating it however, as patients and nurses alike crowded round to watch.

'What's it got in it?' asked one nurse.

'Oats..' I began.

'Oats!' she exclaimed. 'But that's what horses eat!'

Visiting times were strictly limited but Cili for one, in her white pharmacist's coat, came and went whenever she felt like it. It was strange to have to take and wash up our own cutlery, and even the other women seemed surprised when a nurse put her head through the door saying, 'Who wants clean sheets?' We all put up our hands. She counted out the requisite number, dropped them onto a chair and walked on to the next ward leaving us to do the rest ourselves.

The babies were beautifully cared for and were delivered, at every feeding time, on the double-decker trolley, with neatly arranged hair and spotless clothes. Apart from a touch of jaundice John was faring well and had already put on weight before we left the hospital.

Back home life lost the calm and order of hospital routine. John proved to be the sort of nightmare newborn one reads of in baby books, the ones who are either dropped out of fifth-floor windows or whose mothers take the plunge instead.

He slept neither night or day for more than twenty minutes at a time.

Tamás sent round his brother Guszti, a hospital paediatrician, to see us. He was very quiet-mannered, calm, reassuring: John was perfectly healthy, putting on a large amount of weight, but some babies, he explained, - especially boys - were like that. He suggested that if our nerves could stand it we should leave him to cry.

It was not often that I could bear to listen to it, but the way of taking my mind off the awful noise was to read, and what I decided to tackle was my first venture into Hungarian literature: Örkény's One-Minute Stories. These were what filled the dark, sleepless nights, not just the minutes but the hours too, for many months.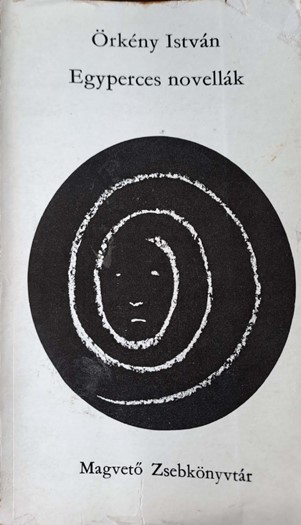 Hardly had we begun to adjust to life as a family when we were packing up to leave for a summer in England. We had agreed with Ági and Kazi that they would have the flat in July and August, and so we had booked our flight for the end of June. Our Hungarian friends were, for the most part, shocked not to say horrified.

'You're taking a six-week old on an aeroplane?' they asked in disbelief. In vain did I try to explain that it was no different from going on a bus or in a car.

There were absolutely no baby-changing facilities at the airport, but two cooing stewardesses led me into an area of aeroplane seats in a room which was used for staff-training, and I was able to change him there. The customs official abandoned his routine questions about Hungarian currency and what we had in our suitcases.

'How old is the baby now?' he asked me. I told him. 'So, when did he last feed? And are you going to feed him on the plane? Is he going to see his grandparents?' Other passengers waited patiently until he had satisfied himself that John would survive the journey ahead.

It was a difficult few weeks travelling the length and breadth of England with a baby that hardly slept and cried all night. We returned to Hungary in the first days of September to a phone call offering us some English language-recordings at Hungaroton at a very high fee.

The only difficulty would be that they were at night, from ten o'clock until two or three in the morning and so we would need a baby-sitter. Tamás suggested his younger sister who had had plenty of experience with her countless nephews and nieces. I warned her of the difficulties of an incessantly crying infant, but she was unperturbed.

There were only four of us involved in the recording, one of the others being Laurence. Inevitably someone began to doze off somewhere after midnight, and our rumbling stomachs were recorded by the sensitive microphones. However, we managed to finish in four nights instead of the five allotted, and listening back to the recording it hardly revealed our somnambulant state.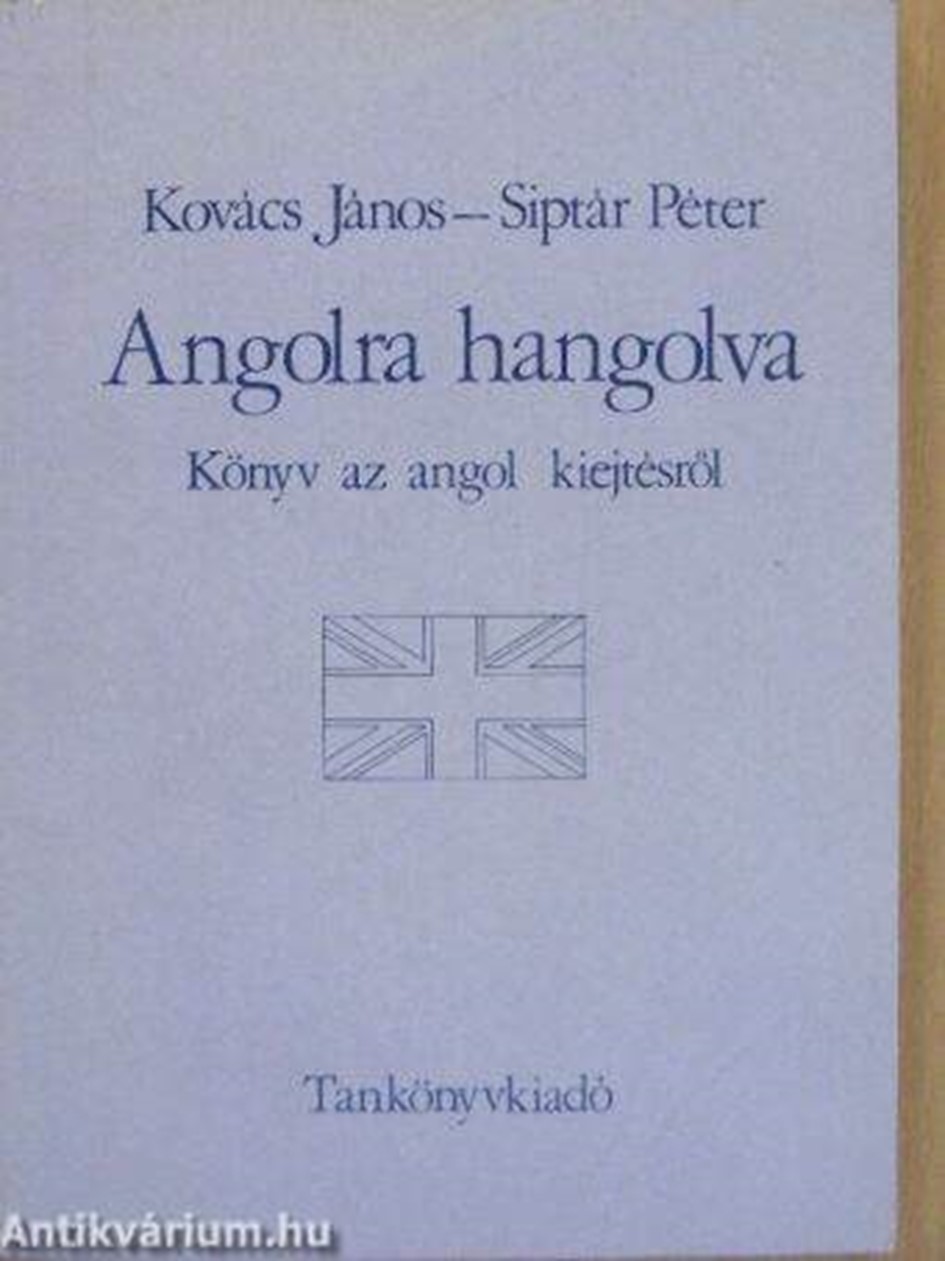 Although we did not realise it then, this was to be our last job with Laurence. Not many days later he disappeared off to London for an interview with Andrew Lloyd-Webber's company for the position of musical director.

He was finally offered the job out of the more than five hundred applicants, at the age of just twenty three. On the morning of his departure, after a farewell meal with us the previous day, we had a frantic phone call.

'Paul can you get down here to Keleti straight away? I had to pay my train ticket in hard currency and I've got absolutely nothing left - can you lend me some?'

Paul found twenty pounds in his writing case and ran to get a bus. As I watched him go from the window I found it difficult to imagine that Laurence would no longer come to play excerpts of his latest compositions on our still out-of-tune piano, share a bowl of pasta with us or complain passionately about some ludicrous piece of local bureaucracy. We would miss him greatly.

Late in September, finding himself in the vicinity, Miklós called in to see me. He was very excited about a meeting he had been to outside Budapest in a place called Lakitelek, at which a new political party was being formed.

'I know you're not interested in politics,' he continued,' but really important things are happening now. You can't live in this part of the world and be as indifferent to politics as you westerners are.'

'Alright, alright,' I demurred, acknowledging the truth of his observation. He went on to tell me that he was thinking of applying for a scholarship to spend a year in America, though he would probably not go until the following September.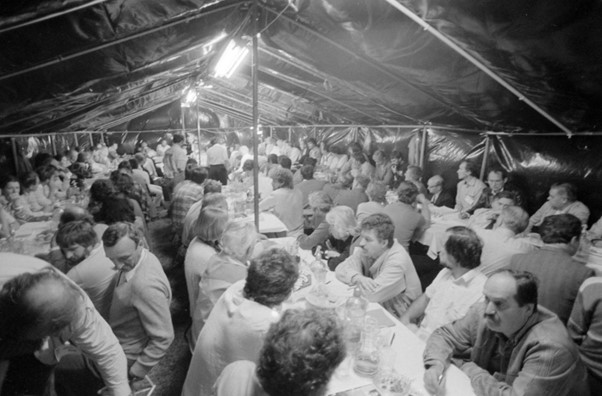 The meeting in a tent in Lakitelek
The autumn passed quickly: the last few stray tourists disappeared, the fur hats and black leather coats came out of mothballs as the days became short and dark.

This was to be our first Christmas in Hungary which meant we would have to send all our presents by post to relatives in both Germany and England. John was now too heavy for the sling I had been carrying him in, so I transported him in a backpack.

This was also a cause of mild sensation and elicited some concerned questioning from older women on public transport. John himself was quite happy, able to see everything around him, and it was thus that we completed all our Christmas shopping.

The main streets and small squares were lined with covered stalls selling handicraft items such as silver jewellery, beeswax candles, leather bags and gloves and pottery.

Vapours of hot, mulled wine permeated the cold December air and coloured light bulbs strung between the booths lent an atmosphere of gaiety to the otherwise dimly-lit city. It was from these stalls that I chose my presents, knowing that their unusualness would be much appreciated.

When I had packed my parcels I left John with Paul for the morning and headed for the post office at Nyugati station. Having been redirected from the main entrance to one at the side of the building, I found myself in a crush of men and women all weighed down with brown paper packages.

I had already been told by Cili that you were not permitted to use sellotape, at least it should not be visible, because the customs officials opened all parcels. The technique was somehow to put the tape under the brown paper. I could see various people around me filling in forms, but these were, of course, inaccessible and had to be requested.

After about twenty minutes I reached the counter. The man weighed each parcel and gave me the customs declaration forms.

Then, picking up the smallest of the three parcels he said, 'You can't send this one, it's got no string on it, all parcels have to have string. And anyway, this can go letter post, take it to the main part of the post office.'

'Do you have any string here, or can I buy some in the post office?' I asked.

He shook his head. I filled in all three forms and queued again to give in my two larger parcels. More than forty minutes after entering the post office I was back out on the street. I decided to look for a stationery shop so that I could buy some string. Luckily, the second shop I went into had large balls of it.

I also bought some silver baking foil, remembering that Caroline had told me it was unavailable before Christmas, since the whole amount produced was used to wrap the chocolate fondants traditionally hung on Hungarians' Christmas trees.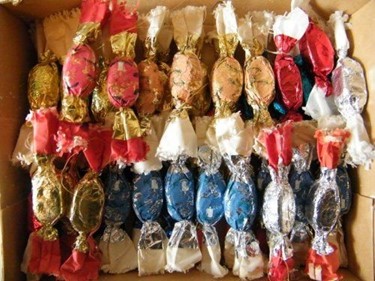 Sweets traditionally hung on Christmas trees
I made my way back to the main part of the post office and found a small shelf where I could tie up the parcel. It was then I realised I had no scissors.

Try as I might, I could not bite or chew through the string, but a woman watching my antics offered me her nail file, and after a minute or two of sawing at the string, it broke. I now looked at the long queues stretching from every window; I would be there till lunchtime.

A pall of unseasonal gloom hung over the whole place, the silence broken only by the squeak and clatter of the swing doors, the banging of rubber stamps and the sighs of those standing in line. Finally, it was my turn. The unsmiling woman, without so much as glancing at me, pushed the parcel back.

'You can't send this,' she said, 'the value of the contents you have written on here exceeds the limit.'

'What is the limit?' I asked.

'Eight hundred forints - you'll have to send the things in two parcels.'

The person behind me was already pushing his letters under the glass as I stood wondering what to do next. There was no way I was going home to repack the parcel into two.

I walked back around to the parcels' office and brazenly went to the front of the queue to ask for another form. Then out onto the side street and into the main entrance where I was careful to join a different queue, my form now stating that the parcel was worth five hundred forints. Once again I found myself at the front. I said a silent prayer. But in vain. The woman pushed my parcel back towards me.

'You can't send chocolates out of the country,' she said, pointing to where I had written the word 'chocolate' on my form.

Without a word I picked up my parcel and walked away. I joined a third queue, taking a pen out of my bag and obliterating the offending word on the green paper. I decided that if the customs wanted to remove the chocolates from the parcel they were welcome to do so, but I would not.

This time I succeeded in disposing of my parcel, and I subsequently fled the building vowing to investigate any and every alternative for sending presents abroad before the following Christmas.

As I alighted from the trolley bus on the corner near our house I decided to buy one or two things at the greengrocer's. This was a private premises, it could not be described as a shop, being merely a makeshift construction, but had good-quality produce.

There was no-one else there, and having weighed out my apples, the greengrocer looked around, lowered his voice and said, 'Do you want some bananas?' I had not seen a banana since our summer in England. I nodded.

Surreptitiously, and with a conspiratorial look I imagined would more usually accompany the supply of pornographic material, he pulled a box out from under the counter.

'You can have up to three kilos,' he whispered. I took the three offered, deciding to give some to Cili and maybe to one or two other friends. They were quickly concealed in a large, brown paper bag. 'Don't tell anyone where you got them,' he said under his breath, as he handed over the secret purchase and I made to leave.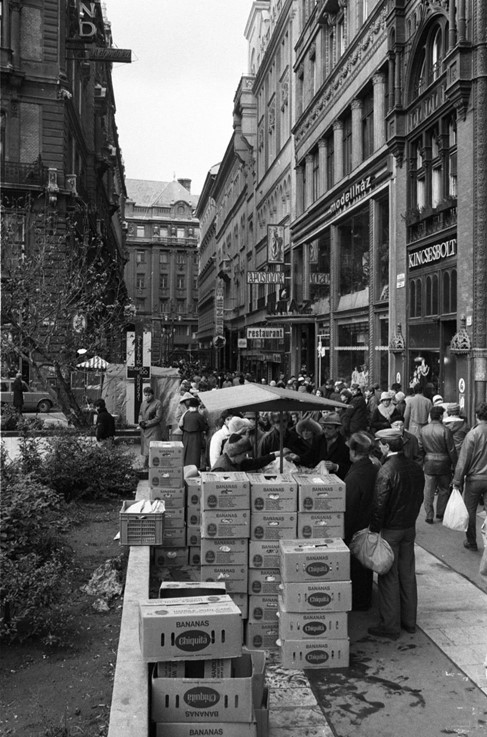 People queue to buy bananas in Felszabadulás (Ferenciek) tér
In the week before Christmas the same greengrocer was selling pine trees and we bought ours there. On the evening of the 23rd, decorating the tree, we became aware of singing somewhere close by. We looked at each other wonderingly, then walked to our front door.

Outside, on the stairway, stood Tamás with about a dozen members of his church choir. They did not stop singing as we walked out to greet them, and several other residents of the building were now standing in their doorways to listen.

When they finished that particular carol they came in, all wishing us a happy Christmas. 'Well, this is your first Christmas in Hungary,' said Tamás, 'and as you have no family here and you're on your own, we thought we'd come and sing to you.'

They sang several more carols after which we all drank mulled wine and they left to sing to one or two other deserving people. In the event, John cried all night on the 24th, we slept no more than about twenty minutes in all, and sitting down to lunch on the 25th I looked as pale and drawn as Dickens' Ghost of Christmas Past.

Click here for earlier extracts

Main photo: MÁV (Railway Workers') Hospital