Marion Merrick's books are the only first-hand account written by a westerner of what it was like to live and work in communist Hungary, and then in the aftermath of the 1989 change of regime.
Now You See It, Now You Don't and House of Cards have been included as part of the Open Society Archive dedicated to this period in the CEU. You can read a serialisation of them here on Xpatloop. You can also buy the dual-volume book on Kindle as well as in Stanfords London.

Chapter Five: Children and Change

Part 5 – Winter solstice festival; growing political undercurrents

New year 1988 began with some political surprises. For the first time the idea of tax was introduced, both VAT and income tax. Paul immediately saw the writing on the wall: 'No taxation without representation,' he predicted, quoting the slogan of the American war of independence. I was doubtful that any major changes could possibly take place, but he was adamant.

'You don't think people are going to pay tax to a government they didn't vote for, and when they have no say about where the money's going?'

I did not know. Aside from the fact that day-to-day politics did not particularly interest me, we had had no television since 1983 when we had left our previous Dózsa György út flat, and I had neither the time nor the patience to struggle with a newspaper. Such developments as affected everyone's daily lives were usually imparted to me by friends or students.

In February a photographer friend of ours, Imi, called in to see us. He lived in the next street and had taken photos of John as a small baby, and for Christmas to send to friends and relatives.

He was planning to drive to the town of Mohács in the south of the country to take photographs of the annual busójárás or carnival. to mark the winter solstice. We had seen pictures of people dressed in strange costumes with grotesque masks, but had never been to the event itself. Paul suggested I go and that he would have John for the day.

We left early in the morning, driving along almost deserted country roads between white, frosted fields. We went first to Baja, where Miklós had been teaching, and picked him up from the newly-built hotel on the Petöfi island. We crossed the Danube and headed for Mohács.

Having parked the car we followed the ambling droves of people up the main street. In the town square was a huge bonfire, its sparks rising up against the cold pale blue, wintry sky.

Standing nearby were figures in long, fleecy garments their masks of red and orange leering menacingly. Some of them chased passers-by, pelting them with flour from small bags hanging by their sides. Sitting to one side of the fire was a gypsy who had removed his mask and who looked decidedly drunk.

A moment later a friend of his turned up, and pushing his mask on top of his head, accepted the proffered bottle.

'I'm going to take some pictures,' said Imi.

'What, of them?' I asked, nodding towards the gypsies, 'they may not be very happy about that.'

'All you have to do is talk to the people you want to photograph first, you don't show them the camera till later, it's not a problem,' Imi replied, strolling off in their direction. We watched from a distance. Imi began talking to the two men, accepted a swig from the bottle and sat down next to them.

Miklós and I walked on up the main street, trying to avoid being showered with flour. Sitting on one or two benches were people selling the kind of masks the men were wearing. Each was different, being hand carved, most made of wood with two horns and a fleecy mop of hair on top.

We both considered buying one to take home and put on the wall, but could not find one we really liked. Slowly, we made our way back to the fire just in time to see Imi taking his last photos of his new-found friends, posing happily. It was lunchtime and we decided to find a restaurant.

We took a turning down a narrow side street which wound among the small houses. Quite suddenly something caught my eye: a mask was hanging in the window of a house with a For Sale sign next to it. Miklós followed my gaze.

'You want to buy it?' he asked me.

'I'm not sure,' I replied, 'Let's go and have lunch and I'll decide.'

We found a simple, local restaurant nearby where both Miklós and Imi expounded on the superior quality, not to say quantity, of food in country restaurants.

As we paid to leave Miklós asked me, 'Have you made up your mind about the mask then?'

I nodded, 'Yes, I'll get it, it's much better than those we saw up in the town.'

But as we approached the house we could see the mask had disappeared. 'I should have bought it when I saw it,' I said pointlessly.

'Let's go and ask if they've got another one,' Miklós suggested.

'If they had, they'd have put it in the window, wouldn't they?' I replied, disappointedly walking on.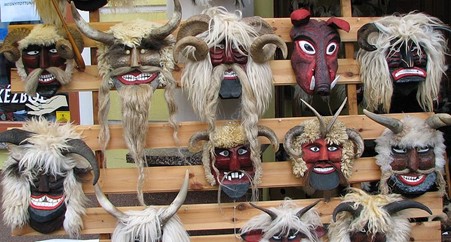 Masks for sale

Miklós shook his head at me and approached the front door, while Imi and I stood at a distance. A middle-aged woman greeted him.

'Do you have any more masks for sale?' asked Miklós, 'My friend wanted to buy the one that was there an hour ago,' he continued, nodding towards me.

The woman smiled, hesitated a moment and then said, 'Please come in.'

Imi and I walked over and followed Miklós into the house. We were led into a small, neat sitting room and asked to sit down. The woman disappeared for a moment, returning with a plate of doughnuts she had just made. 'Help yourselves,' she invited, sitting down next to us.

'That mask was made by my son,' she began, 'he makes them for exhibitions, he was apprenticed to a really well-known craftsman, but he doesn't usually sell them,' she said. 'But you see, he's getting married soon and they need money for furniture so he decided to sell just one or two. I haven't got any more here, but if you really want one I could take you around to his flat - I can't promise you anything though.'

Miklós raised his eyebrows at me, questioningly. I nodded, smiling.

The woman led us through narrow streets of old houses to where two new blocks of flats stood. We walked up to the first floor where she knocked on one of the doors.

'It's me,' she called.

The door opened. The woman explained the situation to the young man in the doorway, who then stood aside to let us in. The flat was identical to the prefabricated concrete blocks to be found all over the country, but the whole character of the hall was made unique by the masks which covered every inch of space on its walls.

Pointing to a part of the wall between the front door and the kitchen he said, 'You can choose one of these, the others are not for sale. I exhibit them,' he went on, lifting a mask down to show us the paper glued to the back of it stating the place and date of where it had last been exhibited. '

They're not like the ones you saw in the town today - these are not painted, I stain them with pigs' blood. And these are real cow's horns and sheep's wool.' Like the mask I eventually chose, most were black with leering smiles showing all their teeth, and with menacing eyes peering out from behind their shaggy manes. He explained that it was a real wrench for him to part with any of them.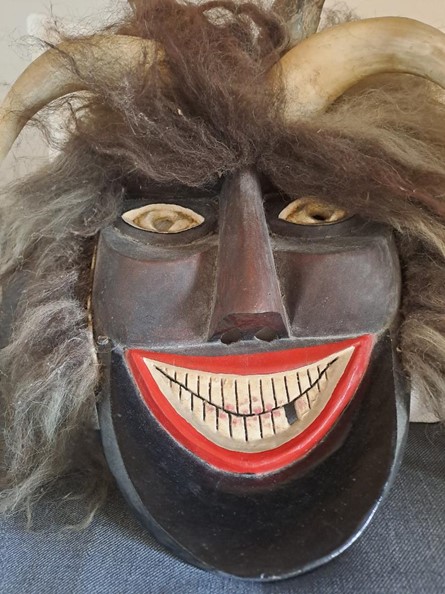 My mask

Later, as we left, saying goodbye to mother and son, Miklós looked at my happy smile as I examined the mask more closely.

'You see?' he said, 'What would you do without me?'
*
Spring arrived in March in time for the celebrations on the 15th. It was always a rather tense time, since the uprising of the Hungarians against the Austrians was a purely national event, in no way connected with the Russians or socialism. Yet everywhere the red flag hung alongside the Hungarian tricolour.

Nowhere was it more hated than by the statue of Sándor Petöfi, the poet famed to have inspired the revolution, where small Hungarian and red flags on sticks were put in the flower beds around the statue on the Danube bank. In fact, my first group of students from the Economics University had told me that they went at night and removed the red flags. It was a risky business with police with cameras on patrol all around the area.

This year several thousand people openly protested in Petöfi tér for democracy and freedom. Two years previously a smaller such demonstration had been forcibly broken up by the police, but this time they remained simple bystanders. It certainly felt as though momentum was building towards some kind of political change.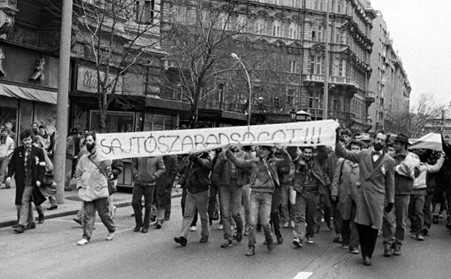 March 15th demonstration: "Press freedom"

As the spring went on, we began to consider our plans for the summer. Neither of us could summon up much enthusiasm for another safari to England. However, it would not be possible to stay in the flat since Ági and Kazi would be using it in July and August.

Luckily, a solution soon presented itself: I had returned to teaching the children who had been to school in Libya, and one of the families - whose three daughters were among my pupils - were going to Greece for the month of July. They suggested we go and house-sit for them, water the plants and take care of their dog.

Meanwhile, we could not but become aware of an undercurrent of excitement, a buzz in the air, as one previously unimaginable political change was followed by another.

More new parties were being formed, while the ruling socialist party rid itself of many of its old members.

On June 16th came the most provocative demonstration thus far, when people gathered at a plot in the cemetery where Imre Nagy was buried. Imre Nagy was Prime Minister in October 1956, prior to the revolution, and had declared Hungary's neutrality and its intention of withdrawing from the Warsaw Pact.

When the Russians invaded at the beginning of November, Nagy sought refuge in the Yugoslav embassy. Later in the same month, having received personal assurances of his safety, Nagy left the embassy. He was arrested by the Russians, taken to Romania and in 1957 was returned to prison in Budapest.

After several trials held in 1958 Nagy was executed on June 16th. This demonstration at the cemetery, however, was broken up by the police. And yet the atmosphere of liberalisation persisted, stimulating a sense of freedom of expression among ordinary people.

It was this feeling that led to a far larger demonstration only some ten days later. It was held to express people's outrage at what was happening across the border in Romania.

The territory of Transylvania, formerly Hungarian, is home to some two million Hungarians, and the Ceausescu government had decided to bulldoze villages in the area and re-house those from their communities in concrete housing estates. Thus, on the evening of June 27th, I stood at the window from where I could see down Dózsa György út and to Heroes' Square.

Thousands of torch-bearing Hungarians marched into the square to demonstrate their solidarity with their Transylvanian compatriots, a direct challenge to the government to take some positive action to prevent what was perceived as a deliberate attempt to further weaken the position of ethnic Hungarians. A gathering of such magnitude could not be suppressed without adverse publicity in the western press, and passed off unchallenged.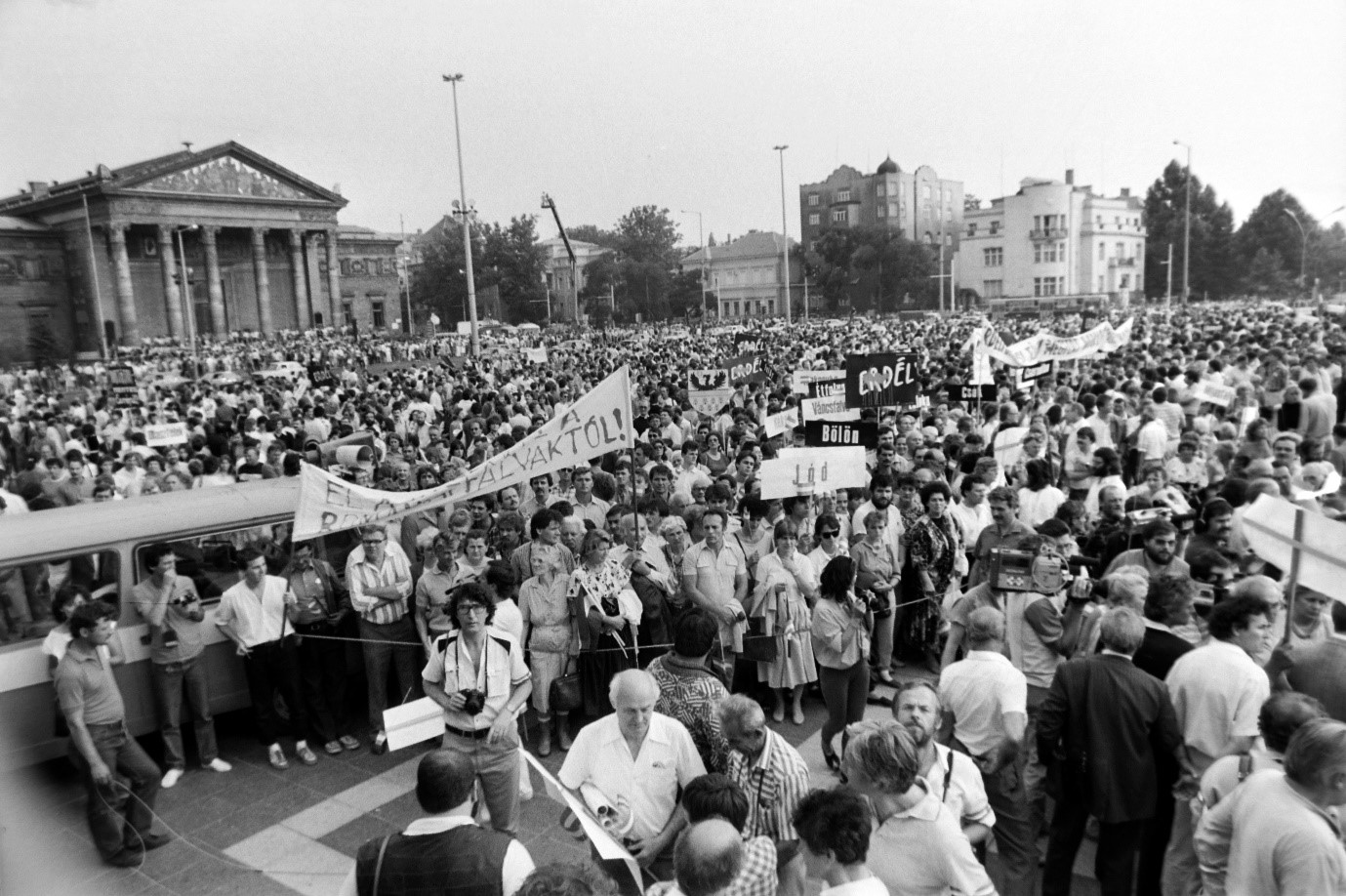 Protest against Ceausescu's destruction of Transylvanian villages, June 1988 Courtesy Fortepan/ Viktor Gábor

Click here for earlier extracts

Main photo: Mohács Festival - Courtesy: Fortepan