By Peterjon Cresswell: Sundowners, Shakespeare and Jerusalem. Fish & chips, Tikka Masala and Eton Mess. Fine local wines, G&T's, English whisky, ale and cocktails. Let's Dance, Stairway to Heaven and Suffragette City. A song for Ukraine, blackjack, Bond, a charity auction and raffle prize winners. To sum it up in a few words, that's not a bad start.
The 2nd mega celebration for St. George organised by XpatLoop attracted a full house to the Grand Ballroom at Marriott on Saturday 22 April, raising HUF 1.924 million for worthy causes.



See Event Photo Galleries By
Marko Novkov here / Árpád Bakcsy here / Marcus Schirrmacher here / John Galvin here.




A multitude of live music, late-night dancing and an abundance of refreshments kept the party swinging, all dovetailing nicely with a charity auction and raffle. The evening started out with a meet and greet session on the terrace, providing dazzling city views and inspired networking.




Dignitaries included Paul Fox, Désirée Bonis and Camilo Sanhueza, ambassadors of the UK, the Netherlands and Chile respectively, to name just three who again accepted the invitation from event organiser Stephen Linfitt.

Also in attendance were reps of the Food Bank for Ukrainian Conflict Refugees in Budapest as well as UNICEF to talk about the good causes with guests and collect the funds raised.




Attending for the second such celebration organised by XpatLoop, it was HMA Paul Fox who perfectly expressed the universal nature of St. George in his opening speech, following a warm welcome address by the superb event MC, who also joined in for the second year running.




Their faces glowing from the welcoming G&T's and the warming panoramic views over Buda, guests had just got to their seats when Ambassador Fox set the tone for the evening to follow.




"We can and should celebrate our heritage, our history and our culture," said HMA Fox, before going on to refer to St. George, adopted as England's patron saint around the early 1400s, as having a "shared significance for many".




As detailed by His Majesty's Ambassador, among the many countries and communities to have adopted St. George as their own are Greece, Bulgaria, Ethiopia and Syria.




Ambassador Fox also conveyed his disbelief that a year had passed since XpatLoop's first St. George celebration, and his dismay that war was still raging on Hungary's doorstep, "With this in mind, we continue to support Ukraine and can only pray that this conflict will be over soon".




Stephen Linfitt, the publisher of XpatLoop.com and event organiser, noted in his speech that St. George's Day is heralded as the arrival of spring in the traditional Ukrainian calendar.

He highlighted that Hungary officially recognises this popular saint, as do many other countries as diverse as Bulgaria, Georgia, Iraq, Lebanon and Portugal.

"England's patron saint was a truly international figure. St. George is a positive symbol of multiculturalism, as the great range of guests here tonight shows," Linfitt said.




Stephen presented red roses of respect to key ladies and thanked everyone for joining the event.

"Special thanks are due to B+N, Taxually, and equally to other returning sponsors Britannica, Dr. Rose and Jaguar Land Rover. Also kudos is due to new sponsor BISB, and to all the event supporters like AISB and FirstMed," he said from the heart.




"It's what St George stands for that counts most, basically the courage to face adversity in order to defend the innocent. That's why tonight it's appropriate to stand with Ukraine, and specifically to help the innocent affected by the conflict," Stephen concluded.

As well as supporting Food Bank Aid in Budapest, funds raised at the event support UNICEF to help children affected by the earthquakes in Turkey and Syria.




Before seamlessly segueing from one speaker to another, event MC and actor Alexis Latham gave us his take on St. George's Day, the very day that Shakespeare passed away in 1616.




After interpreting the king's speech by the wall of Harfleur in Henry V as a force for change –
"In peace, there's nothing that so becomes a man, As modest stillness and humility"
– the director of Budapest's Scallabouche Theatre then passed the spotlight to the Reverend Frank Hegedűs, Priest at St Margaret's Anglican Church in Budapest.




In his light-hearted yet thoroughly informative discourse on the life and legacy of St. George, Father Frank explored the mysteries of this Levantine dragon-slayer (Christian soldier? Greek martyr?) while gently teasing the American state of Georgia, he hit the right note before bowing out on the upcoming royal coronation of King Charles III.




To showcase a nation as diverse as England at a single event is never an easy task, especially when overlooking the Buda castle and Danube at Europe's crossroads, but this big bash managed it well for a second year running – precisely by keeping things diverse and diverting.




Having first been serenaded by gentle classical renderings of Elgar, Purcell and Handel by distinguished concert pianist Mariann Marczi, guests were treated to an uptempo version of Jerusalem by opera singer Lucie Juránková - English poet William Blake's hymn has morphed into the contemporary anthem of England.




The first interval provided ample opportunity to taste other aspects of English culture, like fish, chips and mushy peas. Sanjay Sharma proved to be a hero by beating very heavy traffic just in time to deliver guests the English favourite of Chicken Tikka Masala.




To please vegans Terra Catering provided a tasty veggie soup, and for dessert there were Cloud9's exciting ice-cream combinations, plus traditional Eton Mess made perfectly by Marriott.




During the buffet a six-piece band expertly covered English pop and rock touchstones – Zep, Let It Be, Clapton, and many more classics. Globetrotting group Just Showband flew to Budapest just in time for this gig. Later the band played a second set that filled the dancefloor with guests ready to party for England - more on that later.




Throughout wines too manifold to name were expertly poured by top local wineries, including Koch from Hajós-Bajai, Ludányi from Mátra, Pajzos from Tokaj, and Polgár from Villány.




The occasion demands a good mention of Gilvesy from Szent György-hegy (St George's Hill), amid the peaks and volcanic terrain overlooking the northern shore of Lake Balaton. This welcome white went down very well with guests who appreciated its top quality.




Popular local winemakers including Tomi Dúzsi and Lászlo Szeremley chatted with guests about viticulture, and also joined in the charity fundraising and party action again this year.




The varied wines worked well with the English and local cheeses from Tesco - as well as a selection of Halloumi style grilled cheese variations by Kőröstej which are popular with the English - all presented to guests with fresh and dried fruit, nuts and bread in attractive displays.




Premium gin and whisky from Cotswolds via WhiskyNET flew the flag for England, and Hungary's famous Zwack put on a special cocktail bar again this year.




Also there was free flowing draft craft beer served all night by the cool crew at Ruin Brew, plus chilled cider and a good few ales presented by one of the owners of James Joyce Budapest.




Soft drinks included a selection of Coca-Cola products, coffee from DeLonghi, and NaturAqua water. So guests could nibble all night, Kifli.hu delivered party snacks including M&S treats.




Guests could take their 'shaken, not stirred' event cocktails to the roulette and blackjack tables to channel their inner Bond and take home fun prizes from the Las Vegas Casino team.




In a key corner of the ballroom the mysteries of cricket were unveiled to uninitiates and curious Americans thanks to the Bat & Ball Cricket Academy sponsored by Taxually.




The Bowie Boys comprising Robert James Robson and Amber Smith's Imre Poniklo, with Daniel on piano, gave tunes from Hunky Dory and Ziggy Stardust a powerful once-over, the singer borrowing a few moves and fashion motifs (dig those braces!) from The Thin White Duke.




All the Bowie crowd-pleasers hit the mark, played with energy and authenticity. Notably their intro to Bowie's Queen Bitch hummed and the outro to Suffragette City rocked.





Little more can be asked of any tribute band than to evoke a shared past of bedsit record players and frantic disco floors, and guests loved this salute to one of England's rock gods.




A highlight of the night came from Ukraine, a thoughtful and appropriate addition to the event.




Bringing the house down and earning a standing ovation, Ukrainian children displaced by the war who attend the Ukrainian Refugee Educational Project at the American International School of Budapest (AISB), gave a stunning performance of Chervona Kalyna.

This choir was put together especially for the event, and was supported by a professional choir leader from the Spiv Oci refugee community choir in Budapest.

Dating back to Ukraine's folkloric past, most associated with the Sich Riflemen of the Great War, the song the children sang about a red viburnum plant has come to symbolise the nation's stance over the last year. As such, it required no elaborate stage production or even explanatory presentation, only 14 innocent voices.




They were led in by Oksana Matviishyna, who happened to have been in Hungary with her own children when the war broke out. A highly qualified teacher with 25 years' experience, Oksana set up 'a school within a school' at the AISB, allowing around 300 refugee children to continue their education in their own language, retain their identity and regain a modicum of normality.




"More than 80% of these kids have come from eastern Ukraine," said Oksana afterwards, "and they have no homes left. They literally had to drop everything and run". While lessons are free, feeding these children remains a constant dilemma.

Oksana was keen to point out that donations were still welcome, through the AISB website. "These kids need to be heard," explained Oksana. "They are an investment in our future."

Kudos also goes to Tatyana of the Spiv Oci refugee community choir who helped arrange the kids choir for this event, putting the musically untrained children through their paces for two weeks of rehearsals beforehand.




At the event the kids traipsed, understandably slightly nervously, into the packed Budapest Ballroom to sing of early spring wheat and wide steppes.

Their innocence was clearly visible, as was their courage to perform well on stage by singing from their hearts. The children made a great impression on the occasion, and promptly departed after their performance feeling uplifted by the experience. All perfectly fitting the values represented by St. George.




The choir was followed by solo singer Sofiya, also from Ukraine and attending the AISB, who gave a faultless delivery of her song and delighted the audience.




By doing so, Sofiya brought hearts and minds back to the matter in hand, and it was time for the live charity auction and more raffle ticket sales.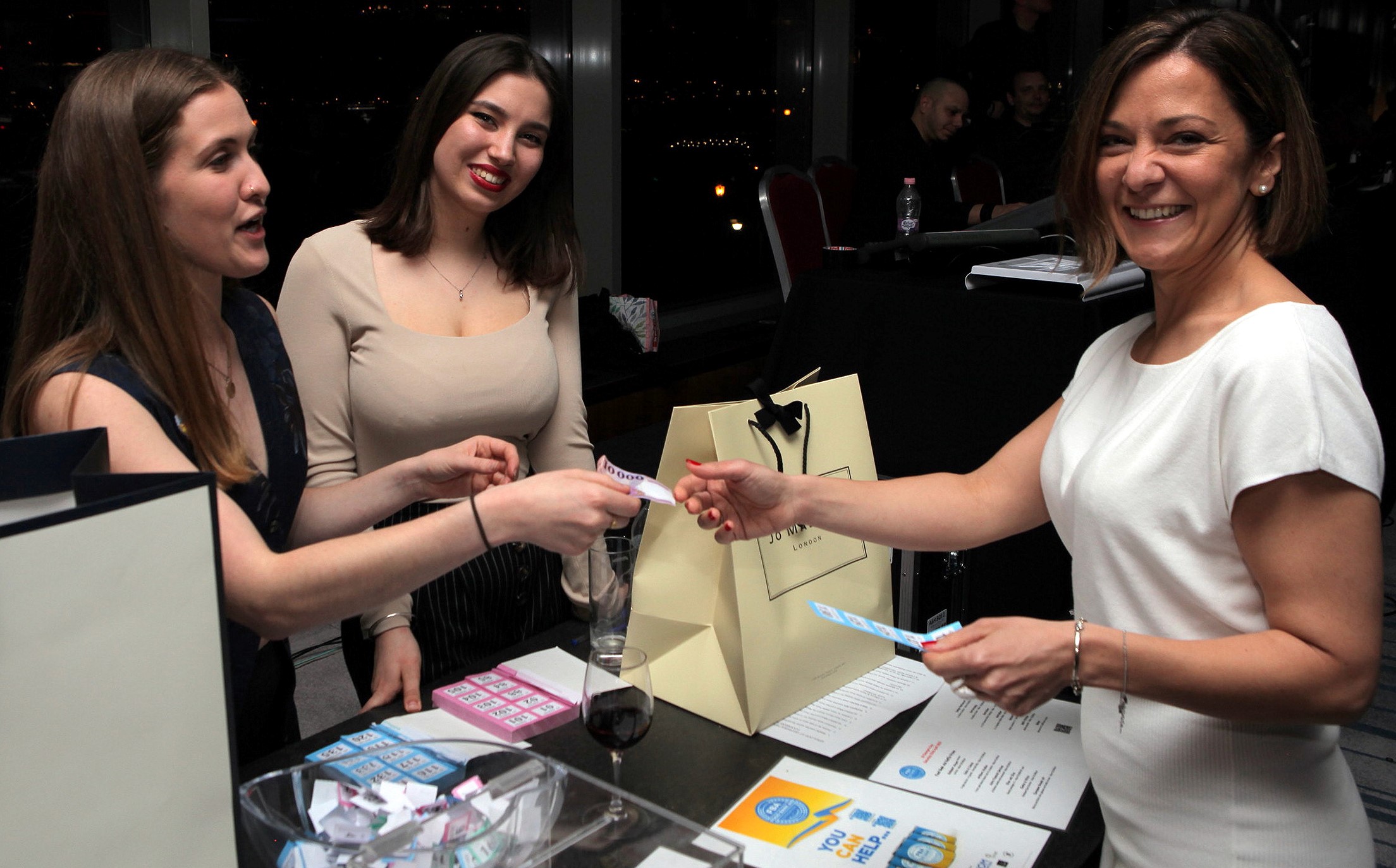 This point in the evening also put the focus back onto the other key beneficiary of this charity night, the victims of the earthquakes in Turkey and Syria – as equally acknowledged by Stephen Linfitt in his opening address.




This moment was also the cue for TV personality Zsuzsa Demcsák to lead the presentation duties in the auction for UNICEF, and she handled the waterpolo ball prize and all with panache.




Tactical bidding was much in evidence as would-be winners of a Premium Health Plan from FirstMed, a pleasure flight over Budapest and the Danube Bend expertly upped the ante before the gavel came down. The star prize was a signed Bowie print by Gallery Privé.




Among other auction prizes helping to raise funds for UNICEF were a 'Manager Health Screening' from Dr. Rose Private Hospital, a weekend's drive of a brand new Land Rover Defender 130, and a personalised 'Microbiome Analysis' from Medipredict.




Perhaps the most intriguing prize was a private wine game for ten from Bortodoor.

Staged at a laid-back wine bar on Zichy Jenő utca in Budapest's theatre district, this popular blind-tasting event has been christened Wine Mafia by the passionate yet unpretentious English-speaking team behind the operation.




According to Suze Collings, a popular expat here from England, it was born of a wedding party they were due to cater for, "We began with recommending a light red for the afternoon, a more complex one for later in the evening, and so on. We then tried out the labels for ourselves in a blind test, and had so much fun, we did the same again the following week," she explained.




A random occurrence became a regular attraction, and now participants are given an entertaining evening without having to choose anything too expensive or gauche. Guests also receive informal instruction in tasting, smelling and provenance, with a wine quiz thrown in.




A Bortodoor prize also featured in the charity raffle, along with a spa session courtesy Clark and White, VIP passes for Budapest Airport from new CEO Kam Jandu, beauty packs from Olive & Oliva, a stay at a lodge in bucolic Zugliget, and scores more, resulting in many delighted winners.




By now, mixologists serving at the Unicum Cocktail Bar had long been working their magic, and guests were having a blast at the fun-filled photo PartyBooth.




DJ Woods fired up tunes from England's pop and rock canon, and it was time to throw a few shapes on the dancefloor and cap off the event with pure partying until early the next morning.




Departing guests were offered a farewell gift as apt as could be for St. George's Day, a single red rose, long of stem and rich in meaning.




Words by Peterjon Cresswell
Peterjon has been researching the bars and byways of Budapest for 30 years, extending his expertise across Europe to produce guidebooks for Time Out and his own website liberoguide.com

See Event Photo Galleries By
Marko Novkov here / Árpád Bakcsy here / Marcus Schirrmacher here / John Galvin here.

Event Feedback
HM Ambassador Paul Fox: "It was an honour and a pleasure to attend the second St George's Day celebration organised by XpatLoop. As well as celebrating England's patron saint, it also raised money in support of UNICEF Hungary for a range of good causes. As such I was proud to be a part of this event, which is becoming a fixture in Budapest's social calendar."

Neil McGarry, Principal, Britannica International School: "It was fantastic to be one of the sponsors for this year's St George's celebration. The atmosphere was electric and I really enjoyed talking to such a wide range of international guests. The performances were superb, especially the incredibly brave Ukrainian soloist. I am already looking forward to next year's event."

Arne Klehn, GM, Budapest Marriott Hotel: "Fabulous event! We were thrilled to host it. Thanks for your trust, looking forward to many more to come."

Penny Brett, Director, American International School Budapest: "A thoroughly enjoyable evening with great hospitality and company. It was good to get together to support such a worthwhile initiative."

Magdalen Gray, Advancement Director, American International School Budapest: "It was a wonderfully put-together event, which showcased the expat community's ongoing drive to help others through service and generosity. The drinks and food were delicious, and the great music made for a very fun atmosphere. It was lovely to have another opportunity to reconnect in such a special place."

Désirée Bonis, Ambassador of the Kingdom of the Netherlands: "Once again we had a wonderful time at the annual St. George Day celebration. A rich programme filled with excellent food, drinks and lots of entertainment made for a huge fundraising effort to the benefit of UNICEF's operations in Ukraine. Much kudos to Xpatloop for organising this major event in such an impeccable manner!"

Frank Hegedűs, Chaplain, St. Margaret's Anglican Church: "I was delighted to take part in this wonderful event and offer my musings on the life and meaning of Saint George as well as a prayer for the people of England and for peace in our world. This was not only an occasion to have fun and enjoy each other's company but equally importantly an opportunity to support charities and institutions aiding those most in need during these troubling times."

Benjamin Turner, Principal, The British International School Budapest: "The St George's day event was a wonderful evening celebrating the best of English food, music and more, with the worthy cause of raising funds for UNICEF and Food Bank Aid for Ukrainian Refugees. Thank you to XpatLoop.com for putting the event together. I look forward to next year!"

Event Sponsors
Platinum: B+N Referencia
Sapphire: Taxually
Diamond: Britannica International School, Dr. Rose Private Hospital, Jaguar Land Rover,
The British International School Budapest.
Amazing Venue: Budapest Marriott Hotel
Awesome Audiovisuals: Special Effects International

Event Supporters
American International School of Budapest, British Embassy, BBJ, Clarke & White, CityTaxi, Estilo Fashion Hotel, FirstMed, flowerMe, Funcode, Prohuman, S3 Entertainment Europe, Tesco.