Whether you're a business traveler, cultural explorer, or nature lover, Hong Kong is able to cater for your every desire. There are so many surprising and delightful things to see in 'Asia's World City', it can rightfully claim to be one of the most diverse and exciting destinations in the world. Plan on visiting for as long as you can - there is far more to enjoy than you may expect - read on for hints and tips on what to do there from a friendly expat based in this amazing metropolis.
Chic and unique, Hong Kong Southside's hip hotel Le Méridien Cyberport is a great place to stay, it's a haven of stylish design and upscale amenities. 'To check in is to chill out' they say, and upon arrival you can't help relaxing into the ultra-spacious reception area - it's designed with a touch of fun to deliberately evoke emotions and lift your spirits.

Acclaimed as the most tech savvy hotel in Hong Kong, the property was awarded "Best Hi-Tech Hotel 2007 & 2008" by Travel Weekly Asia. The hotel has free wireless broadband internet access in all public areas, restaurants and bars - there are five of those to choose between, ranging from Japanese and Cantonese cuisine, to fine international dining.
"Positioned on the edge of the stunning Telegraph Bay, with views of both parkland greenery and the sea's sparkling turquoise waters, Le Méridien Cyberport offers a retreat for travellers who appreciate a relaxed stay while remaining within reach of Hong Kong's fast-paced lifestyle." Gerhard Aicher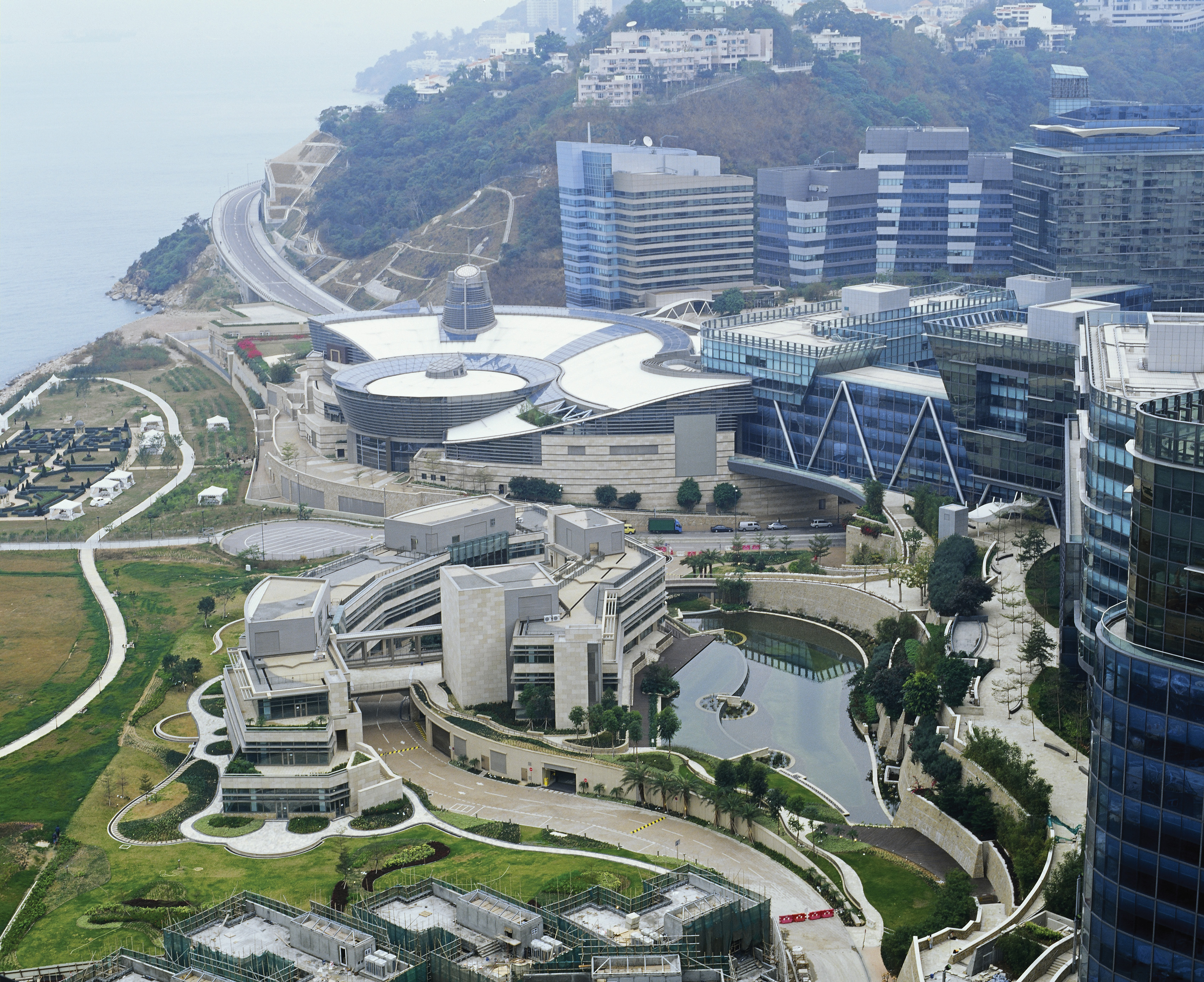 Exploring downtown Hong Kong from the hotel is simple using public transport, very reasonably priced local taxis, or via the hotel shuttle bus which takes just a quarter of an hour to reach Central. Aptly named, this is Hong Kong's central location, and it provides access to the city's underground railway (MTR), and it's a good place from which to start looking around downtown. For example a walk to SOHO, to enjoy fish & chips and a British pint of beer lets say, only takes a few minutes using the Mid-levels Escalator.

Causeway Bay is a popular shopping destination from the hotel - again just 15 minutes away - with many shops open until well after midnight. This is also a social spot for the young crowd, and offers many places to taste the local cuisine.

Talking of food, The Le Méridien Signature Breakfast experience deserves praise. Designed in partnership with culinary genius and three-star Michelin Chef Jean-Georges Vongerichten, it is well worth waking up early to fully enjoy. On offer are new interpretations of classic breakfast entrees such as Croque Madame, and new creations like Green Tea Coconut Bread, and Espresso Steamed Eggs.
"Le Méridien continues to reinterpret the guest experience with the goal of awakening our guests' curiosity," says Gerhard Aicher, General Manager of Le Méridien Cyberport. "Jean-Georges created a breakfast experience here that not only delivers the breakfast basics at a high quality level but also provides a level of 'discovery' for guests by blending exotic flavours with everyday ingredients," he adds.
Austrian born Aicher has been the GM at Le Méridien Cyberport since April 2007, prior to that he was the Executive Assistant Manager there for 2 years. He politely introduced himself as having a background in finance, and he quickly mentioned the advantages of this hotel for business purposes. The Cyberport Convention and Exhibition Centre with a landscaped podium area (pictured below) offers a refreshing outdoor green zone for gathering, not easily found in Hong Kong, he noted.



Asked about the differences in managing this hotel compared to taking care of a European property, Mr. Aicher said, "One of the biggest challenges from a management side is staff turnover in Hong Kong. Talent is in big demand as so many new properties are constantly opening in the area. Training is a good solution for developing and keeping loyal people in this ever changing environment."

Gerhard clearly enjoys working as an expat in Asia, his enthusiasm for Hong Kong is contagious, and he sees his future developing further in this dynamic part of the world.
Having looked around his business neighbourhood, Hong Kong's Cyberport can rightly be heralded as a revolutionary digital city, combining smart offices with conference and entertainment venues.

The complex boasts a four-screen cinema as well as a plethora of high-end shops. Guests can also choose to simply relax amidst the sun-dotted foliage whilst absorbing the soothing scents and sounds of the oceanfront.
Gerhard took the time to suggest various excursions, such as a 15 minutes boat ride from the Cyberport private pier to Lamma Island. This island plays host to some of Hong Kong's finest seafood restaurants.

Diners select their own seafood from the restaurant's tanks, then sit back and enjoy a cold drink or two as their meal is expertly prepared.
A short road journey away from the hotel is Aberdeen Harbour, which has long been a haven for Hong Kong's fisher folk, many of whom still live on and from the sea, says Gerhard.

You can tour the harbour by sampan to experience life on the waves first hand. In the evenings, its worth heading for the floating restaurants anchored here to sample the fresh seafood and delicious Cantonese fare.
Hong Kong's Aberdeen is also the site of Ocean Park, one of Southeast Asia's largest Oceanariums. This theme park has around 20 rides, including two roller-coasters, and also houses over 10 animal exhibits, such as a Giant panda habitat, as well as a four-story aquarium with over 2,000 fish on display.
Stanley Village is also worth a visit, said Gerhard, and to get there I took the public bus from next to the hotel and easily got there to find a treasure trove of thought-provoking experiences.

With a host of fantastic bargains on offer in the winding lanes of Stanley Market, it's a great trip for shopaholics and history buffs alike. Stanley is also home to Murray House - a former British army officers' quarters and a good example of early 20th century Western architecture in Asia.
Gerhard also recommended a trip to count the Ten Thousand Buddhas at the peaceful hilltop monastery near the area of Sha Tin. A good tip from him about how to enjoy nature in Hong Kong is to go hiking in the New Territories. Only having enough time to take on board a few of his helpful suggestions, I took a boat trip from Central aboard the famous Star Ferry, crossing the water to Kowloon.

After an early evening meal on the street - inexpensive, tasty and safe - I had a mini-shopping-spree at the Temple Street Night Market, which offers a quality selection of bargains for tourists. Really rewarding was the suggestion by Gerhard to drink in the view at panoramic bar Aqua Spirit, a fantastic way to view the nightly Symphony of Lights display.
This city offers such a wide range of memorable sights within its compact area, and two more awe-inspiring attractions Gerhard suggests are The Peak, and the Giant Buddha. Travellers will be amazed by the diverse contrasts: traditional and modern architecture, stunning cityscapes and soaring mountains, traditional massage parlors and glitzy night-life venues, chic shopping centers and heritage sites.

Hong Kong is a very enchanting and culturally rewarding place to visit, one that beckons visitors back to explore and enjoy more>>.

Le Méridien Cyberport
100 Cyberport Road
Hong Kong, Hong Kong
Phone: (852) 2980 7788