The Karma Kandara resort is blessed with the most exhilarating views imaginable - a seemingly limitless vista of ocean and sky, 180 degrees of blue on blue brilliance. Guests benefit from a host of novel activities and special events, from sophisticated full moon beach parties to gourmet dinners with carefully selected wine pairings. More than just a Bali beach resort, Karma Kandara is a privileged lifestyle. In search of the perfect beach vacation? This unique accommodation is a perfect place to enjoy the best of Bali, it's the very essence of luxury tropical living.
The Soul Of Good Karma

The resort features a wide choice of luxury Bali villas and accompanying amenities that redefine first class – bridges, stone walkways and little paths meander through vivid tropical gardens connecting 46 expansive private beach villa residences, along with the luxury villa resort's exceptional facilities.

Each Bali villa rental residence comprises two or three pavilions with roofs of alang alang grass or sirap wood tiles, framing an infinity pool and garden courtyard complete with timber deck. Each bedroom has its own en-suite bathroom, while the living rooms of our Bali villas are open plan, comprising fully equipped kitchens, lounge and dining areas.

To compliment these opulent luxury Bali villas, Karma Kandara has created a highly select portfolio of public amenities, each with its own unique character. Our Bali spa resort destination offers the restaurant di Mare, rooftop bar Temple Lounge and Karma Spa & Wellness are all suspended on rocky outcrops 85 metres above the surf.

For those requiring a closer encounter with the sea, this Bali resort has an inclinator to take guests down to Nammos Private Beach Club – voted Best Beach in Bali by Hello Bali magazine in December 2008. Next to white sands lapped by cobalt waters guests can enjoy Mediterranean snacks and creative signature cocktails, not to mention first class service.

Guests benefit from exemplary levels of service throughout the resport – whether from extensively trained spa therapists who deliver everything from Reiki to Javanese spa rituals, the Karma culinary team that creates a lively mix of Mediterranean meets New World cuisine, or the concierge department with its vast knowledge of all that Bali has to offer.



Ultimate Holiday Villas

There are 46 luxury villa residences of 2, 3 and 4 bedrooms, each with its own private pool. Every villa residence is a contemporary elaboration on the classic Balinese garden compound design, with living spaces spread across two or three pavilions. It's all arranged around a courtyard filled with tropical flora, and the private pool comes complete with timber deck. Villas feature natural stone finishes, and roofs are clad in either indigenous grass or ironwood tiles.

With their high pitched roofs, the open plan living pavilions have an airy, expansive feel and comprise lounge, dining area and a fully equipped kitchen featuring the latest appliances. Top of the line amenities are used throughout including LCD screens and surround sound audio. All bedrooms are oriented to face the ocean and boast large, semi-outdoor bathrooms with stand-alone tubs fit for Cleopatra. Interiors evoke a Mediterranean ambience while retaining a clean, modern feel.

Accented with antique artefacts and the work of local artists, features include delicately carved, Bali style stonework, deeply varnished teakwood fittings, creamy marble and richly upholstered contemporary furniture in shades of chocolate, cinnamon, copper, bronze and amber.

Karma Kandara's signature Grand Cliff Front residences offer one of the most privileged locations in the world, drawing the eye outwards to a 180% degree sweep of ocean and sky. Choose to swim some laps in your private pool – or head to Nammos Private Beach Club, just a short vertical ride away using our exclusive inclinator. The very soul of good Karma.



Gourmet Dining By Raymond Saja

New York native Raymond Saja is the culinary mastermind behind Karma Bali's various gourmet food outlets. He's as happy conjuring an eastern Mediterranean delicacy as he is something classically French with a twist of Thai – a global approach which marries experimentation with a reverence for uncomplicated flavours. Saja has put his dexterous cuisiniere's hand to Karma Bali's portfolio of eateries, creating a diverse range of dining options that are designed to smoothly dovetail one with the other.

Ably assisted by talented sous-chef Yehudi, Saja and his team bring you a far-reaching yet perfectly integrated medley of first class food and beverage choices, whether it be crispy wood-fired pizza drizzling in premium Mozarella served beachside or a specially conjured six course wine-pairing menu at the award-winning di Mare restaurant set on a rocky outcrop 150 meters above the ocean. And as if that were not enough, another cornucopia of delights conjured by Saja is to be discovered at sister resort Karma Jimbaran, a short 15 minute ride away.

Food With A View At di Mare Restaurant

Suspended 85 meters above the surf on a rocky outcrop, di Mare, (Of the Ocean in Italian) the most dramatically situated destination restaurants in Bali. Its semi-circular dining room, covered in light pre-tensile fabric, is built to resemble a yacht, framing a view of sea and sky that extends to the horizon.

Executive chef Steven Grande utilises only the freshest, season-driven local ingredients, combined with premium imports from overseas in designing an ocean-inspired fine dining menu that delivers the finest Mediterranean style food with a Pan-Asian flourish. Think Spice Crusted Prawns with pea leaves, pods, tendrils and Tahitian vanilla emulsion, or Moroccan Spiced Ahi Tuna with Lentils du Puy, lemon confit and Ligurian olive juice.

The di Mare cellar is stocked with more than 3000 wines from around the world – all of which makes for one of the most memorable fine dining experiences you are ever likely to have – in Bali or anywhere else.




Kasabah Styled Luxury Lounge & Bar

Set on the rooftop of Di Mare Restaurant, Temple Lounge evokes a North African ambience. Plush, colorful banquettes, Shisa pipes and giant Moroccan stained glass lanterns create a Kasbah-like setting where guests enjoy custom cocktails and Mid – East inspired Tapas style dishes served at a whimsical market stall. The perfect location for sundowners, combining lofty vistas with cool sea breezes – the most refreshing of which come in a glass.

Nammos Beach Club

This ultra-hip club exudes an air of tropical languor accompanied by exemplary levels of service – whether you're sipping signature cocktails, partaking of the Mediterranean inspired menu (including a well stocked oyster bar) or enjoying water sports in the lagoon.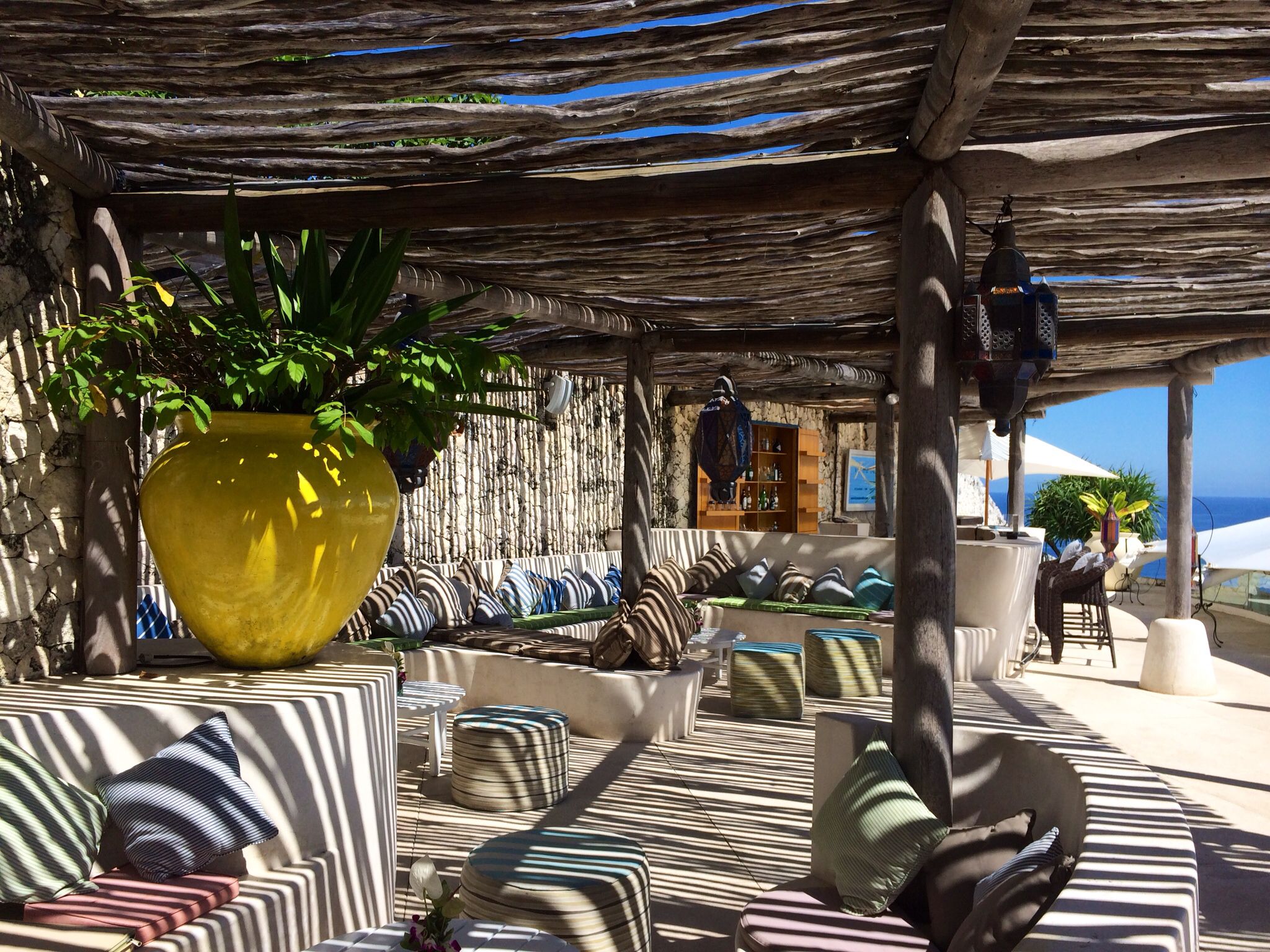 Life-enhancing Karma Spa
Karma Spa is a rejuvenating and life-enhancing spa brand dedicated to regenerating your wellbeing. Our boutique menu of curative sessions can be experienced in-villa or at our cliff-hanging spa.
Karma's spa team of 'bodyworkers' train under the guidance of certified sports massage therapists, Chinese medical practitioners, reflexologists & healers to deliver deeply therapeutic experiences. They have received Level 1 Reiki training and are certified by Glo Day Spa to deliver 100% hygienic and topnotch manicures and pedicures.



Karma Kandara Lifestyle

By living this holiday lifestyle each guest is lifted out of the everyday, in so many ways - not just with exemplary accommodation and amenities, the service and location, but with unique experiences. Karma Kandara hold a host of exciting events – from full moon ho-downs in the magical Mykonian style environs of Nammos Beach Club, to classic movie screenings on the rooftop Temple Lounge to encounters with celebrated sommeliers at Di Mare restaurant.

Tried and tested by XpatLoop, verdict: highly recommended.
To find out more start with a virtual visit of Karma Kandara.
Karma Kandara
Jalan Wijaya Kusuma,
Bali, 80362, Indonesia
- Just 20 minutes from Ngurah Rai international airport.

Qatar Airways offer flights from Budapest to Bali via Doha, click for more info.