This is part of a series of in-depth interviews with some surprising members of the community, written by Marion Merrick.
Foreigners the world over may find they feel happier in their adoptive countries than they did in their homelands. The explanations are various: from climate to culture, and from work opportunities to a personal rapport with the locals.

Pianist Hiroko Ishimoto would certainly subscribe to such an explanation to account for the fact of having made her home in Budapest over the past twenty years.

Originally from Sapporo, Japan, Hiroko began piano lessons with a family acquaintance before she was five. "I can say now that my teacher was abusing her students," recalls Hiroko, "with words, with hitting – I had to accept that. It was horrible. Her moods would swing…that was typical of Japanese education at that time. And I didn't fit into the traditional girl's role. Most piano students were girls, the daughters of professional parents, and you had to be obedient. I studied with that teacher until I was 18 and then I went to Tokyo."

Hiroko cites her unusually open-minded doctor father, to whom she was very close, as a primary influence on her unconventional attitudes and outlook on life.

Yet lessons with a new teacher at Tokyo's Toho School of Music were no improvement. "She was even worse! I hated the piano – no, I hated her, not the piano. I loved concerts, symphonies, just nothing related to my piano playing."

It was around this time that Hiroko first came across a Hungarian musician. "My first contact with Hungary was the pianist André Watts, an African-American pianist with a Hungarian mother," she recalls, "and his playing was just FAN-TAS-TIC!"

Hiroko's family had Japanese friends in New York and before long they began to encourage her to audition for the Julliard school. Yet, Japanese etiquette precluded the insult of leaving one's teacher. "You hide, you tell lies, it's too disrespectful to leave," she explains. "So, my mother pretended I had run off to New York!" – which is exactly what she did.

Hiroko still remembers the warnings of fellow Japanese musicians in New York, telling her it would take time to acclimatise to the levels of violence: "Every day there was some gun shooting – you heard it; after 8pm I stayed at home." But her abiding memory of her arrival in America is the Easter parade on 5th Avenue, "It was such fun, so open, so free!"

Following her successful audition to the Juilliard school, Hiroko was fortunate enough to be accepted to study with György Sándor, a giant of the piano world and a close friend of Bartók. It was he who gave the first performance of Bartók's third concerto at Carnegie Hall in 1946.

"I was very much influenced by György Sándor," remembers Hiroko. "He was fantastic; he had temperament, like many Hungarians. Through him I came to like Bartók and Kodály and Hungarian music. And later, after I'd left America, I went back to New York for a month every summer – I needed that to be myself – so I met him every year."

"When I finished at the Julliard, I stayed in New York as a freelance musician; I was in New York for nine years, until 1989. Then my old school, Toho in Tokyo, asked me to teach back there. I was tired of New York at that time – but I was stupid, I should have stayed there," she sighs.

Hiroko's return to Japan, following almost a decade in America, came as a profound culture shock. If she had failed to fit the mould as a child and student, the intervening years in New York had further exacerbated the friction.

"In the first year I had recurring bouts of fever. Society in Japan panicked me – I think a woman's life in Japan is quite bad, like an Arab woman's," she explains.

"I met a lot of international musicians in Tokyo, and I felt more comfortable talking to them than to Japanese musicians. I was sort of broken, you know; things came to a head, I had both professional and personal difficulties."

It was at this juncture that Hiroko came into contact with the Women's Action Network (WAN) – a feminist organisation, mainly supported by professional women like Hiroko herself. "I try not to be loud or pushy, but I have strong feelings about this," she says.

Hiroko attended meetings which deeply affected her. "Listening to the other women talking I thought: I should do something based on women and music. Then I thought: what about if I play women composers? This music is universal – I started with Fanny Mendelssohn, Clara Schumann, Amy Beach from America, Tatyana Nikolayeva…. This became my main job, because they're fantastic pieces and they're forgotten, neglected."

Hiroko was awarded a grant by the Women's Action Network enabling her to give a series of six concerts in various Japanese cities, which was repeated another year. "I suddenly got recognition for this music," she says.

In 2002, however, Hiroko decided to move to Europe and continue to develop her playing by taking lessons with Jenő Jandó, Ferenc Rados and Gábor Eckhardt at Budapest's Liszt Academy. "I knew what I had to develop in myself," she explains.

Hiroko's exploration of the works of women composers led to her recording a
CD "Pioneers" with Naxos records, in 2020 – sadly, just as Covid was emerging,
meaning that the associated concert performances of the works had to be abandoned.
However, the concert initially planned for 2020 featuring pieces from the CD, took
place in April 2022, following which it was also played in Tokyo and other cities in
Japan.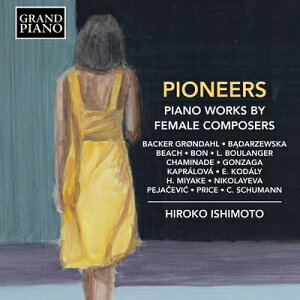 Hiroko is now following up this first concert with a second – fittingly to take place on International Women's day, March 8th at 7pm, at the Marczibányi tér Cultural Centre, and will showcase pieces from her CD.

Hiroko's recordings form a part of Three Centuries of Women Composers featured on Youtube. She has been championing works by composers Margaret Bonds, Cécile Chaminade and Alicia Terzian – initiating a Youtube series that she will be adding to on a regular basis.

Japanese expats in Hungary number under two thousand, and Hiroko finds few she can relate to easily. Assessing her life in Budapest as she approaches her twenty-year anniversary, she says, "I wouldn't say I love everything in Hungary but I feel comfortable here, I feel I can be myself in a way I couldn't in Tokyo; there it's very rigid, you mustn't speak up, you have to be the same as everyone else. Here, I feel a freedom to be myself."

Tickets for Hiroko Ishimoto's concert on March 8th at 7pm, at Marczibányi Cultural centre may be purchased online here or at the concert venue.

Marion Merrick is author of Now You See It, Now You Don't and House of Cards and the website Budapest Retro.