First named Neapolis, meaning 'new city', the Naples of today is a vibrant and exciting place to visit with plenty of things to see. Italy's third most populated municipality has one of the largest historical city centres on the globe, with 448 monumental churches - the highest number in the world for a single city.
Unlike Rome, Venice and Florence, it's not a major stop on the classical tourist trail, and so Naples is able to maintain a unique sense of charm, making it a gem of a getaway less than 1.5 hours with WizzAir from Budapest.

Getting Around: The 'Campania Artecard' is a great way to see all Naples' major attractions at discounted prices - plus Pompeii which is well worth the trip - get one at the airport or online via www.artecard.it.

Public transport well serves this underrated city, which is a real treasure trove of art and history. Founded between the 7th and 6th centuries BC by the Greeks, its centre alone encompasses a heritage so rich that it's been designated an UNESCO World Heritage Site.

Four castles visibly tower over Naples, and its 2,500 years of history are also evident in all the palaces, monuments, galleries and churches that you can find spread right around the city. Visitors can also enjoy watching the locals vivaciously getting on with 21st Century living amidst all this amazing history.
Where to Drink: Visitors are spoilt for choice when it comes to places to 'people-watch' while sipping a superb Italian coffee. Modern nightlife abounds in Naples too. The hippest scene is around the bars and cafes on Piazza Bellini, Piazza Santa Maria la Nova, and Piazza San Domenico Maggiore, which all come to life around 11PM. Also worth trying is the area around Piazza dei Martiri, especially Vico Belledonne a Chiaia, where you can find bars packed with young locals and internationals at weekends. Those venturing out at night might also like to visit the port boardwalk which has many bars and clubs near Pozzuoli.
Where to Eat: As you may know, pizza comes from Naples. So when it comes to eating, go for a for pizza margherita, yep the one with tomato, basil and fresh mozzarella. Here you'll taste it as it was intended to be, simply delicious, as this is where it was created. While in Naples you can be almost sure that every pizzeria makes a decent pizza. Look out for places display the sign Vera Pizza Napoletana 'True Neapolitan Pizza' which proves the pizzerria follows the standards of The Naples Pizza Association.
Where to Walk: Centro Storico, the historic centre is Naples is a labyrinth of history containing the city's prime tourist attractions. With excellent pizzerias, barouque churches, underground greco-roman ruins, shopping streets like Spaccanapoli, plus a vibrant night-life, makes this 'free-of-charge living museum' a total must among the must see sights of Naples
Where to Journey: As well as nearby Pompeii, the volcanic nature of the area is definitely worth exploring. Mount Vesuvius, with its solidified lava flows and the contrasting colour of the cultivated fields, is a spectacle not to be missed. All that and its massive crater create a surreal atmosphere, combining the charm of a distant past with beautiful nature, all surrounded by a superb view of the sea.
Where to Stay: The Excelsior Hotel also has an amazing view of the sea, and of the Castel dell 'Ovo (pictured). Located in the historic centre of Naples, in the most exclusive area of the city, this luxurious accommodation with impeccable service is an ideal place for an elegant stay.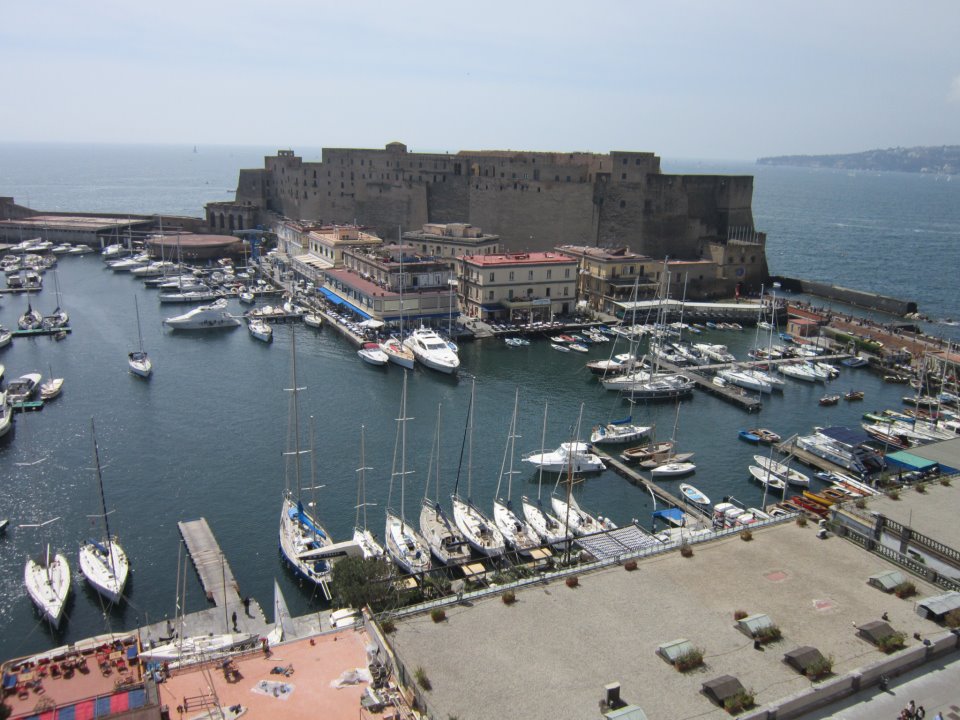 According to Wikitravel.org, "Accommodation in Naples is normally cheaper than in Rome, but quality may vary a lot. It is not uncommon to encounter hot water shortages, power outages, and less than luxurious bed and bath linens. Also don't expect a full-sized bathtub in reasonably priced hotels. You may not even get a shower stall but a drain hole that is in the centre of the bathroom with a toilet, a sink, and a shower head along the plain tiled walls.

Breakfast may include hard rolls and an assortment of hard meats and cheeses. Nothing mentioned is meant to discourage, but to help you view your experience as an adventure in Italian culture."
Rest assured the complete opposite of Wikitravel's warning applies to The Excelsior - our room with an unforgettable view; included a full-bath; lovely linens and a fresh buffet breakfast held in the roof-top restaurant - so it's a very safe bet for a wonderful weekend in Naples.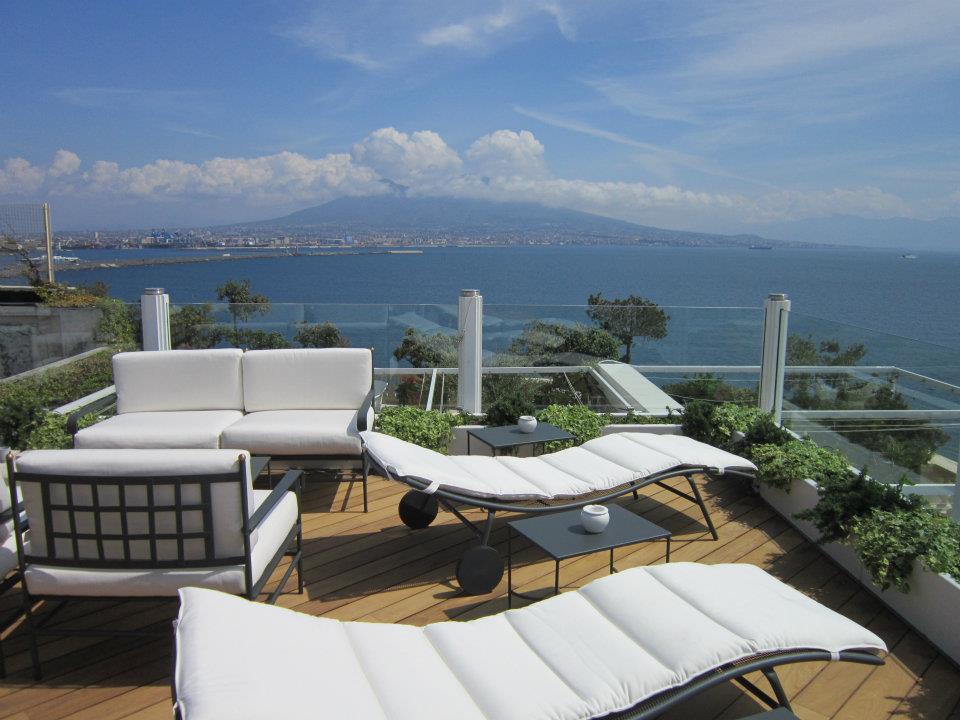 Over the years of its impressive history this luxurious property has hosted many celebrity guests, international personalities, aristocracy, and stars of cinema and sport. Today it's a favourite for travellers seeking an intimate atmosphere with all the modern comforts of a major hotel.
The Excelsior Hotel - Tried & tested, verdict: highly recommended.
Via Partenope 48, 80121 Napoli
Click here for Special Offers
For more travel advice about Naples visit Wizzguides