Thanks to everyone who came and supported, especially British Ambassador Iain Lindsay OBE for warmly encouraging guests to "dig deep", together we raised HUF 4.236 million. This is a record fundraising result for XpatLoop's annual bonfire party, with 250 guests uniting for charity. Her Majesty's Ambassador to Hungary wrote afterwards: "Really enjoyed it, very good event." Read on for more feedback, plus links to party pics from Marriott's Ballroom on 4 November.
* Gabor Patzauer, Founder & President: "The Csodalampa 'Magic Lamp' Foundation's team is greatly honoured that it's mission of granting 260-300 wishes per year for very ill children is supported by XpatLoop.com's readers.

This years splendid XpatLoop Bonfire Party was the 3rd occasion at which our foundation was one of the charity beneficiaries, and it is worth highlighting the excellent mood provided and the networking possibilities at the party attended by so many distinguished guests."

* Katalin Bodnar, Britannica International School: "We had a great time, it was an awesome evening! Looking forward to the next one!"

* Adam Goodman, Mid Atlantic Films: "Big credit for all the time and effort you put in! It certainly paid off!" * Nóra Horváth Magyary, "Congratulations! Well attended, much enjoyed!"




Gallery 1: click to see 132 fab photos by David Bacsa




* Dennis A. Diokno, CEO, FirstMed: "Fantastic evening, I look forward to many more to come. Special thanks to Stephen, Melinda, and the entire Xpatloop team for organizing another outstanding event."




Gallery 2: click to see 48 super snaps by Marcus Schirrmacher

* Eszter Bittmann, Project Manager at Special Effects Ltd: "It was a pleasure to work with you again. Many nice people got together for a good purpose, and it's fantastic that it has such a positive result."



Gallery 3: click to see 220 party pictures by Geza Molnar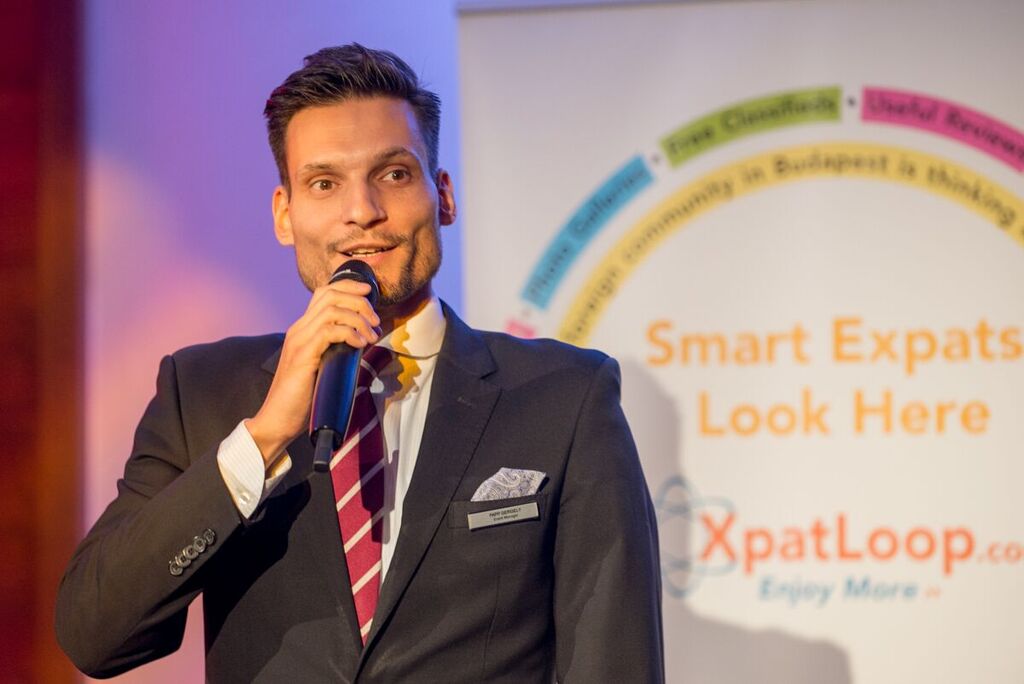 * Gergely Papp, Event Manager Marriott Hotel Budapest: "It is always a great pleasure to welcome such a beautiful and generous crowd. We love it when our Ballroom turns into a vibrant international melting pot. Budapest Marriott embraces Xpatloop's initiatives and feels responsible to line up for the good cause."




* Stephen Linfitt, event organiser and founder of XpatLoop.com
"We are very grateful to loyal readers, sponsors, stars, VIP's, media partners, and all supporters for making it the most successful of our parties for charity over the last decade. In 2016 the beneficiaries are Csodalámpa 'Make-a-wish' Foundation, SOS Children's Village, The Lions Club of Budapest, and United Way."

* Gábor Gosztonyi, National Director: "We were delighted that SOS Children's Villages was invited to the latest XpatLoop.com charity event. It was great for us to see how well this community understands the importance of giving. Participants visibly had good fun during the whole evening, and we very much appreciate this occasion."

* Main Sponsor: FirstMed Centers
* Venue Sponsor: Budapest Marriott
* Supporting Sponsors: Special Effects Ltd
Max Mara, Clark & White, Kasai, Jam Film
* Main Auction Supporters: Turkish Airlines,
Mid Atlantic Films, Zsófia Cruises, Nemereii.hu,
Max Mara, Gaia's Garden, FitChef, Neckermann,
Hungarian National Opera, Condor, CGS, Jet2.com
Budget Rent-A-Car, Angsana Laguna Phuket Resort
* Event Supporters: BBJ, BCCH, Clearwater, Nouba,
LoveAgent.com, Prohuman, Pagony Kozert,
The Budapest Times, Tesco Hungary.
* Participating XpatLoop Clients:
American International School,
Britannica School, Buddha Bar,
British International School
Colling Financial Services,
Capital Growth Solutions,
Cinema City, Corinthia,
CEU Business School.

Related Link:
Fully Booked: Xpat Party For Charity, Marriott Ballroom