The British Ambassador represents Her Majesty Queen Elizabeth II as well as the UK government in Hungary. The Queen awarded him an OBE (Order of the British Empire) in 2002, a highly distinguished achievement of chivalry.
Click here to read Iain Lindsay's first Xpat Interview

1. What's been happening at work and at home since your first Xpat Interview?
After two and a half years here, Budapest is a wonderful place to call home. I keep on enjoying and discovering new aspects of the city every week.
As for work, the UK's exit from the EU keeps me and my team at the Embassy busy, with many official meetings, media interviews, lectures and events in Budapest and around the country.

2. What's next on your agenda?
A Town Hall meeting for UK nationals living in Hungary on the 9th of January. We will share up-to-date information on the implications of the UK's EU exit on the lives of British nationals in Hungary.
A senior representative of the Hungarian government will join us at the event. For more details check out the UK in Hungary Facebook page, and stay tuned to XpatLoop.

3. What was the most interesting travel trip you have ever taken?
When we lived in Hong Kong we visited many 'exotic' Asian locations, e.g. Cambodia, Vietnam and various parts of China.
But Borneo was pretty special, seeing orangutans in the wild. And in the same vein going to Botswana on safari was also amazing, likewise seeing tigers in the wild in India.

4. What's the best party you've been to while in Hungary, and why?
Usually the last one! Sziget Festival is one great party – fantastic, friendly atmosphere. If you could bottle it you would be a millionaire! Looking forward to seeing Ed Sheeran open Sziget on 7 August 2019!

5. What's your favourite drink?
Tea! I drink a huge quantity of it. Really refreshing. I like it strong-ish, so English or Scottish Breakfast is my preferred blend. Milk has to go in second!

6. What hidden talents do you have?
If I told you it wouldn't be hidden! But I think I'm a reasonable Scottish country dancer. You can check at one of the Burns Suppers in January!

7. If you were given a wish that could come true, what would you ask for?
An end to conflict.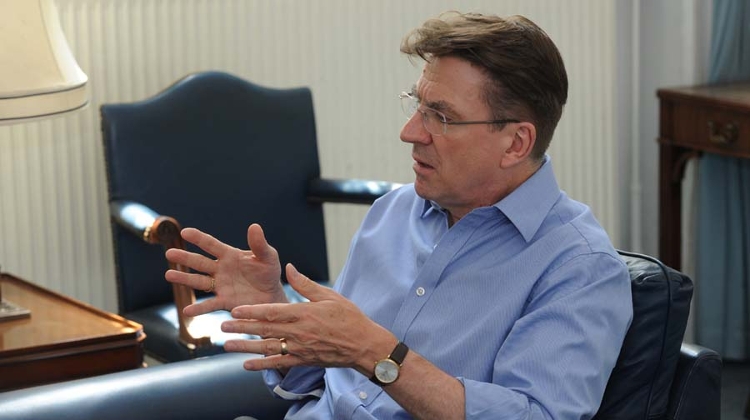 8. What's the last book you read, and movie you watched
Book: Dominion, by CJ Sansom; Film: Three Billboards Outside Ebbing, Missouri.

9. If someone wrote a biography about you, what would the title be?
The Eternal Optimist.

10. What is the perfect pizza toppings combination for you
Pepperoni, rocket and cheese.

11. If you could trade places with anyone for a week, real or fictional, with whom would it be?
A homeless person, to really understand how horrendous it must be to live on the streets and in poverty.

12. Where are you going to spend Christmas this year
Budapest, with my family, enjoying a British Christmas with some Hungarian elements such as szaloncukor - I have a very sweet tooth. And a Tokaji aszú is the perfect accompaniment to Christmas pudding!

13. What's the best website you've ever visited, and why?
BBC news. It's informative, reliable and easy to navigate.

14. Who do you admire the most, and why?
At a time when so many people, so many leaders are pushing the politics of fear, my first political hero comes to mind.
A man who overcame physical disability to lead a great nation with a message of hope. The man who said in his inaugural address in 1933 "...the only thing we have to fear is fear itself...". The great Franklin D. Roosevelt, President of the United States of America.

15. What do you like best about living in Hungary?
It's a lovely country and Budapest is one of the most beautiful cities in the world. Hungarians are warm and hospitable. I love the language and the culture.
As a Scot, I feel a common bond with Hungarians, in terms of history, our traditions and our temper. And I am a huge fan of Hungarian food and drink. Hungarian wines are the country's best kept secret. So, shhhh, don't tell anyone!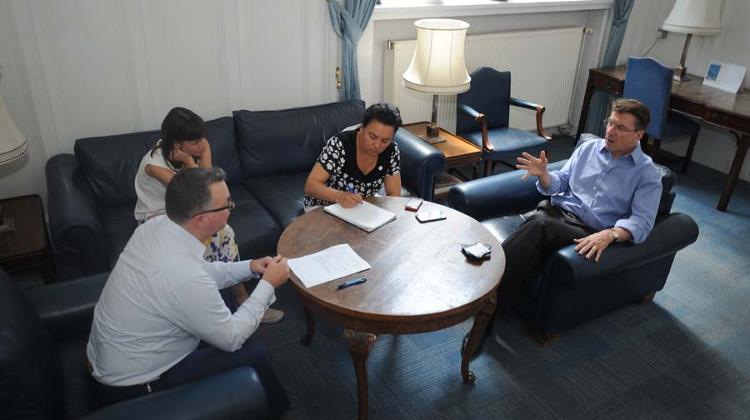 16. What has made the biggest impact on your life so far, and why?
Being a diplomat. Joining the Foreign & Commonwealth Office 38 years ago opened up a huge range of opportunities and perspectives which otherwise would not have happened had I stayed in Scotland.
I have had the privilege to work in 8 countries, learn 3 foreign languages and meet wonderful people – and serve my country by strengthening its relations with the world along the way!

17. If you won USD 30 million, what would you do with the money?
Keep £1m for a rainy day (!) and give the rest away to good causes.

18. If your life had a theme song, what would it be?
"Always look on the bright side of life"! I was whistling it just yesterday when we had a showing of Monty Python's "Life of Brian" at the Embassy!

19. If you could live anywhere in the world, where would you choose?
That's soooo difficult. Italy has always appealed. But it's hard to beat London (north of course!). Specifically somewhere near The Regent's Park or Little Venice.. Edinburgh's not bad either, ditto Glasgow!

20. In ten years from now what will you be doing?
If I had a crystal ball I wouldn't be a diplomat! But still enjoying life. And still connected to Hungary in some way.

Photos by Russell Skidmore for XpatLoop.com