Update: This former Sheraton property is now called InterContinental Pattaya Resort. You're a busy expat, in need of some sea; sand; sun and fun. You feel like going somewhere exotic, but can only get away from work for around 10 days max. So where to go? A good answer is the Sheraton Pattaya Resort, it ticks all those boxes, and many more!
You're used to staying in quality properties while traveling on business, and have learnt from experience not to scrimp when it comes to your choice of a holiday hotel. Along with a warm welcome, a charming room - with a panoramic sea view - you prefer a private beach, and a few swimming pool options.
And you fancy going out in the evening to eat well, like fresh grilled seafood, followed by a few drinks, therefore you need to be assured there is nightlife easily available near the place where you stay – as well as a range of international restaurants; pubs; clubs and entertainment.
The Sheraton Pattaya Resort really has it all covered! Singles, couples, and families all enjoy the Sheraton in Pattaya. It's is a place of approachable luxury, that experienced travelers desire and deserve - brought to life through thoughtful amenities, tasteful design, and immaculate guest service.
This report follows a stay at the Sheraton in Pattaya just before Christmas 2013, and to undertake 'due-diligence' for this article a few other 5* hotels in Pattaya were considered, and in short the locally owned and managed properties such as Fairtex simply can't compete with the world-class standards of the Sheraton in Pattaya.

Sheraton Pattaya Resort is located on a peaceful cliff headland, overlooking the Gulf of Siam - less than 2 hours drive from Bangkok, so great for a convenient tropical break from Budapest. This special resort enjoys a beachfront location with unsurpassed views to Koh Larn (Coral Island). The very spacious and comfortable 156 rooms, including 40 pavilions and 2 villas, delight guests with a tasteful mix of Thai and oriental styles.


Naturally all rooms come complete with all the required modern elements, for example each features a 'Sheraton Sweet Sleeper', the bed which sweet dreams are made of. The Sheraton Pattaya Resort is perfectly at ease with itself, giving guests the feeling of being welcome members of a private country club.
Every Sheraton Resort room here has a spacious balcony, the Garden View Rooms overlook the lush tropical gardens, and the Ocean View Rooms overlook the Gulf of Siam.Pool Terrace Rooms are also beautiful and stylish and feature a large private sundeck, complete with sun lounges and direct access to the Serenity Pool or Spirituality Lagoon.
Sheraton's Deluxe Pavilions with Garden Views are lavishly appointed with a private outdoor Thai Sala (pavilion) that overlooks the tropical gardens, or you can choose a Deluxe Pavilions overlook the ocean - a perfect place to watch a dazzling sunset. Both Pavilions have an oversized bathroom with natural sandstone features and a large terrazzo bath big enough for two adults to comfortably have a soak and relax.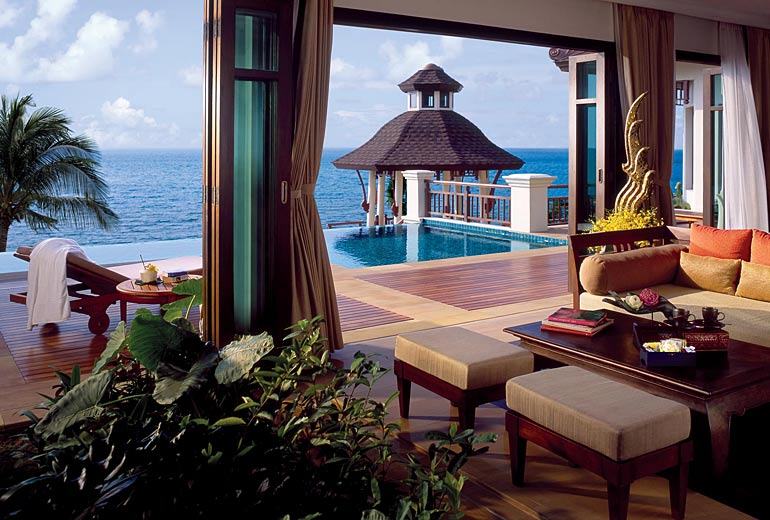 Two Ocean Front Villas – Baan Sai Nam (two bedrooms) and Baan Sai Chol (one bedroom) – offer high-end guests a private villa experience, complete with personalized 24-hour butler service. The villas are located just above the private beach and offer unsurpassed views across the Gulf of Siam and the nearby islands.

Catering to both leisure and business travelers, this resort has a selection of restaurants, and the recreational facilities include a modern well-equipped fitness centre and 3 outdoor freeform swimming pools. All the various pools at Sheraton are divinely inviting and well used.

Since traditional Thai massage is so reasonably priced in downtown Pattaya, this report didn't review the Sheraton's Amburaya Spa as the various prestigious awards it has received speak for themselves.

As well as a relaxing massage, and lively nightlife, Pattaya has many daytime activities to keep an active traveler happy - three less well know options are a visit to Elephant Village (a sanctuary for former working elephants), or you could take 'a trip to the bottom of the sea' at Underwater World Pattaya, or go grape tasting at Silverlake Vineyard near Pattaya. Also the Floating Market is always a fun way to taste traditional Thia food as you boat about its network of canals.


Elements Restaurant at Sheraton is well worth a mention as it's a place full of fine choices, including two distinct seating sections: an outer courtyard with tasty views across the Bay of Siam, and an air-conditioned inner section. Top picks from the regular menu include: crispy fried salmon and basil spring rolls, red curry with roasted duck, fried red snapper with garlic and pepper sauce, roasted pork neck with long beans and three flavoured sauce, and spicy squid salad with Thai celery.
A real highlight at Elements is the "Aroy Seafood Market Buffet" featuring your choice of international favourites; salads, sushi, sashimi, imported cheeses, Asian specialties, plus a really stunning selection of tantalizing desserts. The best part of this Sheraton buffet is the outdoor Seafood market where guests can 'Select It Yourself' from an extensive selection of produce from the Andaman Sea, such as Rock Lobster, Blue Crab, Octopus, Tiger prawns, many types of fresh fish, Jumbo Oysters, and much more, which award winning chefs cook up in your choice of style at live cooking stations.

At the Sherton in Pattaya an idyllic ambience abounds, especially while enjoying the stunning views from its location on Phratumnak Hill overlooking the paradise islands near Pattaya. The Sheraton is truly an oasis of calm, only 10 mins from Walking Street and all the excitement and bustle of downtown Pattaya. Sheraton's friendly staff amplifies the resorts good vibes.

Sherton's reviews praise its people saying, "The staff there is attentive and accommodating, and just warm hearted hosts". Staff do 'Go the Extra Step', separate feedback from a recent guest backs up this conclusion and independently praises the GM and his staff, "The management team clearly drive this hotel to succeed and appear to be achieving that goal The success is people driven and the entire team appear happy and welcoming from the housemaid to the manager."

Finally a little advice, given by the same guest praising the staff, "the facility is on a hill and could be a little difficult if you have some walking challenges... with the fleet of golf carts available and a very helpful front house concierge team that can be overcome".

For an interview with Mr. Tomo Kuriyama, the General Manager, just click here for insights about more enjoyable things to do in Pattaya, and about how he and his team ensure Sheraton feels like paradise in Pattaya.

Follow this link to visit Sheraton Pattaya Resort online