By Richard Jones: It's amazing how a taste and a smell can instantly take you back to a moment in your life. That's how I felt when I first tucked into Ngon's amazing red curry. I was immediately transported back to Thailand, a country I travelled around for three months and love. Now I've just fallen in love with this new Thai joint in Budapest.
The aromatic smells, the humbling heat, and the friendly people. This place provides a real sense of Thailand as well as true tastes, just what I've been looking for in Hungary ever since I left The Land of Smiles.
One quick practicality, parking here could be a pain, especially on weekends, except for this tip: leave your car in a KFC parking place next door, just don't tell them I told you.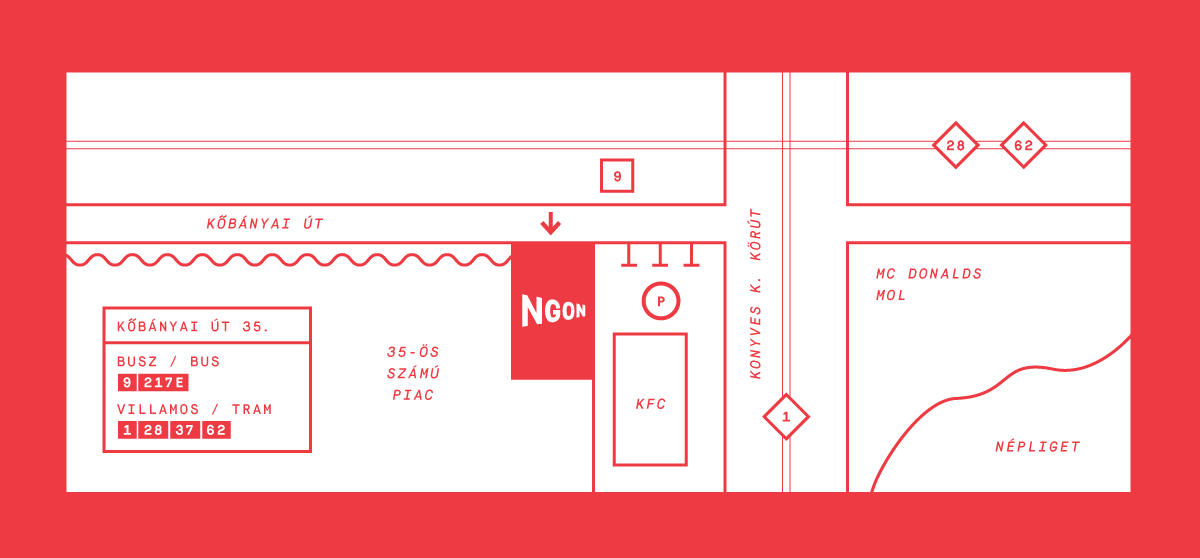 Ngon Street Food restaurant opened a few months ago just off Hungaria korut, next to the massive 'Chinese Market'.
If you ever get stuck in a traffic jam near by - and let's face it that ring road is famous for jams - you could do a lot worse than pulling off the road to have some tasty Thai food here.
It's definitely worth a special trip, especially if you fancy a wander around the market afterwards.
From the outside this busy street side eatery doesn't look like your average Budapest restaurant, stepping through the container style entry you know something different is going on, it's like you're stepping into another land.
The current summer heat in Hungary adds to the atmosphere and it really feels like you're on the other side of the world, sitting in Asia on a low plastic stool looking over an exotic menu.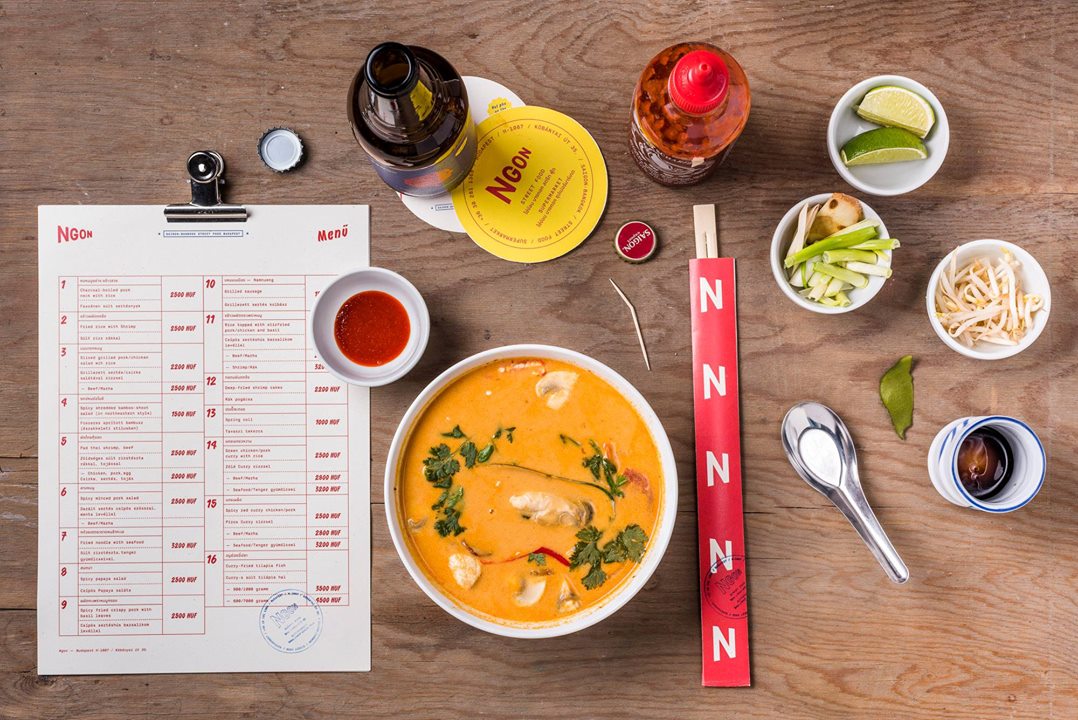 There was no aircon in operation when we were there but the high ceilings and fan ensures that it doesn't feel stuffy - the aircon is working again we're reliably informed, and they've set up a big TV for the current FIFA World Cup.
The clientele is a mixture of locals and expats, including quite a few Asians - always a good sign.
The owners are actually a Vietnamese family, a father and son team of Lee and David, respectively, using their localised names. They're both friendly and welcoming, and will even squeeze you on to a good table when there's little room left.


The cooks are from Thailand, which of course is just what you'd want. Given the owership there are a few Vietnamese dishes on the menu too, like Pho noodle soup.
Maybe best of all they use ingredients from their own grocery store to ensure meals are always fresh and authentic.
Located next door within the market, their Saigonfood Asia Supermarket has a great variety of Thai, Vietnamese, Chinese, Indonesian and Malaysian food products, and is well worth a look. You can even choose ingredients here, like the (frozen) Red Snapper, and ask them to cook it up especially in the eatery.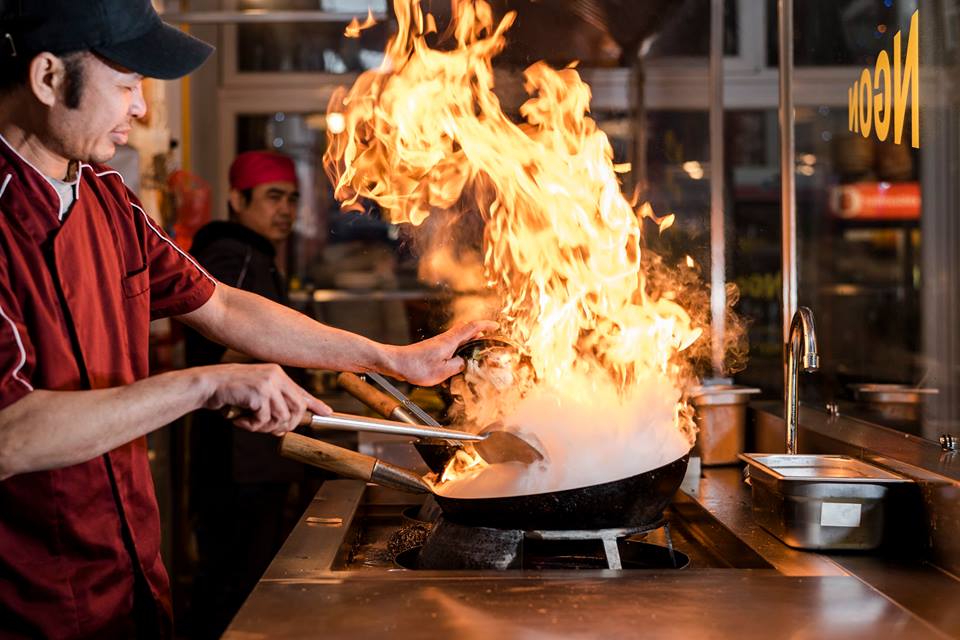 Standard dishes range from HUF 1000 for starters to between HUF 2-3000 for a main course. I went for the classics: spring rolls followed by Thai curry with rice, and also Pad Thai. It's not the type of food to pair with wine of course, the Asian beer on offer is a good match with the spices.
The Thai style spring rolls were excellent, double fried for crispiness, quite spectacular in fact. Maybe best not to dunk them in the bottled sauce provided if you like them to stay crunchy. Noteworthy is the amount of filling used, very substantial and tasty compared to most other venues offering the same dish.
For a starter a friend had the Thai Green Papaya Salad, requested with one not three red chilies like in north-eastern Isan region of Thailand. They said it still had a kick but didn't burn their mouth out, and that the fruit was fresh, sour and succulent just as it should be, prepared perfectly with peanuts and dried shrimp, covered with a palm sugar, lime and tamarind juice dressing, all served with some sticky rice on the side.
To be honest it was the Thai mains that I really went for, in particular to test the Pad Thai, which was spot on. The right blend of noodles, beansprouts, spring onions, aromatic sauce with tamarind, garlic, fresh lime and a dash of fish sauce, plus fresh coriander crunchy nuts, and chicken in this case - you can order it with prawns too.
For the Thai red curry I asked them to make it spicy, enough to produce a little sweat but not needing to put the toilet roll in the fridge when I got home. It was right on the money and easily the best curry I've had since leaving Thailand years ago, exactly like I remember it.
A friend tried the Thai green curry and they asked for it to be less spicy than in Thailand due to Dr.'s orders. The result they say was a delightfully aromatic dish without the heat, filled with lots of chicken and authentic vegetables such as little round aubergines.
So there you have it, if you've been to Thailand you'll be smiling after eating at Ngon. And if you haven't visited yet, well you can sample a real piece of Thailand right here without leaving the country, and it's only going to cost you a few thousand forints for generous portions.
I'll definitely be back any time I feel those memories starting to fade, as this place genuinely satisfied my cravings for Thai food, authentically cooked, street food style, with love.

Ngon Street Food Restaurant
Kőbányai út 35, Budapest 1087
Open daily from 10am to 8pm
Phone: +36302811368

Photos courtesy of the venue

About the author: I write these reviews for fun and as a hobby and was not paid or given free food for this review. Prices are correct at the time of writing, June 2018. There are probably grammatical errors in the above, but I got a C for English at GCSE so what do you expect. My reviews do not necessarily reflect the opinion of Xpatloop, treat this as a bit of friendly expat advice. Cheers, Richard

Click here to Share Your Story