Winter is well and truly here in Hungary, and with this season comes the chance to enjoy an abundance of artificial ice rinks in the capital during the holidays.
Some come with stunningly historical backdrops, others are cool and trendy spots to (slip;) slide and glide with friends or family. The best ones also provide a fine selection of snacks and drinks to keep your energy levels high while you dance (fail;) on ice.
All these top options provide hire services so you can easily get your skates on, and entrance is free at many places.

Bálna 'The Whale'

(MTI Photo: Balogh Zoltán)
The largest free ice skating rink in Budapest comes complete with great riverside views. This huge 450-square-meter rink is located by the Danube Bank in Pest so skaters can enjoy a picturesque panorama of the Gellért Hill area. As well as the spectacular views there is a special live concert or an 'ice disco' every Friday and Saturday.
Address:
1093 Budapest 1093, Fővám tér 11-12.
Price:
Free. Skates rental is HUF 1,000 for three hours – you need to give photo ID or a HUF 10,000 as deposit.
Opening hours:
From Monday – Sunday: 10:00-22:00.
Notes:
Rink is closed from 2-3pm on service days for ice maintenance.

Óbuda Main Square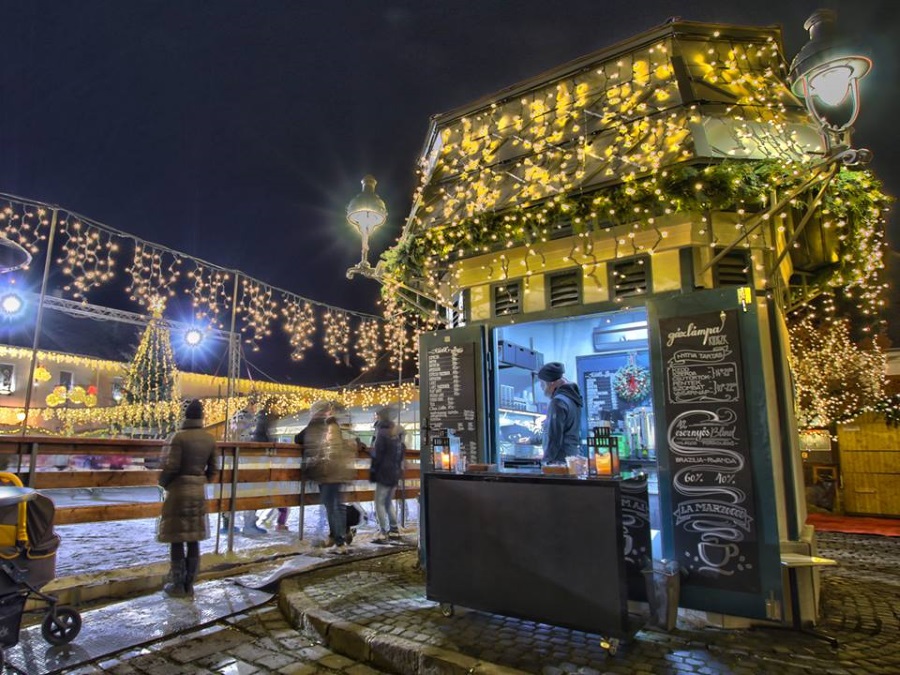 (Photo: Esernyős Facebook)
Fő Square in Óbuda, on the Buda side north of Margaret Bridge, puts on a truly charming Christmas fair each year, which also features free ice skating opportunities for all the family - kids and adults alike can learn to skate here thanks to friendly local teachers. Our top tip at this non-touristy venue is the yummy 'chimney cake', washed down with a splash of Hungarian mulled wine of course.
Address:
1033 Budapest, Fő tér
Price:
Free. Skate rental for adults is HUF 600, and HUF 400 for kids.
Opening hours:
Every day from 8:00-22:00.

Müpa Ice Rink

(Mupa Photo)
Not far from 'The Whale' is this 400-square-meter open-air rink in front of the 9th district's captivating cultural icon: The Palace of Arts (Művészetek Palotája, or Müpa for short).
Müpa Radio provides the skating soundscape, visitors can choose between two channels, either 'Easy' or 'Symphony'. The massive Müpa tent next-door hosts a variety of cultural events during the festive season, which can be perfectly combined with happy times on the ice .
Address:
1095 Budapest, Komor Marcell utca 1.
Price:
Free with a valid ticket to an event at the Palace of Arts, the Müpa Tent or the Ludwig Museum, otherwise HUF 500. Skates rental is HUF 500.
Opening Hours:
Weekdays: 14:00 – 20:00
Weekends: 10:00 – 20:00
Closed on 6, 9, 24 December
On 25, 26 December & 1 January: 12:00 - 20:00

Notes:
Children under 8 can use the rink if accompanied by an adult.

Basilica

(MTI Photo)
This small ice rink deserves a special mention due to its location in the downtown winter wonderland area around St Stephen's Basilica. The bad news is it's only for kids under the age of 14, the good news for parents is that it's free.
Given the Advent Fair here, and the impressive 3D light show projected onto the Basilica every half-hour after dark, parent shouldn't get bored while the little ones enjoy some outdoor exercise and maybe make new friends on the ice.
Address:
1051 Budapest, Szent István tér 1.
Opening Hours:
Monday - Sunday: 10:00 - 20:00
Price:
Under 14 is free, plus skate rental is also free.

City Park Ice Rink
Next to Heroes' Square is one of Europe's largest open-air ice rinks, and the most popular ice skating spot in the city.
With the fairy-tale style Vajdahunyad Castle in the background this is a very special place to skate, especially in the evening when lovely illuminations light-up this enchanting location.
Locals, expats and tourists all come together here for fun and great Hungarian hot tea. Kids especially like this rink as there are always lots of other children around to enjoy the ice experience with together. Couples out on a date love to skate here holding hands.
Address:
1146 Budapest, Olof Palme sétány 5.
Price:
From HUF 1,000-2,000. Skate rental is HUF 2,500 HUF plus HUF 2,000 deposit.
Opening Hours:
Monday - Friday: 9:00-13:00 ; 17:00-21:00
Saturday: 10:00-14:00; 16:00-21:00
Sunday: 10:00-14:00; 16:00-20:00

On 7 December: 9:00 - 13:00; 16:00 - 21:00
On 10 December: closed