Tried & Tested Verdict: Highly recommended for discerning travellers to Thailand. Located between the popular Jomtien area and the beautiful Bang Saray beach, U Pattaya provides beach front splendour along with privacy and serenity.
The overall design of 'fisherman's village' style works very well in this verdant seaside environment. Rooms feature natural wood fittings together with plush linens and lovingly curatted trinkets, creating a cosy, rustic yet luxurious feeling.
The resort consists of 19 plush villas and 25 well proportioned rooms, with sizes ranging from 32-90 sqm. Villas come with one or two bedrooms, and some have a private pool and incredible views over the Gulf of Thailand.
All accommodation features free Wi-Fi, in-room luxury toiletries and many unique touches, like pre-select amenities such as pillows, tea, music and special soap, plus phone calls at cost.



U's unique concept of service includes a '24 hour room', which allows guests to enjoy their room for 24 hours from arrival, as well as breakfast whenever/wherever during their stay.
The first-class facilities include a beachfront restaurant, rooftop bar, spa, infinity swimming pool, a gym with great views, and a well stocked library.
On the topic of special F&B experiences, U Pattaya offers great choices for guests at Papillion, and at La vela (pictured below) which opens for sundowners at 5 pm and stays open until midnight.



La vela is a rustic modern themed rooftop bar, complete with a special water feature, that offers variety of snacks, beverages and cocktails. The main restaurant Papillon (pictured below) is a very special place to dine out by the sea.
Papillon presents authentic French bistro style cuisine, naturally using fresh daily produce. This is the main restaurant and also serves daily breakfast whenever/wherever, as well as lunch and dinner.
The la carte menu is innovative and inviting, plus there are daily specials available. Papillion is magical in the evening as guests can experience an incomparable sunset view over the ocean while enjoying fine food, all for a surprisingly affordable fee.



5* Facilities in Paradise
The swimming pool is lovely and long, sized 7 x 44 metres, and is perfectly located along the beachfront of the resort. Sun loungers and daybeds are provided for guests to enjoy there and snacks and drinks are served by the pool.
The fully equipped gym is also located close to the swimming pool and beachfront. There you can take up a yoga class if you so wish, plus other activities are available thanks to a professional instructor and the U team.
The U Spa has private treatment rooms offering therapies that embrace the most effective Thai & European styles of massage, to promote a sense of well-being and nurture your spirit.



Special Meetings & Events In Paradise
This property offers a large meeting room (170 sqm), which is more than suitable for medium size group meetings, weddings and special events.
The facilities include state of the art tech equipment, and that combined with a superb selection of event menus plus attentive service guarantees any event here is a very memorable one.



Resort With Real Difference
The worthwhile 'U Make A Difference' programme at U Pattaya contributes USD 1 for every night a guest stays at the resort, and these contributions are presented to charities twice a year.
As part of the "U Make a Difference" programme, they arrange weekly scheduled visits to the charity so guests can see firsthand the improvements that their contributions are making to the community.
Ms. Chuleekorn Mungsunti, the GM at U Pattaya, makes a huge difference to the quality of the guest experience as she leads by example, personally making folks feel welcome throughout their stay. Her team is very well trained and knowledgeable, ready to give good advice about the local area.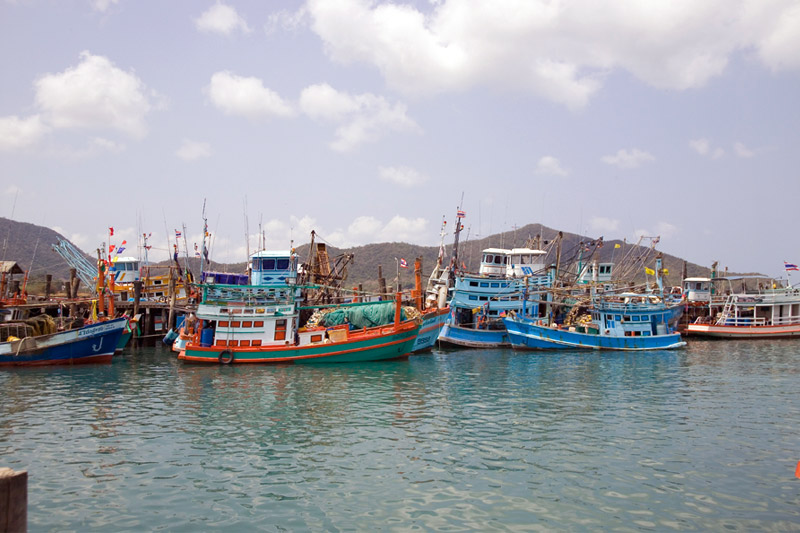 Exploring Beautiful Bang Saray
Until recently Bang Saray was little more than a sleepy fishing village, where the main activity was the coming and going of the small wooden fishing boats.
Naturally it's ideal for those aiming to just relax on the gently sloping beach, as the calm turquoise waters are thankfully rarely busy.
Over the last few years the area has developed, yet it still maintains an "olde worlde charm". Now has more to offer regarding eating out at barbecue and seafood restaurants. A wide range of local food worth tasting can be found at the market held in the grounds of the local temple.

The impressive Bang Saray Temple is only a couple of hundred metres from the main beach road. In case you're an early riser it's possible to see the monks doing their daily rounds then, collecting food and performing blessings.
In any case the temple with its tall roofs and decorated spires is well worth a visit. Using one of the hotel's bicycles is a great way to get there, it's a lovely little adventure to ride there along the scenic beach road.
The pier and harbour area are also worth exploring by bike. The locals are very friendly and they operate food stalls on the kerbside, so it's easy to get refreshments as you go.

The local community as a whole also includes Europeans, such as Norwegians, Dutch, British, French, Italians, plus some Australians, so you can chat with expats in local bars.
All in all it's a really laid back community, with the local fishermen going out to sea in the late evening, and expats lazing on the beach when not golfing or enjoying watersports.
While daytime is quite hot if not shaded under the many palms, the sun goes down around 18.30 and usually the sunset produces priceless views.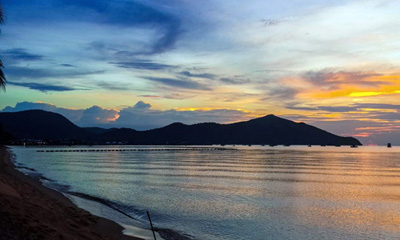 Getting There & Around

The drive to and from the closest airport, U-Tapao International, takes less than one hour.
From Bangkok's Suvarnabhumi International Airport is convenient too, taking just a little longer at around one and a half to two hours by car or taxi.
For an additional charge the resort provides chauffeur-driven transportation, with knowledgeable English-speaking drivers.

Follow this link to visit U Pattaya online
70/14 Moo 8, Soi Na-Chomtien 56/3,
Sattahip, Chonburi 20250, Thailand.
Tel: +66 33 046 100